San Francisco real estate continues to operate in a land of full on self-indulged delusion and pseudo-tech worship.  I travel to the Bay Area and San Francisco often and the amount of self-delusion when it comes to real estate is amazing.  You will find all of these convoluted justifications as to why a crap shack should sell for $1.5 million and when some other chump takes the jump, they use this as some sort of reinforcement of their real estate buying acumen.  You are the amazing market timer and they are the fool (at least that is the thought process).  I've seen this with couples in the area where two professionals have sound financial judgment but then a kid is thrown into the mix and all hell breaks loose.  "Well I don't want my kid living in a rental!" or "I want them to have a piece of real estate when I turn over and pass on" as if your kid wants to chase the same Full House rat race.  People are mistaking luck with skill but that is part of human nature.  And a recent survey found that 83 percent of Bay Area renters are planning on getting out of the area to settle down.
Getting out of San Francisco
You are seeing people paying ridiculous amounts for San Francisco real estate and in some cases paying rental multiples that only a Pets.com investor would find appealing.  The only justification is that property values will continue to move up in an unrelenting fashion.  So I was up in the area recently and almost every other person was talking about the next tech related boom or about real estate value while pulling up random housing apps.  It was as if you were walking around in a giant cult city.  "Just look at this property" with a fancy chart looking like a Bugs Bunny prop.  You then ask, "you live in the bath tub of a studio for $2,000 a month right?" – something just seems off.
As we've talked about there has been a massive trend to renting since the housing market took it in the shorts a decade ago.  There are many large metro areas where renters are planning on getting out before settling down: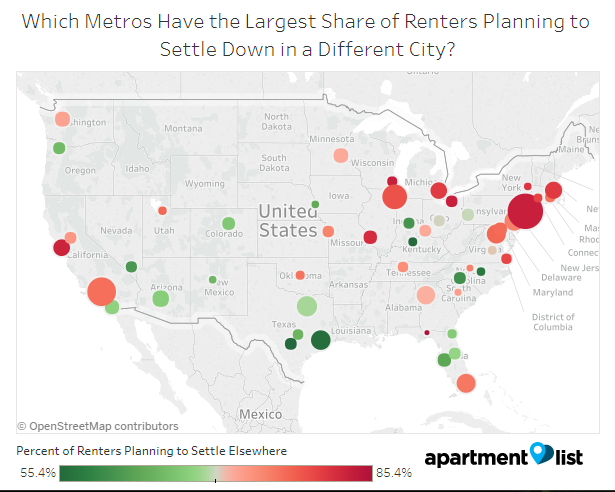 New York and Los Angeles also have a high percentage of renters saying they will get out before settling down.  Of course part of the desire to get out is affordability.  Crap shacks are solidly over $1 million in San Francisco and rents are astronomical as well: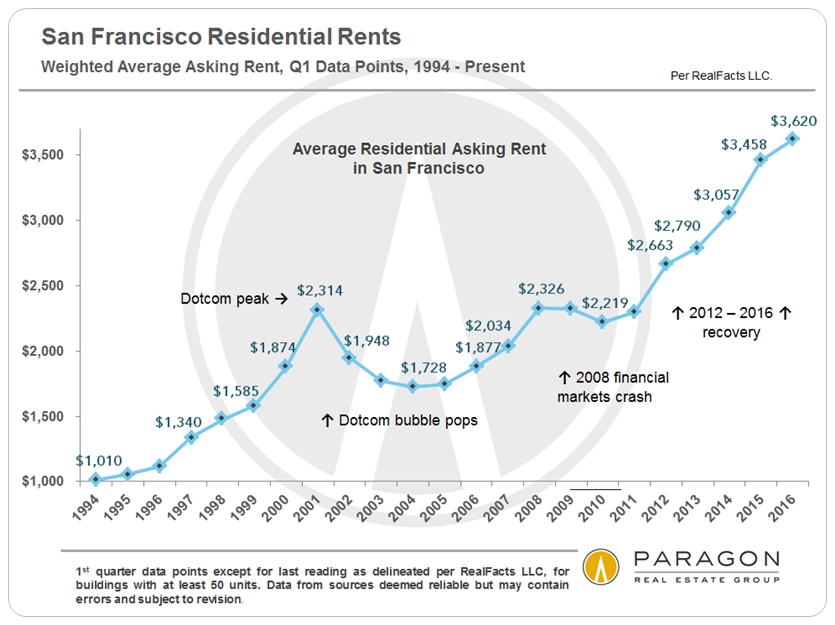 If you think economic changes don't impact real estate you are out to lunch.  Just look at what happened to rents when the dotcom bubble burst.  Rents fell by 25% and rents are notoriously sticky on the way down.  So of course the economy will impact home values and rents as well.
Do you think there might be frothy valuations in some of the tech companies in the Bay Area?
"(NY Times) Seven of the world's 10 most valuable companies are in the tech sector, matching the late 1999 peak. As the American stock market keeps marching to new highs — the Dow hit 22,000 this week — the gains are increasingly concentrated in the big tech stocks. The bulls say it is inevitable that Apple will become the first trillion-dollar company."
So this justifies four programmers to squeeze into a crappy San Francisco rental and to pay absurd levels on rent thus negating any true benefit from their large incomes (assuming they are not socking it away and buying avocado toast, Teslas, or any Apple product that is being pushed out).
The reality is, there is a large amount of delusion in the market and the fact that 83 percent of Bay Area renters plan on setting roots outside of the Bay Area should tell you something.

Did You Enjoy The Post? Subscribe to Dr. Housing Bubble's Blog to get updated housing commentary, analysis, and information.