The flood of investor money going into Las Vegas real estate is amazing.  It really is.  The proportion of investor buying is ridiculously high and has kept a steady pace since recession ended.  In fact, Las Vegas is a market purely driven by speculative demand from investors.  Last month 58 percent of all purchases in the Las Vegas market came from "cash" buying.  These are large and small investors buying up properties with no mortgages being recorded.  This isn't your typical Las Vegas family buying a home.  When you look at the reasons for investor buying, many are in the market for rentals but you now have people going after flips.  In fact, for investor purchases the median price is up a whopping 50 percent over last year.  There is a mania occurring when it comes to Las Vegas housing.
The rising prices of Las Vegas
Las Vegas is seeing some of the fastest appreciation of any real estate market in the US: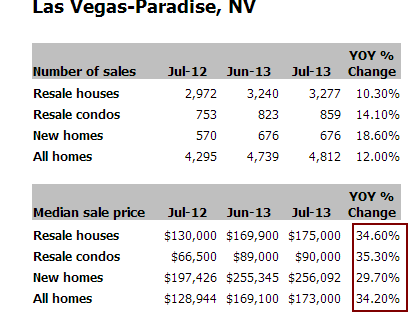 Source:  DataQuick
The median price for all homes is up 34 percent over the last year.  Even if we compare this with Case Shiller data we find that prices are rising at a stunning pace: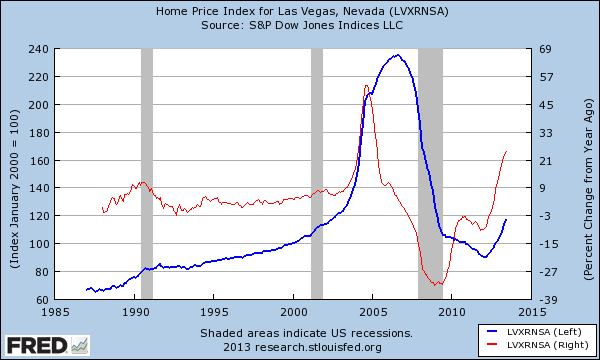 The Case Shiller Index is registering a 25 percent year-over-year increase in the market nearly replicating the rise during the last mania.  If money flowing into the market is being driven by rental demand, let us look at the prices being commanded for rentals in the market: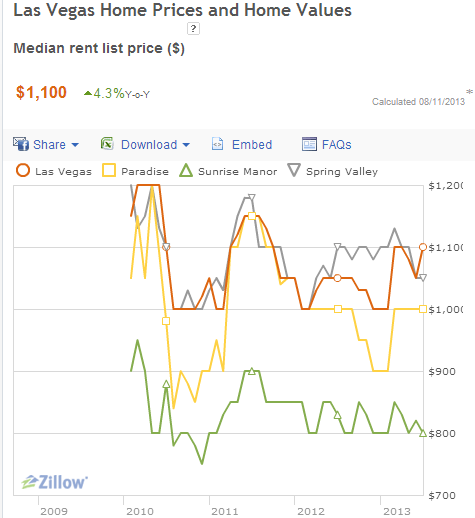 Rental prices for the Las Vegas market have stayed relatively stable since the recession ended.  Yet investor money continues to flood into the market.  Why would investors pay 50 percent more this year than they did last year if rents are virtually stagnant?
Median price paid by Las Vegas cash investors
July 2012:            $105,000
July 2013:            $155,000   (+47.6%)
Of course flipping is also increasing:
Percent of homes flipped (selling twice within 6 months)
July 2012:            5.7%
July 2013:            6.2%  (+8.8%)
The Las Vegas market has been dominated by investors since the recession ended: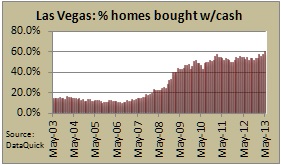 Starting in 2009 the number of investors in relation to regular buyers never went below 40 percent (the average has been solidly over 50 percent).  This is a market fully drive by investor demand.  The fact that flipping is picking up is telling you we are reaching a frothy point in this market.  Of course, irrational buying can go on for many more years.  Yet run the numbers on investment properties here and the return isn't all that great.  What is making the market look good right now is the incredibly high number of investors buying keeping prices inflated.  How much longer does this trend have?
A place like Las Vegas will be the first to show signs of a top for investor buying.  The market is essentially driven by investors.  This is clear.  Plus, Las Vegas is largely a luxury based economy (does well on booms, contracts heavily during recessions).  The stock market rally since 2009 is one for the record books and real estate prices are now increasing at double-digit rates (all the while incomes remain stagnant).  This disconnect cannot last.  When I look at the Las Vegas market I'm reminded of all the buying that occurred from California households picking up properties and second homes during the last boom.  This time the money is coming from institutional buyers and investors with deeper wallets.
While prices are higher, locally the housing market gets poor grades:
"(Las Vegas Review Journal) In its second-quarter Nevada Housing Stability Index, the state Department of Business and Industry gave the real estate market here a D+. That's the same grade it earned in the first quarter, when the department launched the index.

…Plus, the share of homes bought by investors fell to 54.2 percent, though researchers still found that number abnormally high: The market earned a D- for its percentage of investors."
Yes, the percent of investor buying is abnormally high.  This is an understatement.  It means the market is being dictated by hot money.  What are your thoughts on the massive price increases being seen in Las Vegas real estate?

Did You Enjoy The Post? Subscribe to Dr. Housing Bubble's Blog to get updated housing commentary, analysis, and information.