Investor demand for housing is largely responsible for the feeding frenzy in real estate over the last couple of years.  Yet this unrelenting demand is unsustainable and it looks like cracks are forming in the investor trade.  First, the median price paid by those using "cash" financing has reached an all-time peak.  Not a revisit of an old peak but a brand new one.  Of course this is happening while the typical US household has seen stagnant wage growth.  Most understand this yet manias lure people in at the most inopportune times.  A few other pieces of evidence are highlighting a tipping point in the market.  Inventory is starting to increase and new home sales remain incredibly anemic.  The refinancing boom is now being shuttered because of rising rates (as if a 30-year mortgage going for 4.6% is somehow apocalyptic).  The investor trade is crowded and we've seen data showing how large the investor share of the market is in 2013.
A new peak for those cash buyers
For definition purposes, those categorized as "cash" buyers are those that do not use conventional financing.  There has never been a market so dominated by non-conventional financing as the one we are seeing today.  And those using this new way of financing home purchases are willing to pay record prices for homes: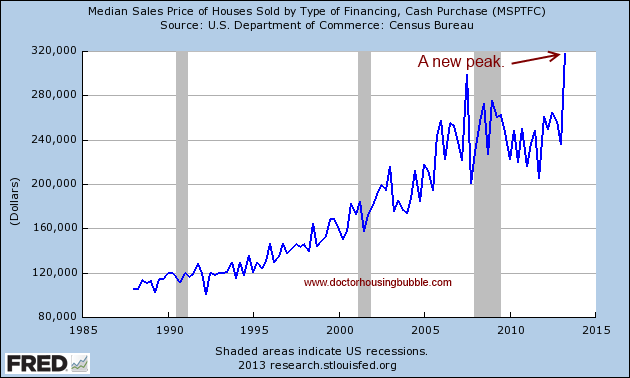 This is a clear indication of the fever we've been seeing over the last couple of years.  It also helps to explain the massive double-digit increases in prices in many metro areas around the country.  Non-traditional financing is creating a new kind of housing market.  Most families are not in a position to purchase a home via this mechanism.  Even the typical 20 percent down buyer is being pushed out by this kind of buying.  It was interesting to see the psychology of some analysts early in the game regarding cash buyers.  For some reason, they believed in this myth that cash buyers were this tiny sliver of the market relegated to one wealthy actor or foreigner buying a home with all cash nestled in a silver briefcase.  Well we now have data showing that roughly half of all purchases in 2013 came from this non-traditional road (more like a superhighway).
Another trend that is reversing is that inventory is increasing steadily: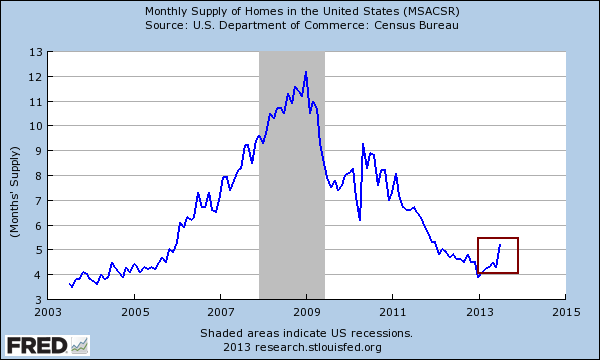 We now have over 5 months of inventory.  A "normal" market is closer to 6 months of inventory but we haven't seen a normal real estate market in well over a decade.  Real estate has now become something akin to a speculative commodity.  It is a boom and bust vehicle.  People now try to time it like a stock and speak in terms of "missing the bottom" or "missing the top" as if this was normal for a housing market.  Easy financing has created this situation and of course, most people realize that the benefits are largely leaking out to financial institutions, not regular Americans.
You would think with all this investor demand and prices increasing at a pace last seen during housing bubble 1.0 that new homes would be selling like pancakes.  Let us look at this: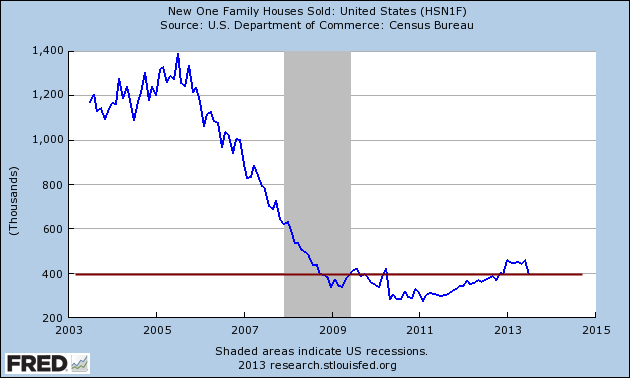 New home sales actually have dipped with the recent rise in interest rates.  What you have is a speculative mania in the rental trade and now more commonly, in the flipper trade.  It is an odd sort of logic here and even large funds catering to the rent play are having a hard time turning a profit (in fact are operating with losses).  Real estate in the form of property management is a time intensive process that does not seem to jive with the culture that is Wall Street.  Rents must be pulled by real world incomes and given our economy where part-time jobs are becoming more common, to think that you will have permanent tenants and a perfect stream of cash flow is just crazy.
In places like Las Vegas, you have investors selling to investors in a game of musical chairs now.  You are also seeing aggressive flips in California where people buy a place, slap on some paint and a few simple tune-ups and then expect a $100,000 or $200,000 profit.  The disconnect is becoming more prominent.  Even in unmistakably solid areas like Irvine we are seeing a major jump with inventory: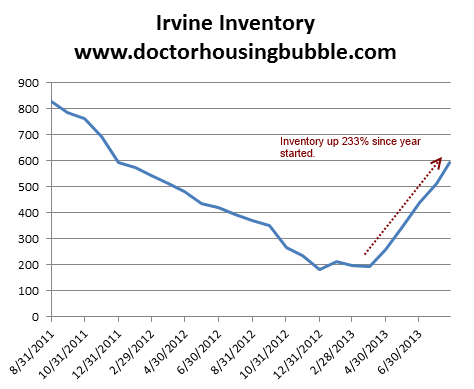 We've already shown that nationwide inventory is picking up but the above is a desirable market.  At a certain point, the mania becomes obvious to some.  Without a doubt all these signs point to a softening in the housing market.  Given the boom and bust nature of our market, after this recent boom are we suddenly to expect that cooler heads will prevail and we will have a slow retreat?  These markets are momentum trades and with investors being the largest players in the real estate game over the last couple of years, it should come as no surprise if they react like investors would in your regular stock market.  Given all the technology now available, selling and buying houses is a fairly easy process.  Heck, we have investors buying them by the dozen as if they were heading down to Krispy Kreme.  The rental trade is looking very frothy at this point.

Did You Enjoy The Post? Subscribe to Dr. Housing Bubble's Blog to get updated housing commentary, analysis, and information.