One reason homes are having a tough time selling is because of the credit crisis. Yet another less talked about reasons is that we binged at the housing trough for much too long. And now there is talk regarding a bailout for developers which goes to my SIIV argument; Super Ignorant Investment Vehicle which states each subsequent bailout is progressively dumber than the previous one. Builders went ahead and flooded the market with so much new housing that they in effect have put themselves out of business. Sure, this housing downturn is a complicated multi-faceted bubble popping yet what we have done is spent our future in the present. Whether we charged everything up on credit cards to pay tomorrow or bought cars with 7-year terms, instant gratification was the mantra of the past decade.
This already is shaping up to be the worst recession since World War II and possibly, the Great Depression. Just because we won't see soup lines or dust bowls, doesn't mean that the millions of families who are losing their homes or Americans losing their jobs is any less painful. And just because you don't see it, doesn't mean it isn't there since a silent depression is already occurring. Today we're going to look at new home sales from various perspectives to understand that interest rates and financing are simply one piece of the puzzle. In relation to new homes sold and housing starts, the trend has been upward since 1991 and reached a peak in 2005. Even the recessions of the early 1990s and 2001 did very little to change this trend. When we look at the charts, the pattern is rather apparent: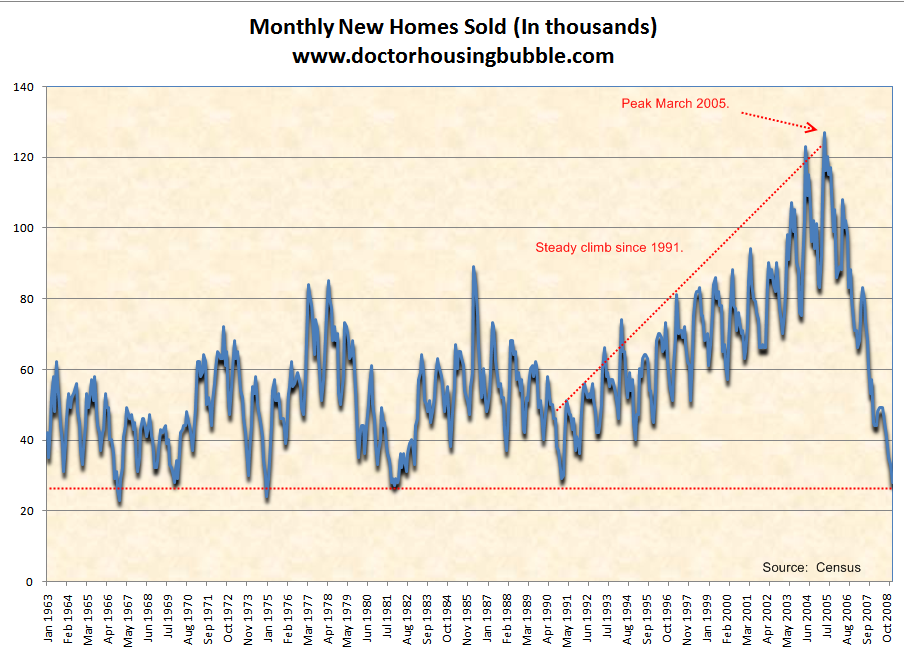 *Click for sharper image
This chart looks at the monthly new home sales in raw numbers. Keep in mind these are not seasonally adjusted and you have to account for population growth which only makes the recent steep decline more stunning. We'd have to go back to the early 1980s to find a month as bad as the one we've just had and that is not accounting for the population growth over nearly 3 decades. As I've mentioned before, the growth in new homes sales started strongly in 1991 and peaked in 2005. It would seem that nothing would stop the housing juggernaut. The fascinating thing to note is months of supply is still high: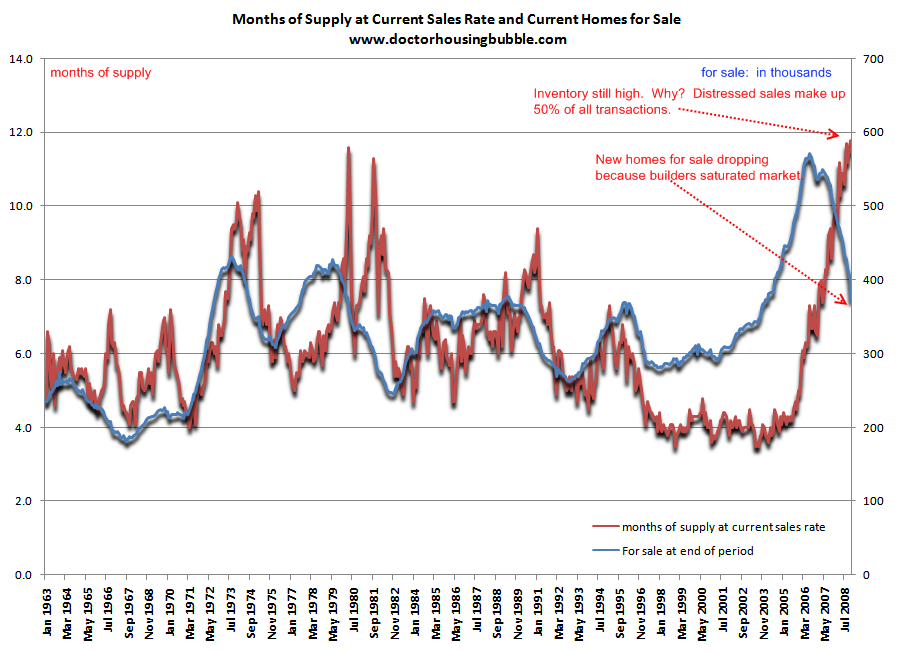 Now why is this occurring? First, last month approximately 50 percent of all homes sold were distressed sales. Rock bottom priced REO homes are competing with higher priced new homes. So logically, you would assume that less new homes hitting the market would cause monthly inventory to fall yet they are now competing with resale distressed properties. Price is moving the market. The above chart highlights this point very clearly. As you can see, the amount of new homes on the market started falling as of 2005 yet inventory is also rising because very few new homes are selling. The average amount of new homes for sale since 1963 is 329,000. Last month we came in at 374,000. At the peak in 2006 we had 572,000 homes for sale at a seasonally adjusted rate. That just doesn't compute. Take a look at the overbuilding that occurred since 1991: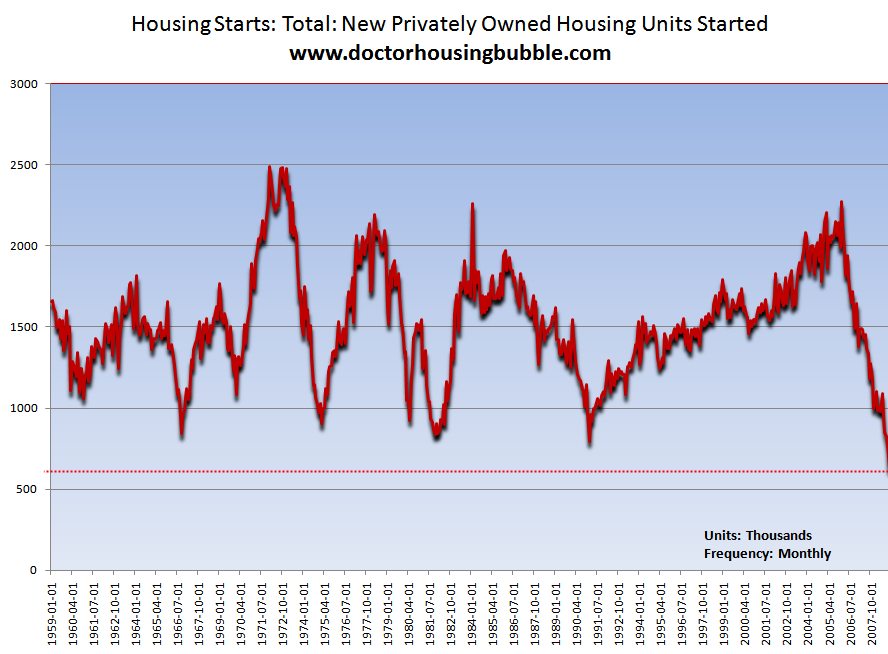 The drop in housing starts is rather drastic. This actually was a leading indicator of future market distress. After all, if you are an investor you need to make sure the numbers work before you set out and build a project. So the precipitous drop in 2005 told us something was coming our way. The drop has been non-stop. The trend should continue if you simply look at the other charts above. If nearly 50 percent of sales are happening with homes that are already built and are in distress, why would you want to jump in to compete? You also have to compete with borrowers trying to sell their homes which don't show up as distress but very likely are marginal. That is, maybe someone lost a job and needs to sell a home yet has been current on their payments. Or you may have people that bought homes pre-bubble era who have more wiggle room in price and may need to sell for a variety of reasons. It is important to understand that many of the REO sales are one time deals. That is, in healthier times, someone selling their home was usually buying one as well. A large number of homes sold produced 2 transactions. With many REOs and distressed sales today, we just have one.
In addition, prices on new homes are more difficult to push lower. Take a look at the median sale price for new homes: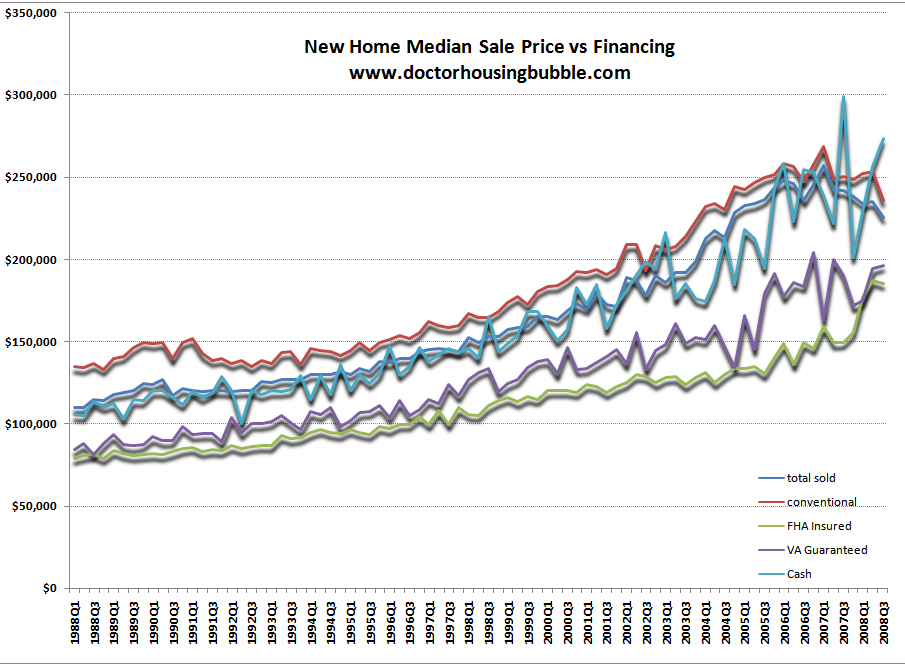 Yes, prices are falling yet nothing compared to the overall market. If anything, these prices are resilient. That is probably another reason so few new homes are now selling. Why would you want a minor discount when you can get an REO for 30, 40, or even 50 percent off?
The problem with this is that for nearly 2 decades, we have become a finance, insurance, and real estate economy (FIRE). I talked about this a very long time ago and had a hard time understanding how our economy could function by having 30 to 40 percent of our growth occurring by employment secured by real estate or real estate related fields.
What can we take away from the charts above? Basically we have cast our nation's lot with housing and since housing is busting, we are crapping out as well. It is simply a logical outcome. When the FIRE economy was say 10 percent of our employment sector, then a housing bubble could only run so far. We took this housing market to the dangerous extreme that we are now facing.
The Daily Changes we will Face
To satisfy this unhealthy obsession new toxic mortgage products like option ARMs were created which will now be the next ticking time bomb. These mortgages provide no sustainable safety and stability to the long-term health of our economy. This monthly nut obsession, that is relying completely on what you pay a month, is one of the psychological problems with our society and Wall Street exploited it. What did they care if you were going to default? That is the problem with how the crony capitalist view the current system. They care not about the sustainability or longevity of our economy so long as they get their immediate fees. In fact, some of the absurd alphabet soup of products had no useful purpose aside to generate fees for the originator. One basic premise of capitalism is that the market will decide what is the most useful product and all others will either need to compete or perish. With foreign automakers, Americans have voted with their wallets and have pushed aside domestic producers. American autoworkers now have to adapt or perish.
Yet that is the problem with our current system. It was never capitalistic. Hasn't been for a long time. The government has been operating as some quasi-kleptocracy. That is, sacrificing the good of the masses for a select few by nepotism or other forms of unhealthy economic growth. The case of Bernard Madoff and his $50 billion Ponzi scheme is a perfect example. He targeted for the most part, wealthy investors and played into this deep desire; that is, I have something special and since you are part of the special class you have a key to enter. We run along a spectrum of full on speculation and greed (i.e., the Roaring 20s, tech bubble, housing bubble) and government intervention to sooth the pain (i.e., social programs brought on during the Great Depression like Social Security and decades later, Medicare). Striking the balance is a difficult job yet that is why we have certain agreed upon regulations (meaning you have to enforce them) to stop us from our darker demons. You would think that after the tech bubble and our current housing bubble we would have learned something.
So what does this have to do with new homes sales? A lot. Many of the large contributors to both political parties were homebuilders. Did anyone even ask whether this was good for the country? Of course not. Politicians were bought, permits were signed, and then we now have our vast land of new sub-divisions in many cases sitting empty alongside commercial real estate projects that were also setup to cater to an audience that isn't even arriving to the show. Maybe in a few years they will but certainly not now. Look at Florida, Nevada, Arizona, and parts of California and you'll see why simply building for the sake of building was an unhealthy obsession.
In early 2007 I started uttering the words "Great Depression" simply as an observation. I took some heat for that at the time. Now, all I hear on the mainstream media is "how can we avoid the next Great Depression?" Each month when data is released we hear, "…worst data since the Great Depression." How can so many economist have missed this when independent bloggers with no financial backing were able to see it miles away? Simple. It became less about economics and more about an unhealthy bubble. Bubbles are fueled by psychology. Those that understand consumer behavior can see the pattern emerging. Those that simply rely on data are bound to put on academic blinders and miss the big picture. Ben Bernanke is a perfect example. No doubt, he has expertise but even in 2007 he was certain the subprime market was going to be kept in a silo!
If there is any good news it is this, we are well into this unavoidable recession. Keep in mind that in the past, recessions were accepted just like the seasons. Spring would come after winter and so would the new cycle. Only in recent times have we had this psychological need to avoid facing reality. Want that car but don't have the money? Forget saving for a few years and lease it. Can't afford a starter home? So what, get an option ARM and buy a big McMansion. Your kid is tiring you out? Load him up with Ritalin so he can relax. Not happy with your weight? Take a pill instead of hitting the track. As usual, moderation is the key but looking at our patterns, do we excercise moderation? Wall Street was a sympton of this and took everything to the extreme. It is up to us to learn from this crisis. It will be painful and long. Yet we can educate ourselves and radically change our perspective or we can repeat the mistake later in the future. This means punsihing those on Wall Street even if it takes years. This means stricter enforcement. Homebuilders are learning the hard way. The above data tells us this. Was it really healthy for our economy to be so reliant on real estate? Clearly it was not.
Did You Enjoy The Post? Subscribe to Dr. Housing Bubble's Blog to get updated housing commentary, analysis, and information.