It was interesting to see that this week, the Nobel Prize, the biggest prize in economics went to three US economists, one being "irrational exuberance" Robert Shiller.  Markets for the most part are presumed to be efficient and what Shiller points out is the weaknesses inherent with this model.  The housing market is a perfect example.  The market is extremely inefficient when it comes to housing.  We massively subsidize this sector of the economy with the outward notion of helping regular buyers but do the opposite.  For example, the Fed's QE initiatives have caused asymmetrical bets from financial institutions into residential real estate.  Largely because of this financial structure we went from a real estate market in free fall to one highly subsidized by low rates causing investors to crowd out regular buyers.  Prices now surge while the homeownership rate falls.  Of course how can the market be called efficient when the Fed provides this below market interest rate to a select group of people?  Is the public privy to this?  What use is a low rate when a bigger player comes in with all cash?
Housing affordability falls while wage growth is weak
It was interesting to see the comments regarding the "least affordable state article" on California.  While this may seem obvious for California the data shows how quickly in one year affordability dropped (courtesy of prices surging nearly 30 percent over this time).  The reason for this shift was an increase in rates, investors flooding the market, and limited supply.  Note that economic growth in the form of good paying jobs, new industries, or higher wages were absent as the catalyst here.
This trend is not limited to California alone.  Affordability across the nation has been falling because of higher home prices largely driven at the margins by investors.
Median price surging
The median price of existing sold US homes is inching closer to its previous peak: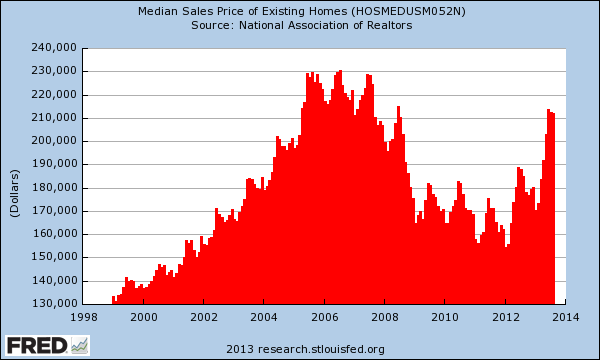 This incredible rise in home values unaccompanied by similar wage increases is startling.  You would expect that in an efficient market, that builders would be up to the task of adding more inventory but that is not the case: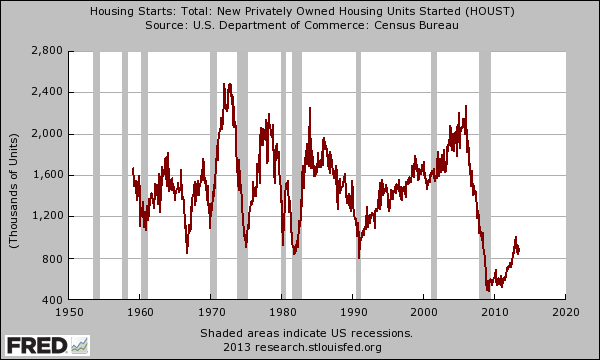 Why are builders so reluctant to build more homes in the face of rapidly increasing home values?  A large part of this stems from the reality that investors are seeking out lower priced properties for rentals typically from the existing home pool and new potential buyers are economically in a position or motivated to rent instead of own.  The market is inefficient because we heavily subsidize homeownership when in reality, many families would be better off renting.  But we do subsidize this section of our economy and essentially handout a massive gift to big banks and Wall Street that have leveraged these financial conditions.
Months of inventory still historically low
While inventory has increased in the last year the number of homes for sale is still very low: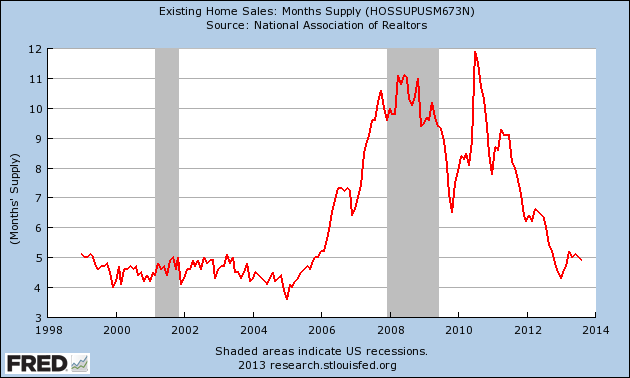 A healthier market would be closer to 6 months of inventory.  The government shutdown talk has put the fragility of the housing market back in the spotlight:
"(Redfin) First, the government shutdown is robbing precious end-of-season selling time from home sellers. As we said in a special report this month, furloughed buyers across the country are stepping back from the housing market until their paychecks are restored.Washington, D.C. has been the hardest-hit; since the government shut down, the number of Redfin clients making offers on homes in the D.C. – area dropped 42 percent. Other buyers are throwing in the towel completely. According to Redfin Washington, D.C. Agent Kimberly Pace, "With so much economic uncertainty, several of my clients just don't think a home is a good investment right now and are pulling the plug on their home buying plans."
I've heard from contacts in the industry that a backlog has developed for some loans and some buyers (and sellers) have pulled back to see what will happen with our government.  Does it bother people that our government, the main champion of the housing market, is unable to come to agreement on how to pay our basic bills?  Do we really need this unlimited housing subsidy when there is apparently more important issues than housing?  It has been many years and it is obvious that this course of action has largely benefited banks and large investors while the public is largely on the sidelines watching housing values surge and paychecks stall out.  There is now news that some food stamp payments will be put on hold because of this.  Yet the Fed keeps on with QE but millions are about to struggle to find food?  Interesting priorities we have here.
Fed balance sheet approaching $4 trillion
The Fed has been flirting with a taper but their $3.8 trillion balance sheet tells us something else: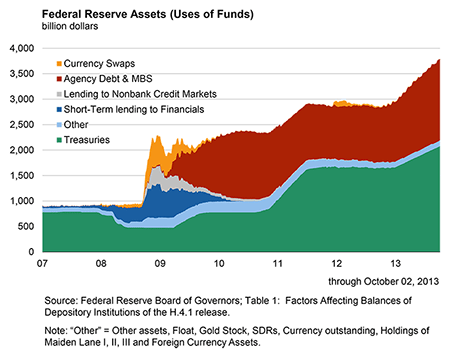 The Fed isn't tapering at all.  Given the current dysfunction in D.C. I doubt we'll see a taper anytime soon.  The Fed is and has always been an advocate for big banking interest in the US.  In the late 1990s, housing was allowed to become a casino like market and we had the biggest housing bubble the US has ever seen.  The bust should have kicked some sense into the system but here we are, doubling down on real estate only this time, the spoils are going to one group (and homeownership has gone this way):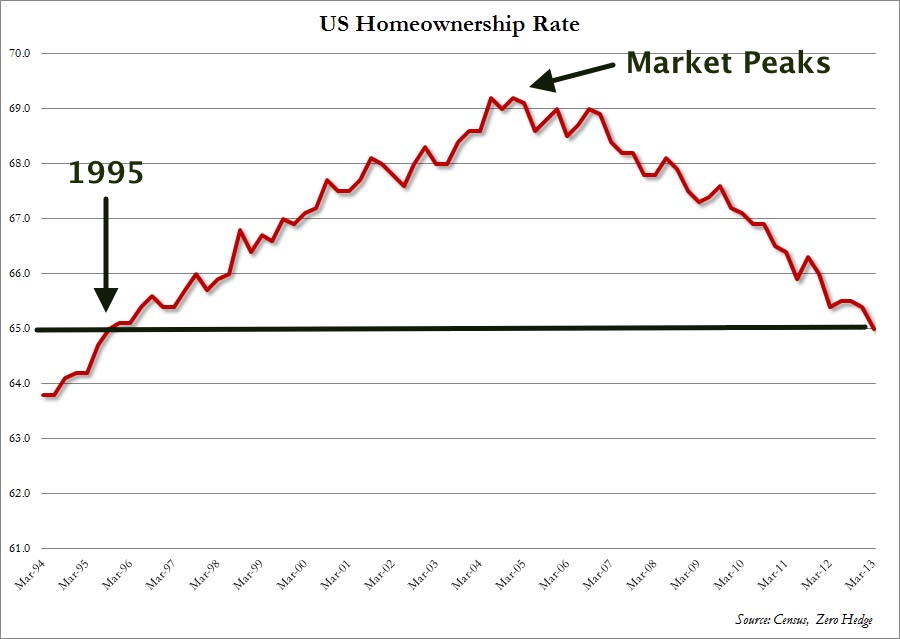 Simply engineering housing values to go up with massive subsidies doesn't seem to make sense for most families.  Inefficient is the current real estate market.  Giant mortgage deductions for those that have mega mortgages.  Artificially low rates that have created a massive flood of investors into real estate unlike anything we have seen in the past.  Affordability plummeting in spite of all this market intervention.  It is sobering to see one of the few economists that saw the housing bubble coming winning a Nobel Prize for pointing out the obvious holes in the efficient market theory.  Just look around you and ask yourself if people act rationally all the time.  If that isn't proof enough, look at our elected representatives in D.C. and then try examining human rationality.  Oh, and you think you have access to all information?  Good luck trying to get a peek into the Fed's balance sheet or try to go up against a high frequency trading machine jolted up with sophisticated algorithms.

Did You Enjoy The Post? Subscribe to Dr. Housing Bubble's Blog to get updated housing commentary, analysis, and information.