It has been one week since Pasadena based IndyMac Bank was taken over by the FDIC. After the market closed on Friday, the FDIC had assumed control over the troubled institution which was the second largest bank failure in history with assets totaling $32 billion. Initially, since it had been a very long time since a bank of this size had collapsed, many did not know what to expect. Uncertainty was fueled over the weekend when people were unable to access their accounts. On their website, a FDIC page was posted telling customers that the bank was now under full control of the FDIC.
As the institution opened on Monday, uncertainty turned into nervousness. Report after report discussed how people were withdrawing their money from the bank, even those who had insured deposits under the $100,000 FDIC limit. The mass influx of people overwhelmed the resources of the institution and many had to return the subsequent day.
At this point, people started worrying more about simply getting their money out. Bank lines and lists started to make their rounds in various locations: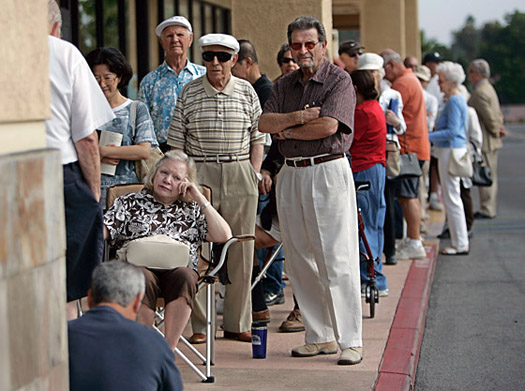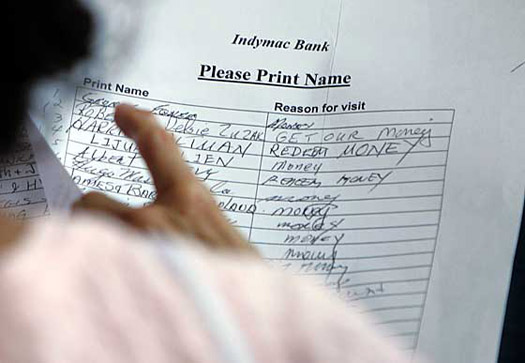 *Source: OC Register Eugene Garcia
In some locations customers waited hours only to be told that they were unable to get their funds out. The heat and uncertainty turned into anger and frustration. Miscommunications occurred where lists were not approved officially from the FDIC so it was uncertain if they would be honored the next day. This did not bode well for many customers some who had been waiting from 1:30AM.
It is clear that the majority of customers from various reports were taking out their money even though the PR machine was fully saying, "this is the strongest bank in the country currently" – if that is the case, why was it taken over on a Friday afternoon without telling customers before hand even giving a slight warning?  Yes, against policy rules. Also, I'm sure those with $100,000 plus would have something else to say about that security.
As the week progressed and customers made their way with FDIC cashiers checks out, it turned out that some reports were stating that there may be some delay with other institutions honoring the checks coming from the institution. Clearly this caused more uncertainty with customers who further withdrew more funds. Amazingly some of the other institutions putting extreme holds on some of these checks are only weeks away from a similar position and they too are insured with the FDIC. Is this how they would want their customers to be treated in the future? From what it appears and legitimately so, many of these other institutions are on the lookout for fraud given the circumstances.  Unintended consequences.
At one location, the police were called out to settle customers down. Now of course this isn't exactly the way to manage good PR. You're threatening arrest on customers who want their money because your bank collapsed? They want their money because it did collapse! I'm surprised that some people say, "well this is irrational panic and people just need to calm down." Actually, what is irrational is the mortgages this institution got involved in which led to its predictable demise. Today we have a very special Real Home of Genius Award for IndyMac Bank with a home right in its home city of Pasadena. Today we salute you IndyMac Bank with our Real Home of Genius Award.
IndyMac Bank and the Temple of Doomed Mortgages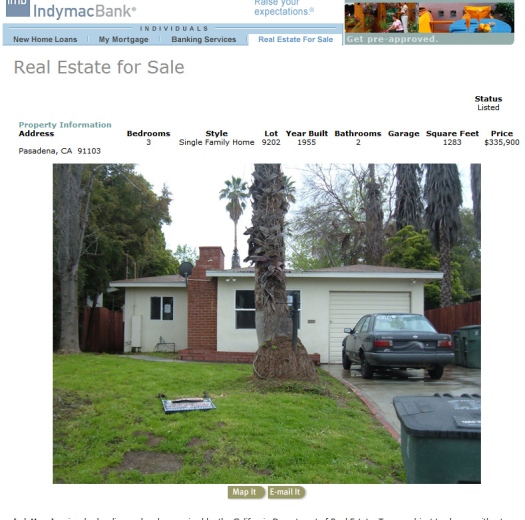 Today's home leads us to Pasadena California. This home has 3 bedrooms and 2 baths which is your typical bread and butter starter home. It sits on 1,283 square feet of patchy green grass. You would think that when you are selling a home, you would at least remove the kicked down sales sign from the lawn and the green garbage can before taking a picture but this is how collapsed banks do business. Hey, collapsing just doesn't happen overnight! It happens over the weekend and once you see the history of this one example, you'll begin to understand why banks like IndyMac are doomed in the upcoming months.
This place is listed on the IndyMac website at a sales price of $335,900 which for anyone in Southern California who knows about Pasadena, seems like a steal. Maybe it was a good deal a few years ago but not anymore. In today's market, qualified buyers are actually demanding a decent product for the amount they'll shell out. No longer can you get a toxic banana republic loan to fund your flipping or delusional real estate mogul dreams.
Yet now we are going to see how disorganized California real estate has recently become. There is this phenomenon where real estate owned properties are for some reason not showing up on public MLS real estate sites. Whether lenders are overwhelmed or simply do not care, this issue is not clear. What is clear with many of these toxic Pay Option ARM mortgages is that there is a fleet of owners right now in California that are one, two, three, or four months away from their payments skyrocketing 50 percent and above. With the median price of homes dropping by 30% across California, these homes are simply waiting to be foreclosed on. Yet the irony here is that these loans actually look profitable to many of the current note holders. Unlike subprime were people with very poor credit were given absurd mortgages and of course defaulted very quickly, these loans tend to go incognito for a much longer time. If you have a two or three year window were you are deferring interest and even some of your principal yet pay on time, all looks well on the balance sheet.
A large number of these borrowers are "good" credit folks who used up their home equity like an ATM and now are simply sitting waiting for that recast anniversary. These places are flat out doomed and with $500 billion recasting shortly, many of these lenders are simply waiting for their FDIC turn. This brief rally on Wall Street is a suckers rally. Jump in at your own peril.
If you think this REO idea is off, just look at this property. We can go to the Realtor.com website and search this Pasadena zipcode and take a look below: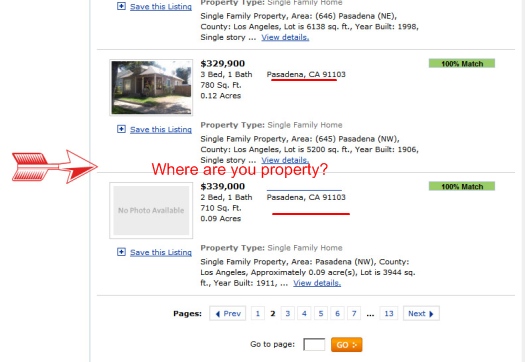 *Source: Realtor.com
Oh where art thou? Shouldn't $335,900 be in the middle here? Yes sir! But nowhere to be found. Big deal you may say right? Well if lenders aren't reporting their inventory correctly it artificially makes the overall sale to inventory ratio look healthier than it really is. My gut tells me there is a lot of REO and defaulted property hidden from the public view right now simply because of NTS, NOD, and REO data being reported from other agencies.  Once recasts hit fully, the zombies will come out of the ground hungry for capital.
Yet if you want to know why these institutions failed, let us look at some of the pricing action:

*Source: Zillow.com
This place sold on February of 2007 for $575,000! How absurd is that? If a prime area like Pasadena can see a home drop 40% in slightly over a year, what about the loans they made in more troubled areas like the Inland Empire? Given that it was picked up in February of 2008 for roughly 80% of the peak price, I imagine that the lender simply took back the home. It was probably under an 80/20 which was so typical in California. Yet it has been sitting on the books for nearly 5 months and once it sells (if it sells for the current price) their will be a write-down. And once this brief euphoria is over, the overall stock market will punish these stocks again. They are all operating as if a bailout will be given to all. Nope. Unfortunately they only have the time and pseudo resources to go after the big boys of Fannie Mae and Freddie Mac.
Is it any wonder why IndyMac collapsed? These kind of loans should have never seen the light of day. Today we salute you IndyMac Bank with our Real Home of Genius Award.
Did You Enjoy The Post? Subscribe to Dr. Housing Bubble's Blog to get updated housing commentary, analysis, and information