It is amazing what fraudulent paperwork can do to market psychology.  The market chatter is now buzzing with phony mortgages and people squatting in homes that haven't made a mortgage payment in months (or years in some cases).  Yet anyone that follows the housing market with an open mind already knew banks were fraud factories and people were staying put without paying their mortgage.  The difference now is that there is open acknowledgement in the popular press.  Someone in the gym told me, "things will get a lot worse in housing before they get better."  We are still a long way away from the bulk of the public feeling openly this way about housing.  A few months ago people were talking about how far home prices have fallen.  Even a few investors have told me they have no idea how this paperwork mess will sort out and they are reluctant to purchase a foreclosed property because of this.  Who knows, you might have a family of 11 suddenly moving back in claiming they owe nothing on the place.  Foreclosures are a big chunk of the market for the last two years.  We need to examine why housing will get worse before it gets better.
The Federal Reserve believes that low interest rates and buying up junk debt from banks is the solution to every crisis.  Of course they pander to their banking overlords so this is no shocking revelation.  But mortgage rates can't go any lower:
So what is the Fed doing since they can't lower rates any further?  They are gearing up for quantitative easing part two.  Yet this will have little long-term impact on the housing market because the economy is still weak for working and middle class Americans.  Without a healthy and steady paycheck even if interest rates fall to zero percent, how can anyone buy a home without adequate income?  If low teaser rate mortgages were the solution Alt-A and option ARMs would still be flooding the market.  Let us ask Japan how low interest rates and quantitative easing worked for their economy.  All of the bailouts and trillions of dollars spent on banks and subsidizing housing has done this: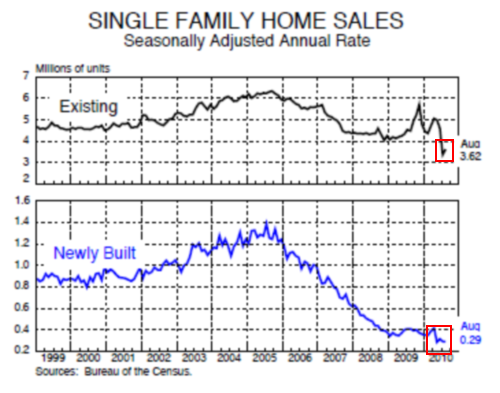 Home sales are still plunging because people have shifted to the lower levels of Maslow's hierarchy of needs.  That is, with 43 million Americans living in poverty and another 26 million unemployed or underemployed the last thing families are thinking about is purchasing a home.  What is usually lost in the data is even of those who are employed, how many have now taken a full-time job that is much lower paying from their previous job?  You have many mortgage brokers in California who once made six-figures a year now working in retail or another field that doesn't come close to their former salary.  The unemployment statistics show them as fully employed but the income data tells us another story.  Housing can stage no recovery without an employment recovery first.  It is amazing that over the past three years now, the massive bulk of the bailouts have been on bailing out banks and focusing with tunnel vision precision on housing.  That is why today with so much money funneled into the banking sector, housing is still tanking and the taxpayer is that much poorer.  You can thank the Fed, the banks, and you're current and former government.
Current foreclosure and non-current data
Here is the current status of non-payment in the mortgage market:

Source:  Lender Processing Services
Of course this is one of the players now having to defend their record in the robo-signing mess:
"(The Washington Post) Lender Processing Services, the Jacksonville, Fla., company whose subsidiary is the subject of a federal probe for issues related to the preparation of foreclosure documentation, fought back this week against what it said were "mischaracterizations" by the media.

The company said its subsidiary, Docx, stopped executing affidavits in September 2008 and that the documentation was prepared by the lenders or servicers. "These affidavits were then executed by LPS consistent with industry practice," the company said. As for assignments of mortgage, the company said Docx relied on the lenders to input information that was downloaded into a template and then signed. LPS said it only prepared such documents for two lenders/servicers between 2008 and 2009 (but the company failed to mention that these servicers themselves often signed for dozens of mortgage companies.)

The most revealing part of LPS' statement is explaining why some signatures on documents seemed to differ so wildly that it looked like several people signed them. This issue was first reported in The Washington Post on Sept. 23 and referenced again in an article in The New York Times on Oct. 4.

Here's LPS' explanation/admission: "The varying signature styles resulted from a decision made by the manager of Docx to allow an employee to sign an authorized employee's name with his or her express written consent. LPS was unaware of this practice … [U]pon learning of it, LPS immediately took remedial actions to correct all assignments of mortgage signed in this manner and provided these corrected assignments of mortgage to the two lender/servicer clients or their attorneys."

The company's stock was down nearly 10 percent midday Tuesday."
Let us set aside this paperwork mess for a few minutes because this story is only beginning.  The chart above only goes out to the end of August and the latest data shows that 7,018,000 mortgages are either in foreclosure or non-current, an increase from August to September.  It'll be interesting to see how this paperwork mess will impact the actual number of foreclosures.  My belief is that we will see foreclosures drop yet non-current payments remain high.  The only reason the foreclosure figures will drop is because of the public and now government pressure on mortgage servicers to use an iota of due diligence.  Yet the economy still feels like a recession for most of the American public.  Even with FHA insured loans, the reason the housing market is still sputtering along is because of low down payment options.  What this signifies is the inability for American households to even support an adequate down payment (i.e., 10 percent or higher).
With over 7,000,000 mortgages in foreclosure or non-current, the housing market has a long way to go before bottoming.  Plus, we are now in the historically slow fall and winter selling seasons.  Kids are in school.  The weather doesn't make for showing homes in many parts of the country.  And the tax gimmicks are for the most part over.  The paperwork mess is plastering the media so the public is now realizing in mass how shady banks and their tentacles have gotten if they haven't realized this already.  In other words, the housing crisis is anything but over.
Historical foreclosure rates – how far from normal?
Many people have short memories and really have no idea what a normal real estate market looks like.  Of course, if you made your living based on the housing bubble then you probably think that from 2000 to 2007 things were normal.  Yet things are far from normal: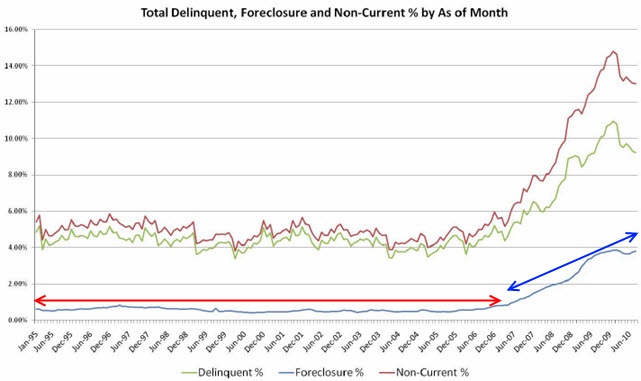 Chart Source:  Minyanville

You will always have a certain amount of homes in foreclosure at any given time (i.e., divorce, job losses, etc).  Right now that figure is up to 3.8 percent (2,037,000 mortgages).  In more normal times as the chart above shows, this figure is around 1 percent (or 530,000 mortgages).  We are a long way from that.  Yet given the paperwork issues it is probably more accurate to look at the non-current loans.
Today over 13 percent of all mortgages are non-current (over 7,000,000 mortgages).  In the past this figure hovered around 5 percent (2,682,000 mortgages).  So if you want to do the math to figure out what a more normal market will look like:
7,000,000 – 2,682,000 = 4,317,800 mortgages away from a healthy market
As things stand today, we are over 4.3 million mortgages away from a healthy market.  With more delays assured by the paperwork fiasco and many people entering into default, we are years away from the housing market resembling anything that is normal.

Did You Enjoy The Post? Subscribe to Dr. Housing Bubble's Blog to get updated housing commentary, analysis, and information.