Real estate inventory is extremely low in this current market.  This has allowed the market to put upward pressure on prices even though sales volume is low.  The idea of real estate correcting has once again been washed away from the cultural psychology.  Home prices, the media, and house horny shoppers have once again turned real estate into a no lose proposition.  Seems to make sense when you look at current home prices.  But then you look at the crap shacks you can buy and realize you are on the hook for 30 years with a heavy mortgage around your neck.  When markets get feverish you start seeing flowery language on listings on otherwise crappy properties.  $700,000 shacks that would sell for $20,000 in Detroit.  It is one thing to purchase a nice home for a hefty price but to be convinced that you have to buy a beat up fixer upper for a ridiculous price is a symptom of a distorted market.  All you need to do is look at current market inventory.
Inventory is making the ugly look hot
Market inventory is causing otherwise junky homes to seem like Cinderella.  Just put on some glass slippers and you are looking at a princess of a home.  Of course the cable house porn shows are eating this up.  "Buy this home in the hood and with a little TLC you can make that $500,000 box into a $700,000 flipper's dream!"
The musical chair mentality is now back in full fashion.  "You need to buy that overpriced condo, let equity fly for a few years, sell, then buy a home, let a few more years go by, sell, then buy your million dollar dream home."  Of course all of this assumption is based on maximum leverage and hundreds of thousands of dollars in equity appearing out of thin banking air.
First, just look at inventory: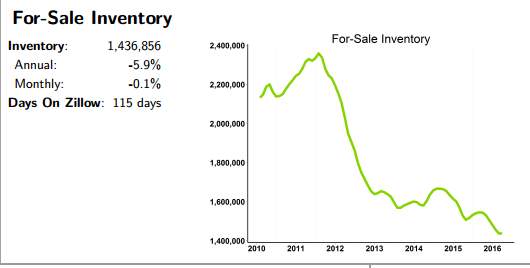 We are seeing a near record low in inventory.  So you don't need high sales volume right now to boost prices.  All you need is a few willing buyers and the market is now into a very exuberant mood.  There is a big disconnect of course.  We've been adding more renter households instead of owner households over the last decade.  Millennials are living at home in record numbers.  People forget one major thing about the last housing bust: it wasn't crappy mortgages that pushed people off the edge.  It was the fact that people couldn't pay their mortgages because incomes dried up.  It should be noted that most of the foreclosures that happened went to traditional 30 year mortgages.
Once again we are in uncharted waters here.  In the last bubble, we had record home sales, record home building, and record buying.  This all actually makes sense from a "market" perspective.  Today, what is happening doesn't.  What you have is acceptance that this is a rigged system.  If prices are soaring, and inventory is tight, you would assume that builders would be out in force like last time.  Yet builders don't believe the market.  If they are building, it is in large part for renter households (because they believe income figures – they already got burnt last time chasing hype).
Take a look at housing starts: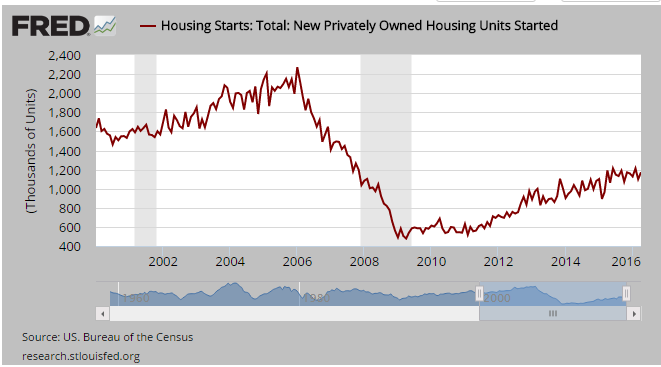 Housing starts are coming in at 50% below the level in 2006 with a much larger population.  You would expect this figure to be much higher to cater to the large cohort of Millennials in the home buying age range and the fact that inventory is near a record low.  It is screaming to build like crazy.
According to Pew Research, there are now 75.4 million Millennials surpassing the 74.9 million Taco Tuesday baby boomers.  Yet home buying is weak for this group.  Many are still living at home with their parents.
The market right now is driven by hype and prices are set at the margins.  Frothy markets can remain frothy for a long-time.

Did You Enjoy The Post? Subscribe to Dr. Housing Bubble's Blog to get updated housing commentary, analysis, and information.