Have you heard the good news brothers and sisters?  The housing ATM is now back in working order.  Hallelujah!  Black Knight Financial Services reported that in Q4 of 2016 44 percent of refinances were cash-outs.  Meaning, people are now using their homes like ATMs which flies in the face of all the house humpers who continually act as if people are acting prudent in buying crap shacks.  No, people are sucking on the teat of housing mania and now they are drinking from the nectar that is being produced.  This percentage was the highest level of cash-outs in the last eight years.  What was happening eight years ago?  The housing market was imploding in epic fashion and nearly 8 million people lost their homes to foreclosure.  Many lost their homes because they took out HELOCs and Home Equity loans to live beyond their means.  I have to make this point since people always forget – the vast number of foreclosures happened on traditional vanilla 30-year fixed rate mortgages.
The Housing ATM is back in business
The stock market is at record levels, housing prices are at record levels, auto debt is above $1 trillion, student debt is over $1 trillion as well, and credit card debt is going crazy.  I am getting more credit offers in the mail compared to 2006 and 2007.  People are once again living beyond their means on debt.  Housing is now being used as a piggybank to finance HGTV inspired renovations, vacations, cars, and other non-essential spending.  Many are tapping the equity buffer out.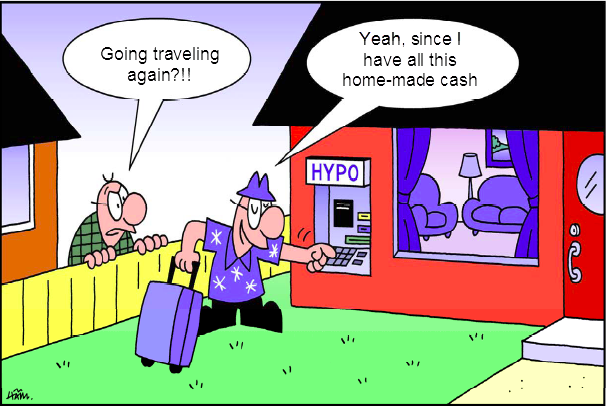 And of course, the first areas that will get smashed are the working class areas but then again, according to some, all of SoCal is now gentrified and Compton is now the next Newport Coast.  The amount of "tappable" equity is now at levels last seen in 2006: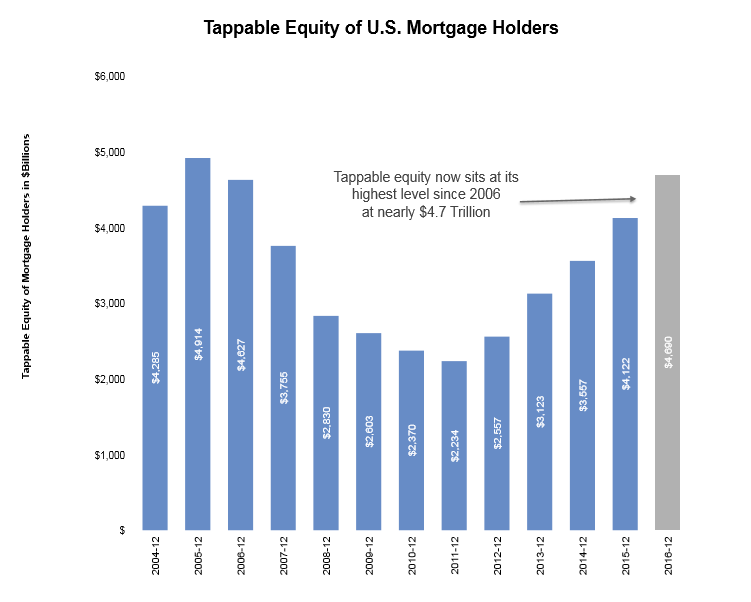 And of course, we all know that people were diligent and careful when it came to this.  People used their home like an ATM and sucked out any equity like a vampire draining blood from an old man.  You have to wonder how much of our economy is now running on this debt induced spending.  You do have to pay this back at some point.
Of course people are going to try to justify crap shack prices in San Francisco and talk about mass gentrification in SoCal.  But here you go with nearly half of all refis in Q4 having a cash-out component.  What this means is that when a dip in the economy hits, these people are going to have less of a buffer of protection.  And stop this pipedream nonsense that you are not going to lose your home.  Nearly 8 million people lost their home in the last decade!  Many of those homes were then bought at rock bottom prices by investors including Wall Street firms.  Rinse and repeat.
This is a troubling indicator of mass euphoria which happens in bubbles.  In many cases, these larger economic contractions happen because of solvency issues when it comes to paying debt.  People are locking in future income to current purchases be it with houses, autos, or even going to college.  That debt still needs to get repaid.
The entire model right now is built on permanent real estate appreciation.  Even a slight decline is enough to burst this train.  But right now, you have an entire menu of new excuses that replace the excuses made back in 2007 and 2008.
History doesn't repeat but it rhymes.  Roses are red, crap shacks are beige, my home is an ATM, now let me spend like a drunken sailor before the party ends and I have to pay this bill!

Did You Enjoy The Post? Subscribe to Dr. Housing Bubble's Blog to get updated housing commentary, analysis, and information.