There has been a torrent of information shrouding the new Hope Now Alliance proposal that was offered up this past week. We've heard outraged battle cries of "no government bailout" and we've also heard the argument that this plan does not go far enough to help those facing foreclosure. Aside from the philosophical debate, how many people does this plan really help in its current format? Now that we have a few more details of the plan, it is apparent as it stands that this proposal will only offer support to a small portion of the 1.2 million subprime borrowers facing trouble next year. Let us give you a quick recap of what we know so far:
This will only apply to owner occupied properties with at least a 36 month ARM reset period or less.
Loans must be originated between 1/1/2005 and 7/31/07. These loans must have reset dates between 1/1/08 and 7/31/10.
The loan must be current.

LTV must be greater than 97 percent
The borrower must have a FICO score less than 660
The borrower's FICO score cannot be higher than 10% since the loans origination date.
Each servicer must determine the owner cannot afford higher payments.
Should you fall within this if-then statement of complexity, you will qualify for the 5-year rate freeze. So instead of a 2/28 mortgage we now have a 7/23 mortgage. In this post we will analyze our hypothetical case study of Johnny Subprime who meets all the above contingencies and has a scheduled rate reset on 1/1/2008. Just to show my due diligence in this, I decided to call up the Hope Now Alliance program. I called at a late hour as everyone was hitting their slumber since I know they are extremely busy. After a brief summary of what they are about, I am led to the omnipresent "press 1 for English, press 2 for Spanish." From what it appears, they are being an advocate and are running a quick triage report to see if you even qualify. Early estimates from various sources state that this plan will currently help anywhere from 125,000 to 240,000 people. This plan doesn't even begin to address the potentially more dangerous mortgage bubble of Option ARM mortgages that are set to hit in 2010 through 2011. According to Fitch Ratings, 80 percent of Option ARM borrowers only make the minimum payment. What this means is these folks are going negative amortization in a time where across the country every large metro area is seeing real estate depreciation. This is a guaranteed recipe for being underwater at a time when analyst are predicting the bottom of the housing market will be hit. It is literally the second tidal wave of this housing credit explosion.
Let us deal with one thing at a time. Let us run some assumptions just to show how this Hope Now Alliance will play out for Johnny Subprime:
Mortgage Type: 2/28 Mortgage
Origination Data: 1/1/2006
Home Purchase Price: $250,000
Mortgage Amount: $250,000
Mortgage Rate: 7 percent with expected rate at reset of 10
Current Principal and Interest: $1,663
Expected Principal and Interest at Reset: $2,173 *2/28
Taxes and Insurance: $260
Yearly Income: $50,000
Monthly Net Take Home Pay: $3,080
Car Payment: $300
Car Insurance:$100
Auto Fuel: $120
Food: $400
We'll leave out other factors like cell phones, healthcare, utilities, and credit cards which many borrowers have. With the current payment Johnny Subprime has disposable monthly income of $237. After talking with a counselor on the phone, Johnny hasn't missed a payment and falls within the guidelines and demonstrates that a rate reset will suddenly put his $237 monthly surplus into a monthly deficit of $273. Since most subprime borrowers already start out at a higher rate, it is very common to see a starting rate of 7 percent especially if the note originated in 2005 or 2006 when rates were very low and the secondary market was buying them up like hotcakes. So instead of his rate resetting in 1/1/2008 it will now reset in 1/1/2013. Without the rate freeze the rate payoff curve looks as follows: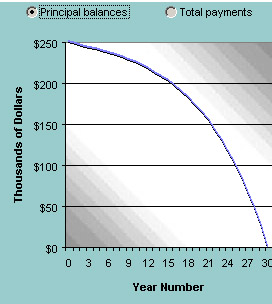 For simplicity, we will only assume that there is a rate cap of 10 percent and doesn't go higher which is a very high probability given the current economic circumstances and the structure of many subprime loans. Interest rates cannot remain at multi decade lows forever. So the freeze is on and Johnny lives to fight another day. Does this freeze really help long-term? Johnny goes on living his life, paying his bills, and doing the things of daily life. Let us assume that Johnny has received a 4 percent pay raise each year and now we are in 1/1/2013. How does our scenario variables change?
Current Principal and Interest: $1,663
Expected Principal and Interest at Reset: $2,112 *7/23
Taxes and Insurance: $260
Yearly Income: $60,800
Monthly Net Take Home Pay: $3,597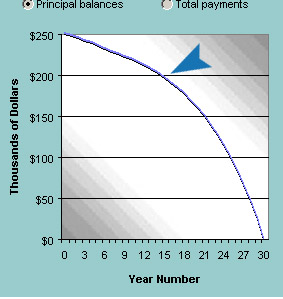 First you'll notice that the difference between the 2/28 reset payment and the 7/23 reset payment is only off by $61. So how is Johnny Subprime now doing in 2013? With the new rate reset he is now with a monthly surplus of $305. On the surface, it looks like the rate freeze has saved Mr. Subprime from losing his home. But there are many assumptions that we are assuming here.
Three Assumptions of the Hope Now Alliance
This seems all well and good for our hypothetical case. But as you can see from the tiny payment difference, all we are doing here is buying extra time in hope of a few things. First, there is no reason for Johnny Subprime's salary to go up in the next 5 years. In fact, wages have recently been stagnating. If and when the economy goes into recession, there is even less of a reason to assume wages will increase as the economy contracts. This puts one major dent into this freeze plan.
The second assumption is that housing prices will stabilize over this timeframe. Who is to say prices will stay the same? In fact, we have another major mortgage debacle awaiting us in 2010 and 2011 just when this one is getting cleansed from the system. We are already seeing that yes, real estate does go down and in fact can go down on a national scale. Estimates abound that home prices can fall anywhere from 10 to 30 percent depending on the area. Many analyst predict the bottom somewhere in 2010 but of course the dormant giant of Option ARMs hasn't even been tackled. So assuming Johnny Subprime's property falls by 10 percent nominally, he will still owe $227,868 on the new 7/23 mortgage and the property will be worth $225,000. He will have zero appreciation and will lock himself into a place for 7 years. As you can see, sometimes renting is better than buying. After all, having a roof over your head and building up no equity is the simplistic definition of renting.
The final assumption here is that Johnny will in fact want to stay in his home. We've heard countless times from the industry how no one ever stays in one place anymore. Well in this case, Johnny will not have much of a choice in the first few years since he doesn't have the equity to sell especially in a declining market. What if he gets a new job somewhere else and needs to move? Is he going to be compelled enough to stay in the place? What if he realizes that the only true winner here is the lender and he in fact may be coming out with no equity in the end? Will he want to continue making payments to keep the lenders afloat?
You can see that it is much too early to determine how this thing will go. Will people in foreclosure that don't qualify for this plan call for equality? Why should they be punished because they didn't fall within the given timeline of the current proposal? What about prime borrowers that are underwater? Why shouldn't they be able to freeze their rates as well? Again these are philosophical questions more than economic but I assure you they will come up in the coming years. Even though this isn't a bailout per se, it does open the door slightly for more government meddling. We already know that Paulson said this isn't a "Federal bailout" but the wording giving tax-exempt status to states should be watched. Another major thing that would be a bailout is what Angelo Mozilo, CEO of Countrywide mortgage is pushing. He is calling for caps to be raised to $625,000 so the FHA, Freddie Mac, and Fannie Mae can purchase larger mortgages. Mozilo had actually called for raises of as much as $850,000. Since Countrywide and WaMu have nearly 45 to 50 percent of their mortgages in California, I wonder why he is pushing this so hard?
What are your thoughts? Is this a bailout or is this something more benign?
Did You Enjoy The Post? Subscribe to Dr. Housing Bubble's Blog to get updated housing commentary, analysis, and information