One of the recent interesting studies that came out from the Census revolved around long commutes.  The study found that 8.1 percent of Americans have one way commutes of 60 minutes or more.  More impressive was what the study found with "megacommutes" or those that are 90 minutes or more each way.  The study is an interesting one and is called Out-of-State Long Commutes in case you would like to read it.  There are two major points that have come up in recent comments that make a lot of sense in regards to current niche markets.  One point is, desirability for certain areas coupled with increased buying power and low inventory has essentially gentrified certain California markets.  We've seen this with hipster areas of Los Angeles.  What I've also noticed in the comments is that most acknowledge our unsustainable path forward but the thought process is now "ride it until the wheels come off" which is an interesting perspective.  In many cases people are seizing onto the current housing market trying not to miss out.  Obviously the Fed with a $3 trillion balance sheet and our national debt higher than 100 percent of GDP should cause for some pause but most see this as a battle for another day.  Is Southern California gentrifying out?
California diverges from nation
No need to reinvent the definition of gentrification but here is what Wikipedia has to say:
"Gentrification is a violent dynamic that emerges in poor urban areas when residential shifts, urban planning, and other phenomena affect the composition of a neighborhood.  Urban gentrification often involves population migration as poor residents of a neighborhood are displaced. In a community undergoing gentrification, the average income increases and average family size decreases. This generally results in the displacement of the poorer, pre-gentrification residents, who are unable to pay increased rents, and property taxes, or afford real estate."
Clearly many cities in California have seen this occur.  California was never always this expensive.  In fact, it looks like the divergence occurred back in the 1980s: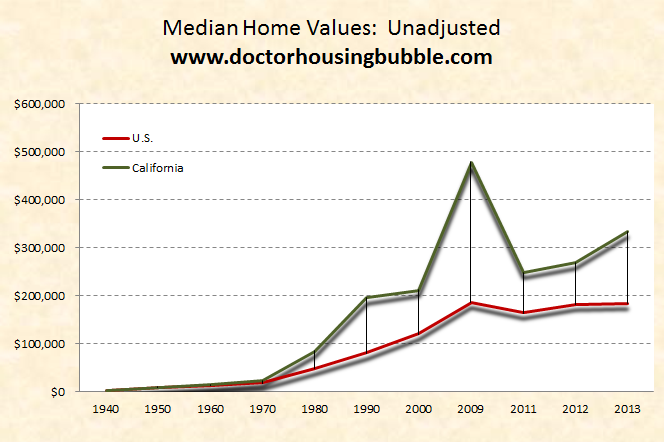 Sources:  NAR, Census, CAR
These are annual prices so only use this as a brief point in time reference (a better chart for price trend changes on a monthly basis would be Case Shiller data).  Yet the point remains, from 1940 to 1980 California housing and US housing did not diverge too much when it came to price.  You can see even now, as the market is heating up, California is pulling away from the national median home price.  One point that does stick out is that certain areas simply have not seen populations rise or new homes built so you have competition for the same amount of homes with more money.
Population of desirable areas
Let us take a look at an upper-tier area and a mid-tier area: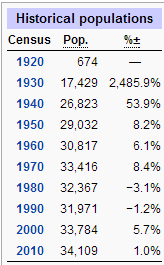 This is very telling.  The population of Beverly Hills today is almost the same as it was in 1970 (or even 1960).  This area has gotten more desirable with time.  So with added leverage of low rate mortgages, you are very likely to have more demand on the little available homes on the market.  This view on housing is exactly what is occurring today.  You have big money chasing a relatively small number of available homes.  Supply and demand.
Let us look at a mid-tier area with Huntington Beach: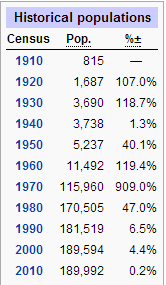 This is another interesting point.  The population of Huntington Beach has remained fairly steady since 1980.  Yet demand for housing has increased.  So you do have a gentrification of many markets as people are seeking out more prime location in Southern California.  Yet gentrification in California is more like pushing out the middle class (as defined by the median household income for an area) for upper-class residents since many of these markets are already at the higher end.  Add more leverage to the mix and prices get pushed up.  Incomes do matter for a couple of reasons.  First, these will determine going rents and half of Los Angeles County rents.  Many of the current purchases for all cash are from investors looking to rent places out.  So you have a new dynamic in the mix.  Yet lower rates undoubtedly are adding fuel to markets with already low inventory.
Price-to-earnings ratio and Mortgage data
A commenter MB pointed out a Harvard housing study with excellent data.  This data included price-to-earnings ratios for many markets and also, mortgage data.  I went ahead and constructed two charts from the data: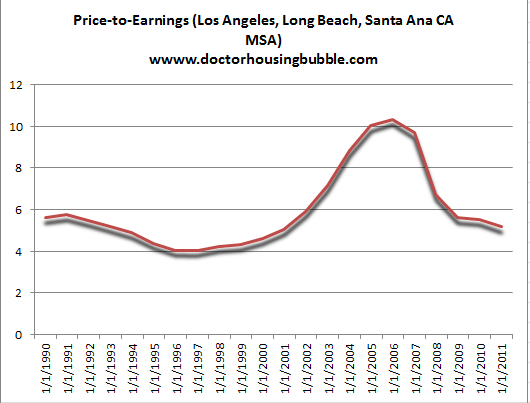 The first point I would like to make is that above is looking at giant MSA subset of data that includes LA-LB-OC (basically LA and OC counties with nearly 13 million people combined).  The median home price in Southern California is $320,000.  Most readers here are probably not looking at $320,000 properties (at least not in LA or OC).  So a large amount of buying as defined by the median price is still for more affordable homes.  Many are willing to become part of the megacommuter culture and will purchase out in the Inland Empire where the median price is $228,000 for Riverside and $175,000 for San Bernardino (that with low rates is affordable).
The chart above shows a peak of 10 in 2006 and a current rate below 6.  The trough was around the 4 range.  This data only goes back to 2011 so with the massive run-up in 2012 we are very likely at 6 or higher for the region.  The point I will make here is that this is for a giant region of data.  Even for Southern California, the last month of sales data shows that buyers committed to a typical mortgage payment of $1,154 (source:  DataQuick).  That almost seems unrealistic but this is what the latest figures show.  When I see data like this I wonder, does this include an average with the massive amount of all cash buyers?  After all, if three buyers buy homes, two with $2,000 mortgages and one with all cash ($0 mortgage) and we count this in the figures, the average mortgage payment is $1,333.  This is pretty much the story for the last few years where 30 percent of all buyers are coming in with all cash offers.
The next chart that I constructed from the data is the mortgage payment-to-income ratio: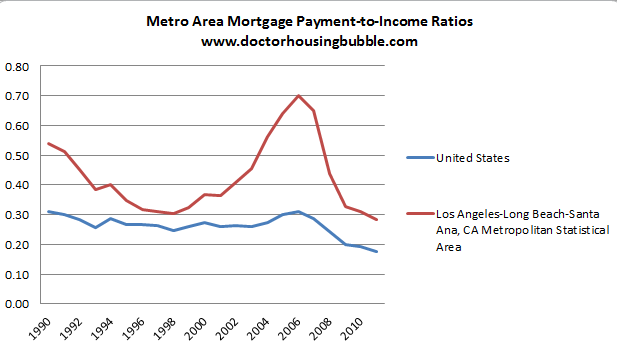 In regards to overall mortgage payment-to-income ratios, this is the most affordable the LA-LB-OC area has been in over 20 years.  One question I would have on this is how does the all cash buyer market impact this dataset?  Is it simply ignored?  Either way, the chart is very telling.  Buyer leverage has increased dramatically and even with FHA insured loans buyers can get 30x leverage.
California homeownership rate
With all this affordability you would expect homeownership to increase right?  Not so fast: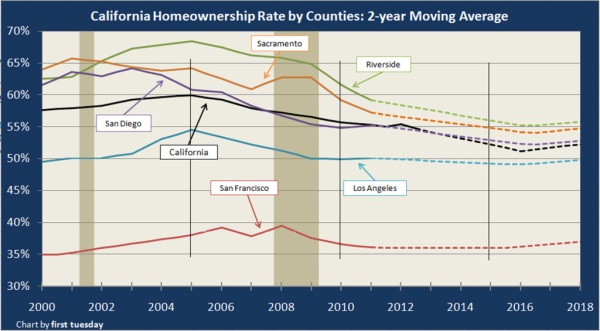 Ironically the California homeownership rate is at a low not seen since the early 1990s.  What is going on?  For one, a massive gentrification has occurred.  While you do have a subset of the population that is doing much better, California now holds the highest unemployment rate of all states.  Nearly half of the state rents, many cannot buy today even with record leverage being provided.  Even if you manage to get a FHA insured loan, good luck trying to buy a place with this in certain markets. You need 20 percent down to be competitive in desirable markets.  Is this a big part of the market?  Doesn't seem like it.  The bulk of sales are all cash investors and FHA insured buyers.  The conventional buyer is not the dominant group here as it is in most typical markets.
For these reasons, this is why we see the median price in Southern California up over 20 percent year-over-year but sales up only 1 percent.  Like in New York, some areas are gentrifying to a very high degree.  San Francisco is a prime example.  People are smart but think in the short-term.  The bubble bust is now a distant memory.  This is an entirely different ballgame today.

Did You Enjoy The Post? Subscribe to Dr. Housing Bubble's Blog to get updated housing commentary, analysis, and information.