It is still amazing how few people realize how subsidized the housing market really is.  I have talked to people that walked into a too big to fail bank, received a government-backed mortgage yet assume this is somehow the "free market" at work.  Even after pulling up their loan on a public Fannie Mae database they still want to believe they are participating in a free-market.  Why?  Ultimately it is a direct benefit to their bottom line.  The housing market lost any free-market label post-Great Depression.  Plus, that bank is only able to function courtesy of rewriting accounting rules and trillions of dollars in emergency loans.  For over a generation the loans that were made were conservative, required a large down payment, and came at a time when household incomes were rising.  We can argue the merits of government-banking intervention (i.e., the Fed with QE3, mortgage interest deduction, etc) yet the market is now fully addicted on all these external factors.  A Pandora's Box has been opened and now every action that is taken is more extreme and more permanent.  Yet the housing market of today is nothing like the one many baby boomers grew up in and eventually purchased.  Demographics and stagnant incomes will create different variables for the housing market going forward.
Affordability the driving force
The Case Shiller Index is showing a positive move up in prices for 2012.  However this needs to be put into context here.  Let us take a look at the Case Shiller Index and the 30-year fixed mortgage rate: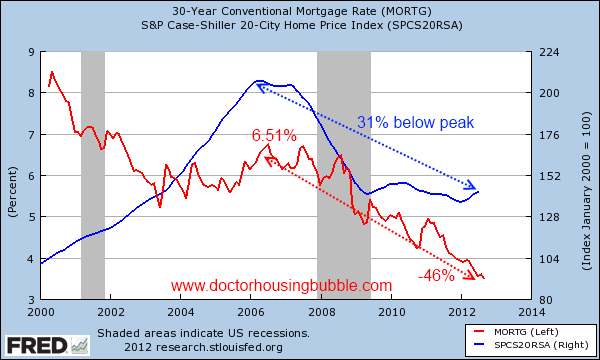 This is important to understand because it explains why home prices are moving up and is also a major reason why the Federal Reserve did not hesitate in going all-in with an open invitation of QE3.  Home prices have fallen 31 percent from their peak but interest rates are down a stunning 46 percent from this same point in time.
It might help to run some numbers to see what is occurring:
2006 Peak
Home price:                            $200,000
Down payment:                       $20,000 (10%)
Mortgage:                               $180,000 @ 6.51 percent
Principal and Interest:                        $1,138
Now assume this house fell by the standard 31 percent from the peak price.  What are the numbers for purchasing this home today?
2012
Home price:                            $138,000
Down payment:                       $13,800 (10%)
Mortgage:                               $124,200 @ 3.5 percent
Principal and interest:                        $557
And you wonder why home prices are going up with limited inventory?  The median household income in the US is $50,000.  So this kind of extra money goes a very long way.  First, you realize that the amount needed for a down payment dropped by a sizeable amount meaning people can dive in much quicker (let us not even discuss the 3.5 percent down payment of FHA insured loans).  Next, you realize that the monthly principal and interest payment fell by over half from $1,138 to $557.  Household incomes are back to levels last seen in the 1990s adjusted for inflation but this kind of massive boost is why you are seeing prices rise.  There is also a savings from a lower tax assessment and very likely lower insurance rates based on price.  It is important to understand this for states with modest home prices but also for hipster neighborhoods in California.
Now you would think that existing home sales would be off the charts: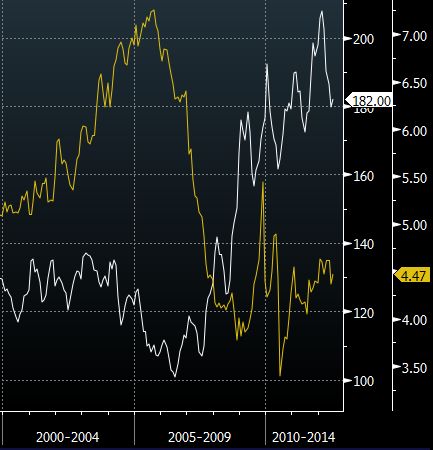 Affordability Index: White; Existing Home Sales: Yellow (Bloomberg) – Source:  Soberlook.com
You can see that affordability has bounced back significantly.  With prices rising it has fallen but lower interest rates and the crash has increased affordability.  You have a couple of ways of increasing affordability:
-1.  Lower home prices
-2.  Higher incomes
-3.  Lower mortgage rates
After the crash, the increase came from lower home prices.  Today, the focus is largely on lower mortgage rates.  Higher incomes are stagnant so it is not coming from this crucial segment.  If the Fed truly believed that the housing market ramping up would somehow increase household incomes then why go with QE3?  As we highlight above, higher incomes would have increased housing affordability.  The reality of course is the Fed understands global wage compression and with stagnant household incomes for well over a decade, you have option 1 or 3 to work on.  Since the Fed is vested on inflating housing prices for their banking friends, option 3 was the only road.
How much is injected into the economy from lower rates?
Some tend to think that lower rates are the solution to everything.  There is a deep seated entitlement mentality when it comes to housing.  20 percent down mortgages are too high?  How about a 3.5 percent down FHA insured loan.  6.5 percent too high for a 30-year fixed rate mortgage?  How about a 3.5 percent mortgage.  Need help with that tax bill?  The more expensive your mortgage the more you can write-off.  This is the system that is now in place.  So now we have folks thinking that the Fed with a near $3 trillion portfolio has a mystical power to lower rates even further but we are already seeing dislocations in other parts of the economy (i.e., college education, healthcare, energy, food, etc).  Easy money needs to find a home.  Plus, this little move is coming on the back of nearly $500 billion in MBS purchases.
So when we look at the figures a few more basis points shaved off is not going to do much: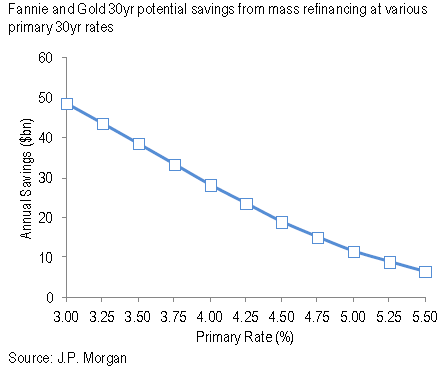 Basically each 25 basis point drop injects $5 billion into the pockets of US consumers.  So a 50 basis point drop would inject $10 billion more (as a reference point, US consumers spend somewhere near $11 trillion per year).  So those thinking this is somehow a panacea are missing the point and are simply addicted to the command-control housing market.  Plus you pander to the majority of US households even if it is bad economic policy in the long-run.
The question of inventory
Without a doubt available inventory for sale in the US is low: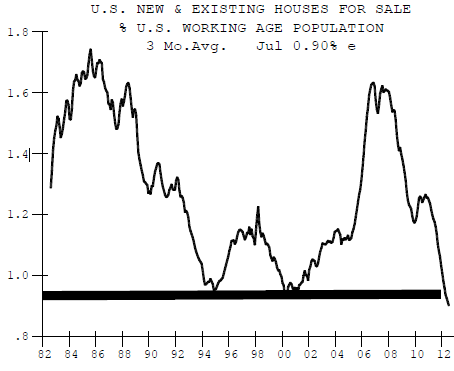 Keep in mind however that there are roughly, 5,400,000 homes in the distressed pipeline.  Some are on the MLS but many are simply in the foreclosure process.  So you would think that new home sales would be flying off the charts: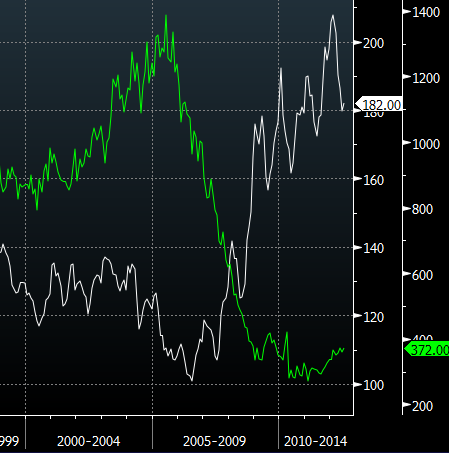 Affordability Index: White; New Home Sales: Green (Bloomberg)
What is going on here?  New home sales have moved up a bit but certainly not reflective of the insane drop in mortgage rates.  New homes carry a higher cost and demand right now is for affordable homes.  This affordability is being driven by lower interest rates.  It is an interesting trend yet we now have many baby boomers retiring and the McMansion style of living is no longer desired by many younger less affluent Americans with smaller families.  Look at the Inland Empire in Southern California.  Take a look at many of the arteries running into LA and OC during the weekday and you realize many people drive into LA and OC to work.  Gas prices are now over $5 in many California areas reaching record levels.
Assume someone drives in from Corona to downtown LA:
Drive each way:                      49 miles (total roundtrip 98 miles)
5 days of week of driving:       490 miles
Let us assume this person drives in with a mid-sized SUV like a Ford Escape getting 32 miles per gallon.  Total cost at $5 per gallon:
$76.56 per week on gas (assuming no weekend driving)
Over 50 weeks this comes out to $3,828.  And this is for one person when you may have two people commuting in.  What about home heating and cooling?  Does this model of living sound sustainable?  Let us not even discuss the psychological and physical impact of sitting in traffic for hours a day.  Even looking 10 years back gas was around $1.80 per gallon.  This puts a major dent in a household balance sheet.
So you have many variables now that make housing different from the boomer generation:
-1.  You have a giant older population that is retiring.  Will many sell?  Downsize?
-2.  A younger and less affluent generation.  We've discussed the lower income prospects and the massive student debt many carry right out of school.
-3.  Rising cost of living and stagnant household incomes.  Is your grocery bill getting cheaper?  Does it cost less to fuel up?  How about sending your kids to school?  Have you looked at your medical insurance bill recently?
This is why we have seen new home sales not really "boom" even though there is clear population demand for housing.  Yet the key of course is affordability.  And the mega McMansions built out in places like the Inland Empire, Las Vegas, or Florida may have a harder time when budgets are constrained by so many other factors.  High density housing is more appealing to many younger Americans for a variety of reasons but probably the biggest one is economic.  They simply cannot afford the white picket fence vision of housing that reigned supreme during the baby boomer era.
The fact that the Fed has moved so aggressively with QE3 tells me they simply do not believe US household incomes will rise.  From their perspective, as long as Americans can go into massive debt and actually "purchase" the home, iPad, car, or vacation then people will keep on trucking.  It is troubling to see so much energy and resources focused on housing as the apex of our growth.  This goes all the way back to Alan Greenspan.
A rising standard of living is probably the better measure.  And many indicators show this is simply not playing out.  We live in a world of economic dichotomies at this point.  We have access to virtually every book ever written with great minds talking about better living practices yet half of our population is overweight.  We have all these technological devices to save time and help us become more efficient yet we become less efficient and some are tethered to work 24/7.  Automotive advances allow virtually any consumer to have a complex piece of machinery that can drive through all kinds of conditions and many simply idle on by on cramped highways.  We have home prices once again going back up in the face of stagnant household incomes.  For all these reasons to assume we are going to have a "steady" housing market or a boom coming up is simply ignoring the fact that Black Swans are almost embedded into the system.  This is not your parent's housing market.

Did You Enjoy The Post? Subscribe to Dr. Housing Bubble's Blog to get updated housing commentary, analysis, and information.