The Southern California housing market is tearing a path into the fall real estate season.  As we detailed in a previous post many families will have a hard time saving $100,000 for a down payment so the market is being flood with foreign investors, flippers, baby down payment buyers, and big pocket investors.  Let us call this the FFBB crowd.  Since foreclosure resales are making up a smaller part of the selling mix the median price is ripping a path across the mainstream press creating a self-fulfilling vortex feeding into the real estate money piranha machine.  It is an interesting mix because household incomes are stagnant yet a tremendous amount of subsidies and interest is causing prices to move up.  Let us examine the latest sales data for Southern California.
Long live the jumbo loan market
The jumbo loan market is picking up steam.  Jumbo loans as a percent of all sales are now back to levels last seen in December of 2007: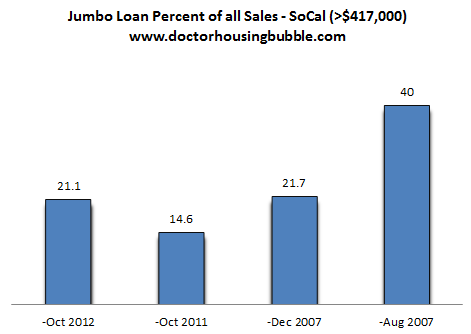 Why the heavy usage of jumbo loans?  Prices are running up because of scant inventory and the low interest rate environment.  Foreign money is flowing into targeted areas while domestic big pocket investors are purchasing up other properties.  Higher priced properties are making a big move: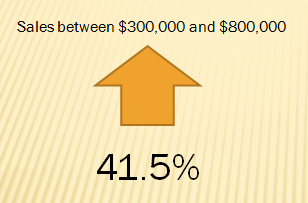 Sales between $300,000 and $800,000 are up a stunning 41 percent over the last year.  Sales in October for properties priced above $500,000 went up by 55 percent.  These are actual sales and this is occurring in the fall when sales typically edge lower.
A quick preview looks like this:
All cash buyers:                 32 percent (near peak)

FHA insured buyers:       25 percent

Jumbo loan buyers:        21 percent
Welcome back to the California housing market.  Foreign money and big pocket local investors make up the all cash segment.  The resurgence of flippers is now in full force:
Homes sold twice within six months:
October 2011:                    3.7

October 2012:                    6.1  (increase of 64 percent)
And we are seeing this flipping activity in many hipster neighborhoods.  I know many people are shocked since they will look at local income figures but keep in mind this is happening because a large pool of money is coming in from outside forces.  This is also happening in many prime cities of Canada.  This hot money will continue flowing as long as the host nation continues to boom.
Since foreclosure resales are now a much smaller part of overall sales, we are seeing the median price move up sharply: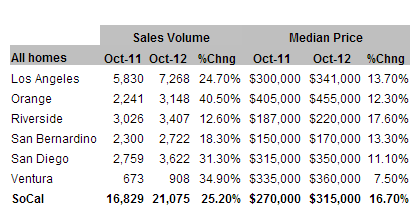 Source:  DataQuick
SoCal home sales are up 25 percent over the year while the median price is up 16 percent.  Keep in mind this is happening at a time when household incomes are stagnant.  As we have mentioned, the FFBB group is the current herd running through the 405 and 101.  To try to personalize:
-Foreign money – current prices are cheap relative to domestic markets (weak dollar adds even more leverage as a hedge).  Interested in targeted markets (not all of US).

-Flippers – prices are going up so selling into momentum (musical chairs game starting up again)

-Baby down payment  buyer – FHA insured going to more local families trying to jump in and play this game.  Paying via much higher mortgage insurance premiums.

-Big pocket investors – buying up places in areas like the Inland Empire for rentals or flips (yields are being squeezed thanks to competition)
Not exactly the bubble of the 2000s but this is certainly a market fueled by speculation and hot money.  Throw in the Fed's push for low interest rates via QE3 and you have local families levering up to compete with all these other groups.  The result?  Big jump in sales and prices.  But does this have momentum?

Did You Enjoy The Post? Subscribe to Dr. Housing Bubble's Blog to get updated housing commentary, analysis, and information.