California home prices in many cities are now poised for a second correction.  The cities that will experience this change in the next few years are in mid-tier and upper-tier locations.  With no summer bounce and sales falling, the economic pendulum is swinging to lower prices since incomes are not moving up.  Make no mistake, you are seeing a correction already occurring but there are more crosscurrents entering these locations moving forward.  Areas like Bel-Air and Beverly Hills are seeing price drops that were unthinkable only a few years ago.  Not only in these prime markets, but you are also seeing price hits in areas like Cerritos where over 82 percent of households "own" their home.  When I say own I mean this lightly because 75 percent of these homeowners actually have a mortgage on their home.  I want to focus on Cerritos today because this city is a good example of the demographic argument.  Cerritos demographically is over 62 percent Asian.  The argument goes that money from Asia is flying into these markets keeping prices inflated.  Although these areas have seen prices drop at a slower level, there is little evidence to support that prices are being pushed up because of this trend.  Today we salute Cerritos with our Real Homes of Genius Award.
When the trend overwhelms a niche market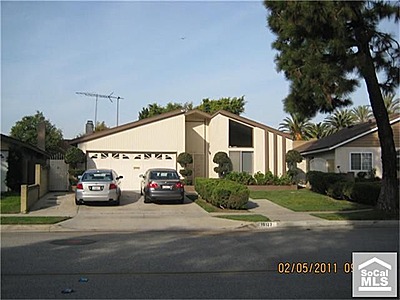 19127 WIERSMA AVE, Cerritos, CA 90703

Listed    02/17/11

Beds      4

Full Baths             1

Partial Baths       1

Property Type   SFR

Sq. Ft.   1,614

$/Sq. Ft.               $276

Lot Size 5,397 Sq. Ft.

Year Built             1969
Home prices from 2007 to 2010 crashed because of the toxic mortgage fiasco.  From 2010 onward, I would argue that more of the price drops are coming because household economics simply cannot support current inflated spending budget.  California has a stunningly high unemployment rate of 12 percent and an underemployment rate of 23 percent.  Contrary to anecdotal examples, there is nothing special holding up a city like Cerritos.  Just because the heavy part of the correction took longer to arrive here doesn't mean it won't occur.  Take the home above, this home is listed as an REO with 4 bedrooms and 2 baths.  At 1,614 this is a nice starter home for a professional couple.  You even get a kitchen with upgrades: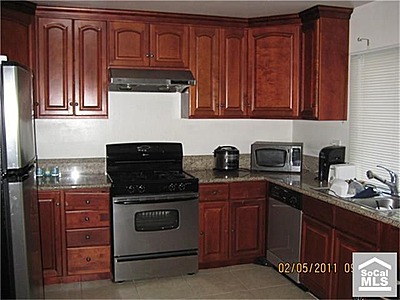 The home looks to be in good condition and is a good sized property.  If the argument about foreign money were true, you would expect this property to be snatched up at peak prices.  Did you see the listing date above?  This home has been on the market since February.  The shadow inventory is large in Cerritos which signifies households are unable to pay for their monthly bills.  As previously mentioned, Cerritos has a household home ownership rate of 82 percent so using Census data does provide an accurate perspective here whereas the county of Los Angeles has a household ownership rate under 50 percent.
The median household income for Cerritos is $86,497.  Let us take a look at the pricing history on this property: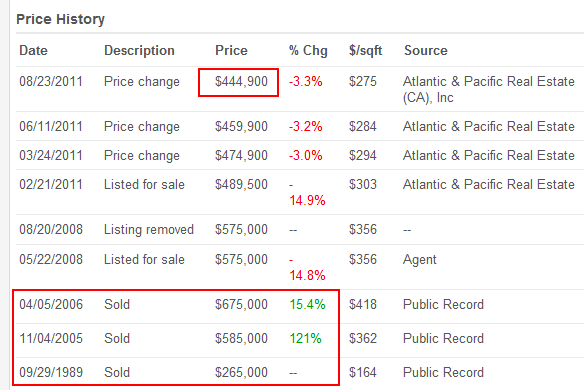 Let us chronologically walk through what occurred here.  First, this home sold for $265,000 in 1989, this was a previous housing bubble peak in Southern California.  It then sold for $585,000 in November of 2005 and only 6 months later sold for $675,000 at the height of the mania.  The home was listed for sale at $575,000 back in 2008 but no takers.  This February the home was listed at $489,500 and no one bit.  Little by little this home in Cerritos has trickled down to $444,900.  Is this a good price?  Can the median household income of $86,497 support this price?  I will reiterate once again, over 82 percent of households in Cerritos "own" their home so the median income reflects a large portion of these households.  The notion that you have $250,000 households snatching up these places is nonsense outside of a handful of cases.  We are looking at the bigger picture here and the shadow inventory is a real problem.  This home isn't unique at this price point: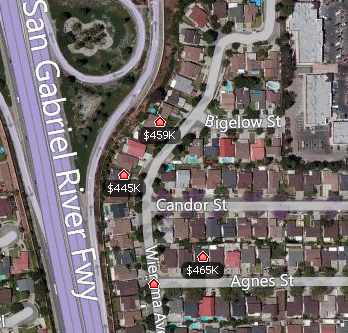 In fact, this seems to be the range in this neighborhood.  Where are the hordes of foreign buyers with large bags of money?  Have people forgotten this is a global recession?  Have people forgotten the reality that California is in a tough economic ditch?  Just because you have a small number of people with money buying some specific California homes in niche markets does not mean it can carry the entire market.  Those arguing about the unique aspects of markets forget that short-term movements largely iron out in macro perspectives.  So Cerritos didn't go down as quickly as other California markets.  So what?  The city is still over inflated and just because more people kept prices high for a few years doesn't mean things will not correct as the above trend now reflects.  The above home is a nice starter home and it has dropped in price by $231,000+ from the peak.  How long do you think it would take the median household in Cerritos to save $231,000?
Cerritos has 9 properties listed on the MLS as distressed.  However the actual shadow inventory data is enormous: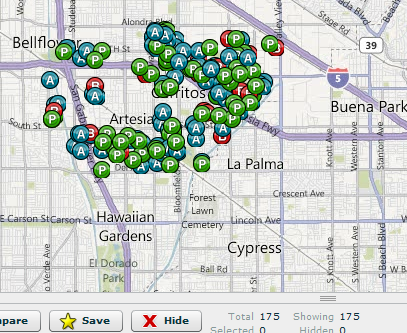 Those "P" dots you see are people that have missed at least three mortgage payments.  Those "A" dots are scheduled auctions and are further along in the foreclosure process.  The few "B" dots are the REOs.  And how many other places have missed payments yet are not in the foreclosure process because of the shady banking system?  Sure, people can believe what they want  but the economy and incomes in no way support current prices even after a $231,000 (34 percent drop) in a couple of years.  The median price for Cerritos is $530,000, much lower than the peak but incredibly inflated.
Today we salute you Cerritos with our Real Homes of Genius Award.

Did You Enjoy The Post? Subscribe to Dr. Housing Bubble's Blog to get updated housing commentary, analysis, and information.