You know the housing correction will be with us for a good duration especially when 60 Minutes talks about the double dip in home prices and the fiasco in mortgage documentation.  I'm sure some of you caught the fact that one of the people in the story had a mortgage for over $700,000.  How much income is needed to support a $700,000 mortgage?  This I believe is the larger problem we will face moving forward especially in California because many bought homes they clearly could not afford and banks simply do not want to accept reality.  Even if the home is now listed for sale home prices are reflecting actual borrower incomes.  The maximum leverage provided by FHA insured loans needs to be verified with actual income.  Home prices continue to correct even in prime Southern California locations.  Today we have an example sent in by a reader of a home in West Hollywood.  This home last sold in 2005 and the correction is steep for a pricey neighborhood.
The Glamour of West Hollywood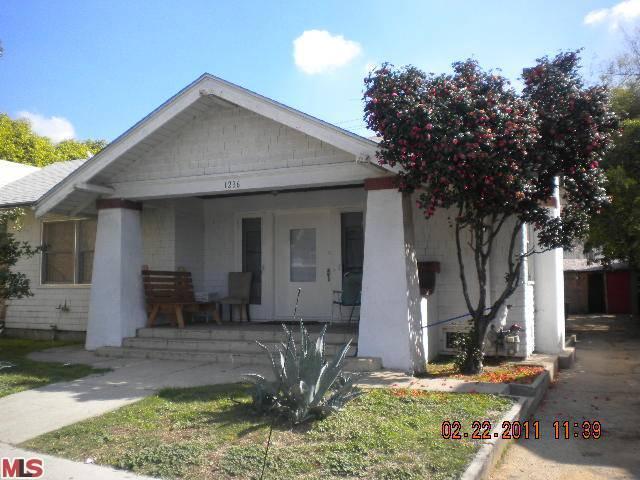 1236 North FAIRFAX Ave, West Hollywood, CA 90046

BEDS:    3

BATHS: 1

SQ. FT.: 1,663

$/SQ. FT.:            $347

LOT SIZE:              6,850 Sq. Ft.

PROPERTY TYPE:               Residential, Single Family

STYLE:   Other

YEAR BUILT:        1913

COMMUNITY:   West Hollywood Vicinity

COUNTY:             Los Angeles
West Hollywood is a unique part of Los Angeles County.  The location and proximity to stardom pushes the price of this area upwards.  The above zip code has a median price of $872,000.  This is a mid-tier area of Los Angeles that is now facing a correction.  How deep the correction will go is hard to say.  This is a 3 bedroom and 1 bath home and is listed at 1,663 square feet.
This home looks better from the front: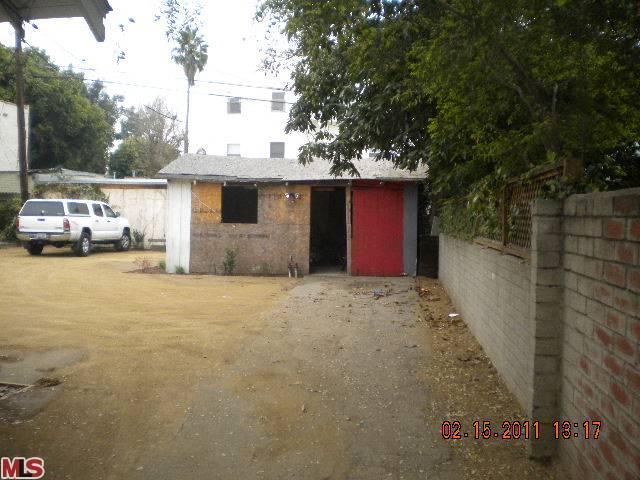 Not sure what they were going for here.  This home doesn't exactly convey a sense of Hollywood red carpet treatment but the sales price in 2005 sure did: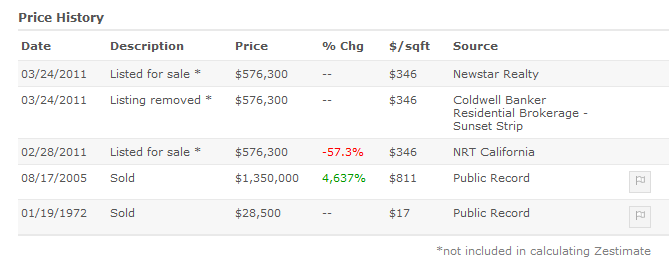 This home sold for $1,350,000 back in August of 2005.  Today it is listed for sale at $576,300 and has a sale pending.  This is the ad:
"REO-Bank foreclosure. Property condition may restrict FHA/VA financing options. In the heart of West Hollywood, 3 Bedrm + 1 Bath home. Property is Tenant occupied, so please do NOT disturb. Close to shopping and restaurants. Submit all offers BEST & FINAL w/ proof of funds, pre-approval letter & top page of credit report showing fico scores. See pvt remarks for showing instructions. Thank you."
The ad mentions it is tenant occupied.  I'd be curious to know how much rent is being collected on this place.  Even at a purchase price of $576,300 you would need upwards of $3,500 per month to make this even worth your time on the low end (more like $4,000 or $4,500 would be a better starting point).
Either way, we are talking about a 57 percent price cut in a mid-tier West Hollywood zip code.  The funny thing when we post items like this or homes in the Beverly Hills area some are quick to comment that it doesn't pertain to a certain school or niche market even within the city.  All of a sudden it is getting harder and harder to hide from the overwhelming momentum of the correction.
This housing bubble was enormous in California so the correction is expected to be just as big.  Many of these areas have yet to face any serious kind of price correction.  The 90046 zip code has 149 homes in the shadow inventory.  Keep in mind this is in a supposed prime location.  Many of the homes have mortgages well above the $1 million threshold. Here is a taste of some of the active shadow inventory properties in the 90046 zip code: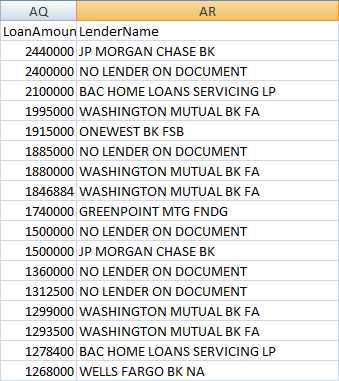 This is going to be a long and drawn out correction but bubbles of this size do not pop overnight or over one year.  Ultimately home prices will need to reflect actual incomes of the area.  The 90046 had a median price of $597,000 back in January of 2001 with 33 sales.  The fact that this home sold within that range might be a sign of where things are heading.
Today we salute you West Hollywood with our Real Homes of Genius Award.

Did You Enjoy The Post? Subscribe to Dr. Housing Bubble's Blog to get updated housing commentary, analysis, and information.