In the first half of 2009, nationwide foreclosure filings topped the 1.9 million mark for the first time ever surpassing the 1.5 million for the first half of 2008.  Also, Q2 of 2009 was the worst quarter in terms of foreclosure filings ever.  Whatever the case may be with a handful of good earnings reports including some Wall Street firms that are making billions on a disaster they helped to orchestrate, the overall housing market is still deteriorating.  The Alt-A and option ARM problems still loom in the near future with really no strategic way to address them.  Many of these loans will be recasting in large numbers in states like California and Florida where housing is still in tatters.  The U.S. Treasury and Federal Reserve seem intent on prolonging the slump as long as possible to give them time to craft another bubble.  We've seen this with the loan modifications which amount to additional government sponsored option ARMs which virtually convert homeowners into long-term renters.
Before we drill down into California, let us first take stock of the nationwide foreclosure situation: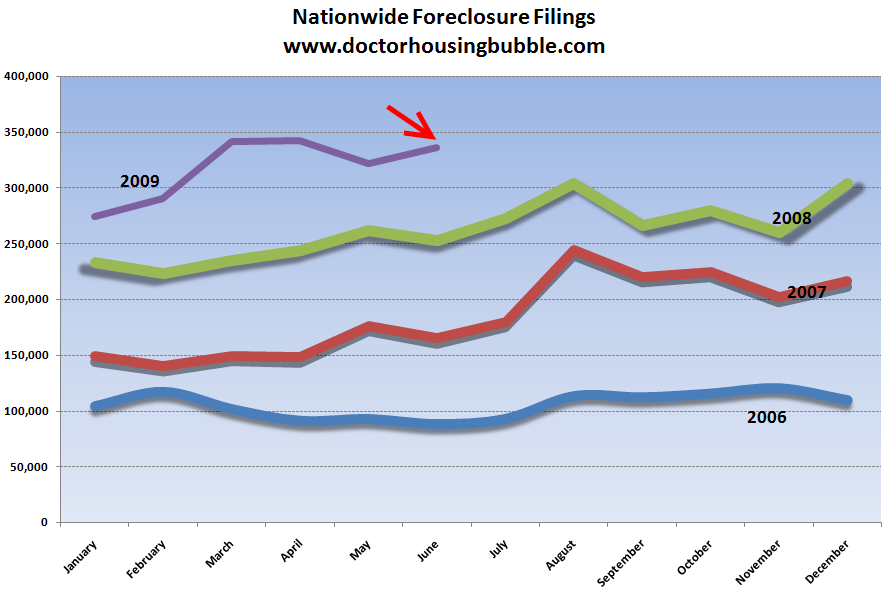 *Click for sharper image

We are on pace for approximately 3.5 to 4 million foreclosure filings in 2009.  This is unheard of in modern history.  What makes this number even more startling is that the government has handed over trillions of dollars to Wall Street and the banking system yet the problems still persist for most average Americans.  Many Americans are wondering if the money they handed over (unwillingly most of the time) is even doing any good.  The outrage from last September's Paulson 3 page $700 billion memo seems to have subsided.  From that time however, the bailouts have gotten bigger and are following the unfortunate same trend.  That is why foreclosures are still rocketing up.  We've committed some $13 trillion in bailouts, enough to pay off every single mortgage in the United States, yet here we are still with massive foreclosures slamming the housing market lower while more and more Americans lose their jobs.
Over the past few days there have been people voicing that the "recession is over" although much of this glow hides the darker reality and many fail to address where the jobs will be coming from.  Even if the recession is over soon, we are not going to have housing bouncing back.  Even if the recession is over, credit will never be as accessible as it was during the bubble.  If anything, it will be a tepid recovery that will only register a green color on the GDP but for most people, unemployment will still be surging, wages will be stagnant or falling, and housing will continue to face massive foreclosures.  So those claiming the recession is over are usually the Wall Street cheerleaders who have never looked out for the average American and are obsessed with turbo capitalism.
I received a few e-mails even after highlighting price issues in Culver City and Palms which are good areas and some of these people are jumping into the market.  In some of the e-mails, these people are able to understand my argument regarding the Alt-A and option ARM tsunami that is on the horizon yet have decided to jump in.  It is rather amazing.  As of today, if you want the best rates you need good credit and a sizable down payment of 20 percent.  You can get by with pristine credit and 10 percent down but this will not get you the best rates.  So take for example a $500,000 home in Culver City.  The argument I have presented is this range of the market will be hit in the next couple of years with a 10 to 15 percent decline and this home will drop to $450,000 or less.  So there goes that 10 percent down payment.  Yet the mentality of the current buyer has tinges of the same delusion of the buyer which bought into the bubble.  "I know I may over pay a bit, but in 5 to 7 years prices will go up and we'll have sizable equity."  You sure about that?  Japan has seen stagnant real estate for two decades.  Sure they have very different demographics but real estate bubbles can linger for years.  Many that bought in Southern California are back to prices that we've seen 7 years ago: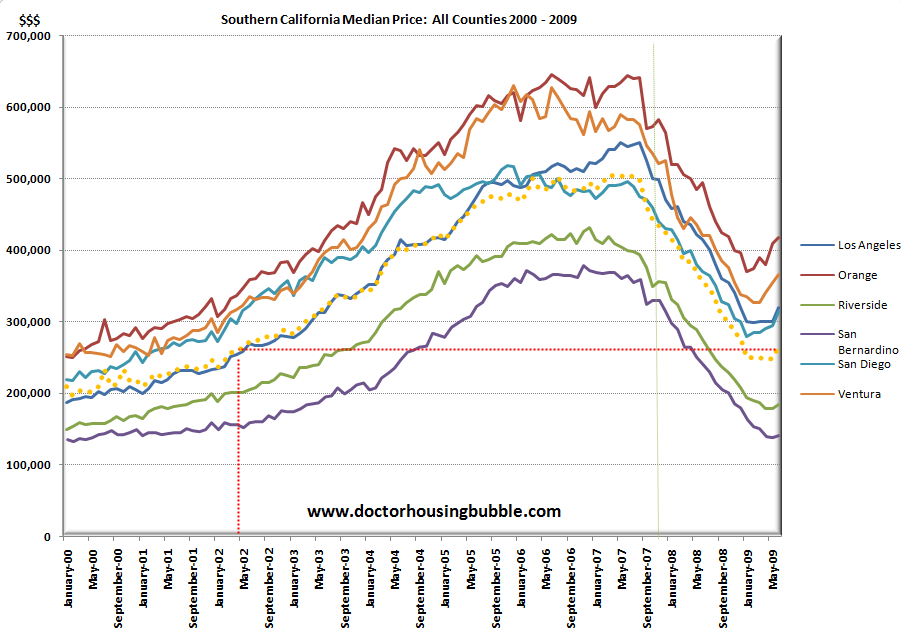 So there goes those 7 years.  But wait.  You notice how all counties have started creeping up recently?  Welcome to phase two of the housing bubble bust.  The eye of the hurricane mini rally.  First, much of the distortion in the median price is based on the fact that mid to higher priced areas are lowering prices and moving inventory.  Therefore, we now have a bigger sample of higher priced homes moving creating a momentum for a higher regional median price.  But overall prices are still falling if we look at the Case-Shiller Index which looks at same home resales: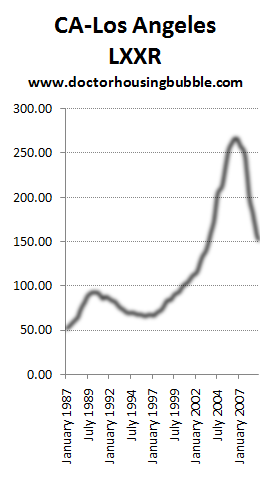 The trend is clearly still heading lower although at a much slower pace.  Some try to spin this as a major shift from the cliff diving we were experiencing.  Well of course it had to abate.  At the rate we were going the stock market was going to zero and housing prices would be free in a few years.  That was clearly not realistic.  But now, we are trying to link actual value with economic fundamentals.  That is the current battle.  After a decade of a major real estate bubble, there is still much distortion in the system.
Yet the fact is, the median price did go up last month.  If you understand why, you have a better grasp of the market and will avoid jumping into the pit right before the Alt-A and option ARM problems slam California.  It looks like I'm not alone in this camp now:
"(Bloomberg) Payment-option adjustable rate mortgages will contribute to higher defaults, said Rick Sharga, executive vice president of RealtyTrac. Option ARMs allow borrowers to pay less than the interest they owe each month, tacking on the difference to their total debt and creating the potential for bigger bills in the future.
About three quarters of those loans will adjust to require higher payments next year and in 2011, with the peak coming in August 2011 when about 54,000 loans recast, according to data from First American CoreLogic of Santa Ana, California."
Last year I gave 10 reason why California would not see a housing bottom until 2011.  Those factors are still in play.  Last month, 45 percent of all homes sold in Southern California were foreclosure resales.  This is off the 56 percent peak but still incredibly high.  And it will remain high if you know where to look.  We have a massive wave of pent up foreclosures that will hit late this year and into 2010: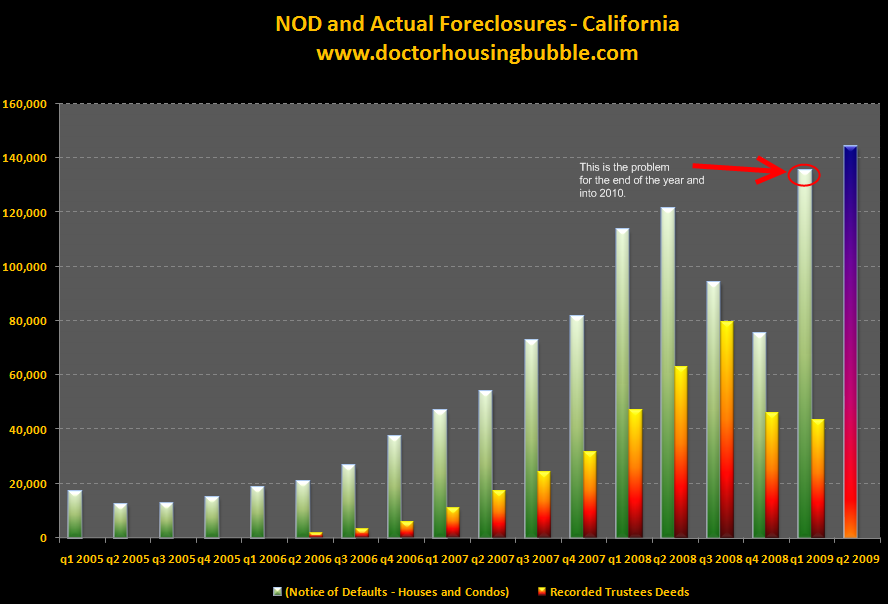 The lull we are experiencing right now has to do with a few combined forces:
(a)  The moratorium from last year has created a sense that things did get better.  This filtered to the market and many on the fence are now buying.
(b)  Prices have fallen 40 to 50 percent across the Southland and people are now jumping back in.
(c)  A large part of the subprime problems have cleaned out giving the impression we are closer to the end.  They fail to look at the second phase which includes the Alt-A and option ARM tsunami which is much larger than the subprime issues.
And I think this is probably one point that is being overlooked.  During the bubble everyone and their mother, father, pets, and broke family members qualified to purchase a home.  It was pure insanity.  When people look back at this time in history they will say, "California entered a collective delusion and paid $500,000 for wooden shacks giving loans to everyone and anyone."  That part of the market is gone.  And we can look at the California homeownership rate and you will see the bubble disappearing: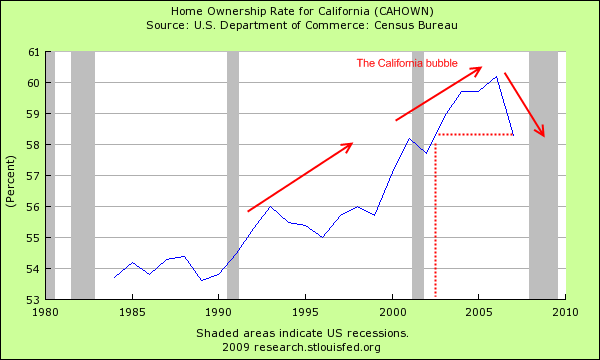 But I would argue that the bubble started earlier in the 1990s with the technology boom.  So we went from one mega bubble to another.  This is a key factor that is missed.  Most assume we'll go back to 2000 levels which eliminates the real estate bubble and that is that.  Yet they forget that much of the holdover from the tech bubble was mixed in with this current real estate bubble.  Either way, those that are buying in mid to higher priced areas are taking a gigantic risk and going against all data that I am seeing.  I stand by my bottom call of 2011.
One of the reasons is also the horrific employment situation: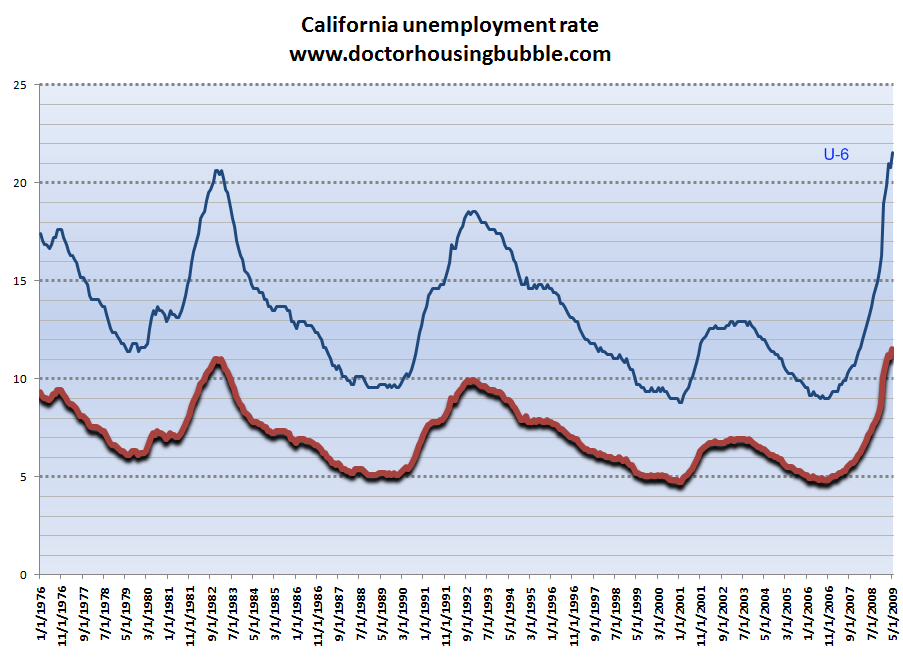 The BLS offered us a statewide look at the U-6 measure of unemployment for states recently.  From the second quarter of 2008 to the first quarter of 2009 the California U-3 rate (headline) came in at 8.3 percent.  The more broader measure which looks at unemployed and underemployed was at 15.6  percent.  So with this ratio, which plays out nationally as well we were able to reconstruct the above graph.  As of now, California has a U-6 rate of over 21 percent.  And this is obvious.  With 200,000+ state workers being furloughed and many others being laid off, the actual employment situation is worse than the headline states.  Those getting hours cut are still considered fully employed but their buying power clearly is much weaker.  You cannot have a healthy economy with this kind of weak employment numbers.
Now if we look at the recent runup in sales for SoCal, you will notice we are far from the bubble days and keep in mind for the past few months approximately half of all sales were foreclosure resales: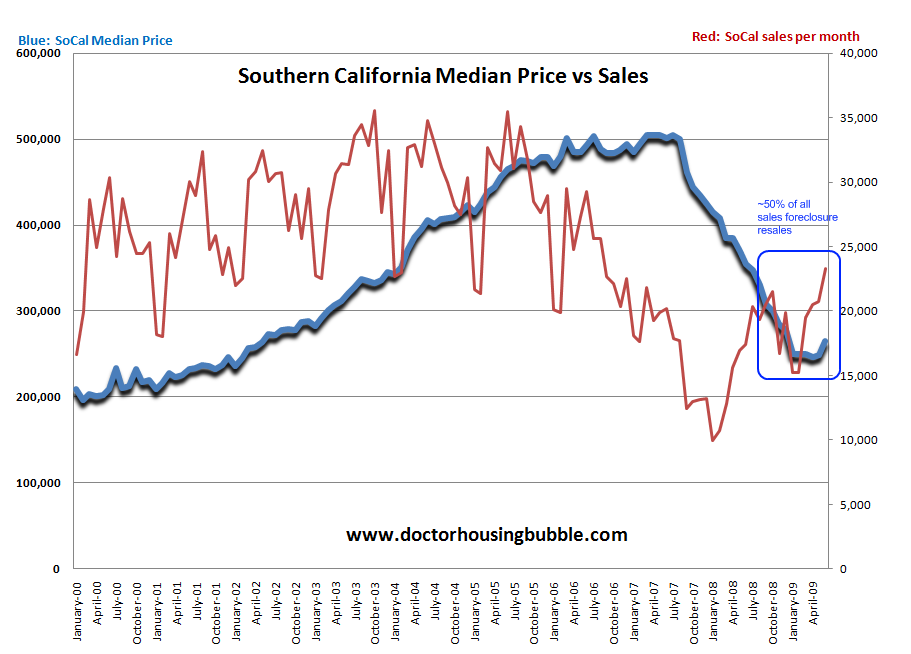 When you really look at the data, things will get much worse for housing.  And with the Alt-A and option ARM problems just around the corner, those buying in California are once again speculating.
Did You Enjoy The Post? Subscribe to Dr. Housing Bubble's Blog to get updated housing commentary, analysis, and information.