The amount of distressed homes for sale in Southern California is simply mind boggling. The more stunning revelation is the bulk of pay option ARM recasts don't even begin until 2009 with a small percentage starting this quarter and a larger number in the forth quarter. Even with that said 33.79% of all homes for sale in the Southern California market are in some form of distress. Since distressed property sales usually result in a lower price, you can rest assured that future price measures are going to continue to trend lower.
Given that the majority of homes that are selling in California are distressed properties it goes without saying that offering aggressive discounts will result in some price movement. The vast majority of buyers in the current market with a good financial balance sheet realize that they are the one's who set the terms regarding a deal. There is no immediacy to buy a home today for fear of prices going higher next month. They most likely will be lower. The urgency to make an offer contingency free on the one home in the neighborhood for fear of being overbid is now a long memory of manic delusions of the housing bubble.
Let us get a quick snapshot of the Southern California market: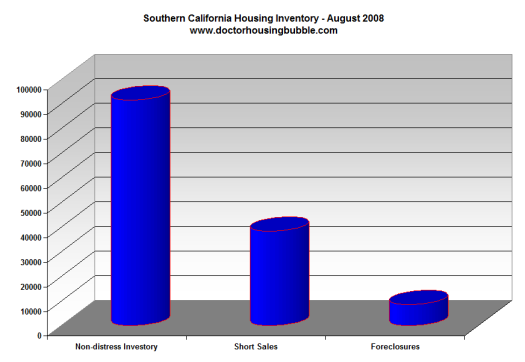 What you'll notice is that currently, there are over 38,000 short sales in the Southern California market. In addition, 8,500+ homes are foreclosed properties which puts the distressed inventory at over 46,500. You may be thinking that the chart shows a healthy amount of non-distress homes with an inventory of over 91,600. Yet you would be completely mistaken because even in late August of 2007, not even one year ago the total amount of short sales in Southern California was 8,640 and total market inventory was over 163,900.
I want to give you a heads up that there will be some spinning going on in the next couple of months because of these nuisances. Overall inventory has decreased since last year. There is no arguing that point. Yet most of this decrease has occurred with non-distress properties being removed from the market while distressed properties are now a larger portion of the overall market inventory. More importantly, sales that are currently happening are happening in large part in the distress segment thus pushing market prices lower at least when it is reflected in monthly reports. For a quick visual, this is the breakdown of short sales in a one year time horizon:
If you need a thorough breakdown of why we are years away from a housing bottom, please read 10 reasons why we are nowhere near a bottom in California. So you can see how the data will be massaged even though the overall housing picture is deteriorating before our very eyes. Take the inventory number from August that we just brought up. According to DataQuick there were 17,755 homes sold for the month. So a quick look at inventory and sales we get:
August 2007 SoCal Inventory: 163,900
August 2007 SoCal Sales: 17,755
Total months of inventory: 9.23 months
August 2008 SoCal Inventory: 138,392
June 2008 SoCal Sales: 17,424
Total months of inventory: 7.94 months
Things are getting fantastic! Keep in mind the August sales data won't be out until mid-September but June, July, and August sales are normally the strongest months and vary slightly. The point is that people are already using this fuzzy Sesame Street math to show that inventory is going down. This is flat out irrelevant in a market where first, we are in economic hard times and people are hunkering down but more importantly most sales are happening on the distressed margin. In fact for June 41.1% of sales for Southern California were foreclosure resales.
The problem is going to fully expose itself like a blossoming orchid when lenders suddenly send out that first recast anniversary payment only to receive a cold shoulder once day 31 arrives. The fact that California has a whopping $300 billion in pay option ARMs that will recast over the next few years is simply going to put a cap in any bottom talk for a long time. Keep in mind in the entire United States there are $653,502,658,632 in Alt-A loans out there. The vast majority of these pay option ARMs fall in this category. So California by itself has nearly half of the entire nominal amount of these toxic sludge mortgages that make subprime loans look conservative.
Let us not forget that there are still subprime loans out there. California still has over 465,000 subprime loans "active" as of June of 2008. So we are not out of the woods on that one. If the housing market correction has caused housing prices to drop by 38% in California in one year simply with the majority of the subprime problems, can you imagine when the marriage of subprime and pay option ARMs confront us at the same time later this year and throughout 2009? Take a look at this graph if you are more a visual learner: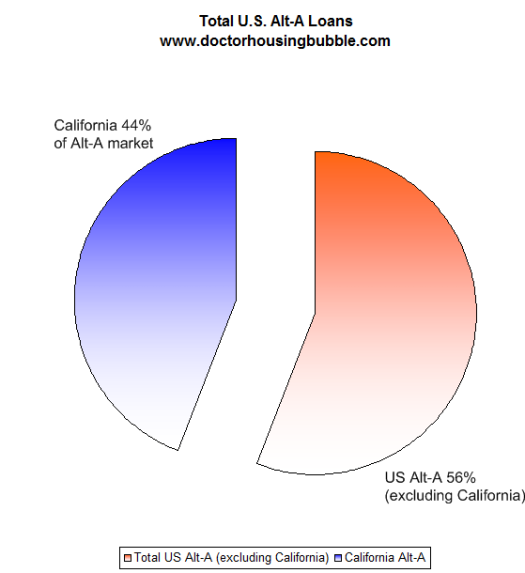 I have a feeling that since the data for July and August is forthcoming and given the fact that lenders are holding off as much as they can on certain REOs, the overall inventory to sales number will be the recipient of major spin. You can arrive at your own conclusions. The fact that we still don't have a budget in California and the unemployment rate is 6.9% and will go higher, who will be buying these homes? Do you realize there are homes in Detroit selling for $500 but there is a reason for the price! The economy is in shambles. People forget that we were in an incestuous business model were many jobs related to housing only had viability if prices kept going up. Well of course that is unsustainable. I remember articles talking about a median county price of $1 million for Orange County. Absurd! California became a circus sideshow and thanks to Wall Street's appetite for toxic mortgages became the biggest casino known to humankind.
33.79% of current inventory in Southern California is distressed yet some want to call this a bottom. If you really think this is the bottom you are welcome to go out there and purchase a home with your own money.
Did You Enjoy The Post? Subscribe to Dr. Housing Bubble's Blog to get updated housing commentary, analysis, and information