One of the many things I have realized during this crisis is people will flat out make things up when it comes to housing.  I'm not talking about little white lies like "sure buddy, your golf swing isn't so bad" but Watergate style lies like "we don't have any Alt-A or Pay Option ARMs anymore."  I'm not sure where people are pulling their data but from the multiple sources I'm looking at, we have roughly $450 to $500 billion in Alt-A mortgages floating in our market.  And let us for argument sake, set aside those toxic mortgages.  We have a new problem hitting the market.  Prime mortgages are now imploding on a massive scale.  After all, with no job and no income it is hard to make the house payment no matter how conventional and Leave It to Beaver your mortgage looks like.
The Mortgage Bankers Association came out today stating that 12.07 percent of all mortgages were delinquent or in foreclosure.  This is the highest on record going back to 1972.  What is even more troubling is prime fixed-rate mortgages to the most creditworthy borrowers made up a substantial jump of the new foreclosures coming in at 29 percent.  One out of every eight Americans is now either late on a mortgage payment or in the foreclosure process.  That statistic is nuts.  Here is an observation from previous economic downturns.  This economic recession was largely driven by a global housing bubble fueled by easy access to the Wall Street casino.  Toxic mortgages which became a larger part of the overall market have pummeled housing prices into the ground.  This is where we are at (you are here in your mall map).  Yet in this stage of the recession, we are now seeing the double whammy of housing prices falling for more historical reasons like job losses and this is spilling over into the prime mortgage market.  That is not a good sign because the prime market is gigantic:
The above data is from the OCC and OTS Mortgage Metrics Report.  As you can see for yourself, 6.6 million in Alt-A and subprime mortgages is clearly a sign that there is still many toxic mortgages in the market.  This above data is for the combined national bank and thrift servicing portfolio and holds nearly $6.1 trillion in mortgages.  The largest part of this portfolio of course is the prime segment making up 66% of all loans.  So the rapid rise in prime defaults is extremely concerning.  Look at it this way.  Let us assume the remaining Alt-A and subprime loans implode at 25%.  That gives us 1.65 million more defaults and of course this is absurdly conservative on these toxic banana republic loans.  But what if we reach a 10 percent default rate with prime mortgages?  That will give us 2.2 million more defaults.  That is why the cracks in the prime market are going to cause deeper pain: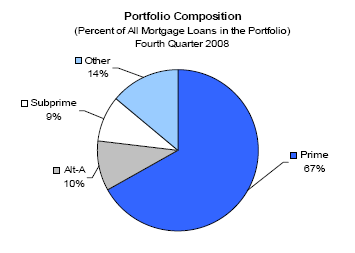 The rapid change of pace is also showing that many Americans are having a tough time making their home payments.  In fact, the current rate is blasting past even data we had from the fourth quarter of 2008:

I know many of you astute readers are saying, "hey DhB, don't we have over $10 trillion in home mortgages in the U.S.?  Why only the $6.1 trillion figure above?"  Good question.  You need to remember another portion of the mortgage market is with uncle Fannie and Freddie.  The current aggregate amount of mortgage loans in the United States comes in at $10.4 trillion.  The large portion of that is prime (which you can take that for what it is worth given we nationalized, whoops, I mean took into conservatorship the two GSEs).  And as we all know with the optimistic stress test results and the U.S. Treasury PPIP focused largely on happy day scenarios – they ran weak historical default rates on prime mortgages.  How many times do we need to say that this isn't a historical recession?  This is a housing bubble led recession.  That is unique.  We have never had an economy pumped up by housing and collapsing because of housing on this grand of a scale.  Housing either gained or suffered as an after effect of the economy.  This time it became the economy.  And we clearly see this with the growth in debt versus stagnant wages: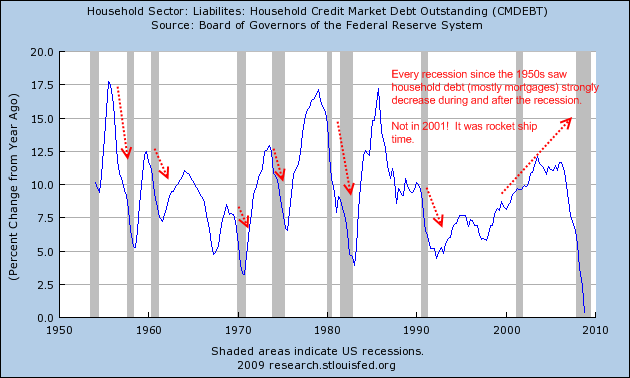 Every single recession since the 1950s saw household debt on a year over year basis decline during and after the recession.  This makes total common sense because a recession is a contraction in the economy meaning businesses are pulling back.  Not with the 2001 recession.  Alan Greenspan (Mr. $100,000 speaking fee) decided to lower the Fed funds rate to 1 percent and flooded the market with easy credit.  He also touted the virtues of adjustable rate mortgages fully knowing that the market was going the way of the Wild West.  He knew that by the time he left his post, the market would implode under another Fed chief as it did and is with Ben Bernanke.  The problem is we have reached a point of epic debt and there is no other bubble to be found.  We keep giving money to banks and they keep hoarding it: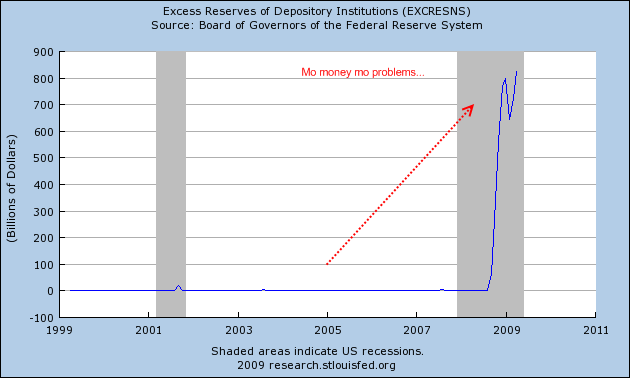 While pay Option ARMs and Alt-A loans implode left and right leaving American homeowners with no buffer, banks have a tidy buffer of nearly $1 trillion in excess reserves and every other taxpayer funded bailout you can imagine.  Many of you know that I have never advocated for the government stepping in to help homeowners in trouble especially those with toxic mortgages.  Before shedding  a tear, in the U.S. we have a fantastic rental market and there is literally nothing wrong with renting.  So the worst that happens is someone doesn't own a home but has the utility of renting a home.  Yet my biggest issue with the current environment is those people being kicked out into the street are also paying for the taxpayer bailouts of those on Wall Street.  What is worse, what about the prudent financial class in the U.S.?  What about all those tens of millions of Americans that lived within their means, didn't lease a Mercedes, and buy a McMansion with a toxic mortgage?  This group suffered during the bubble mania because they were priced out since they didn't want to walk the mortgage plank but are suffering again because they are now being asked (forced) to bailout the same crony banking system that caused this mess in the first place.
There is nothing more obvious that this last decade being a Mirage Decade.  This is clearly seen in looking at the homeownership rate in the epic bubble state of California: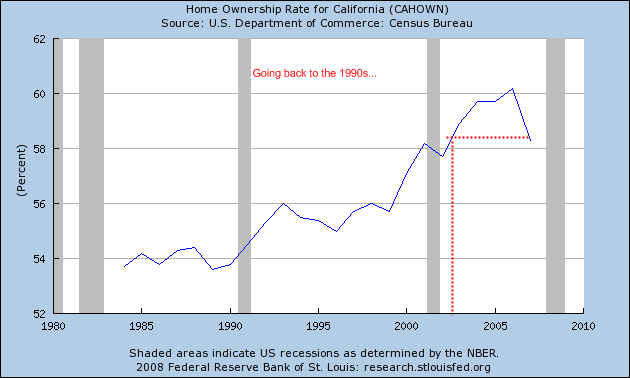 From 1984 to 1999, the homeownership rate in California never cracked the 56% mark.  At the peak in 2006 we hit 60.2 percent.  Now, we are back to 58.3 percent which puts us back to 2001 levels.  And with the 135,000 Notice of Defaults hitting in Q1 of 2009, we are definitely heading back to 1990s levels.  So we have lost a decade already in terms of homeownership.  There is no stopping this trend in the near term especially with the rise of prime mortgages going bad.  Since we are in the eye of the hurricane and markets abhor a vacuum, many people have a necessity to rush out and buy something.  That is why you are seeing some strong activity in home sales.  But keep in mind that many of these home sales are distressed with 50+ percent in Southern California being foreclosure resales.  I would estimate that a large portion of these buyers are from the prudent class that are simply throwing up their arms in the air and saying, "up, down, up, screw it!  I want to own a place for my family so I'm diving in."  I have no problem with that.  People can do what they want with their money.  But you are not buying at the bottom.  You are simply buying because prices have dropped at an astonishing rate.  Yet we need to remember that prices shot up for 10 stinking years!  We are in year 2 of prices falling.  Do you really think this is the bottom?  Unemployment is at 11% in the state.  Maybe at the lower end is bottoming but I doubt someone with a $100,000 sitting in the bank wants to buy some of those lower end bargains.
Did You Enjoy The Post? Subscribe to Dr. Housing Bubble's Blog to get updated housing commentary, analysis, and information.