Back when the housing bubble was still a theoretical argument, I was making the case that many California aspiring real estate moguls were buying properties out of state with the intention of flipping.  I would look at some of their worksheets and they paid no attention to the cost of financing or expenses since they figured that they could sell their home in one or two years.  This was so common that it became a joke and I started calling these investors California Equity Giants.  Many of the Alt-A and pay Option ARM products were marketed to would be investors as excellent loans for flipping.  After all, why would you need a boring 30 year fixed mortgage when you would flip the property in a few years and eat up equity like a starving vulture?  Plus, the toxic mortgages gave a higher payment to the broker but why bring that up right?
Currently there are $469 billion of Alt-A products floating around in our nation's fragile housing market.  Much of it is disguised under the good credit rating since the average FICO score of an Alt-A loan is 705 which is an utter joke.  But one data point that has been completely missed in the Alt-A and pay Option ARM debate is how many loans are attached to non-owner occupied properties.  That is, where are some of those California Equity Giants investing their money?
Do you want to take a guess which state has the lowest non-owner occupancy rate with Alt-A loans?  California.  Only 19.6 percent of Alt-A loans in California are non-owner occupied.  Which in our case, is horrible given that 80.4 percent have Alt-A loans on homes that are in a position of massive negative equity in one of the hardest hit states.  But you'll love this.  Some of the states with the highest non-owner occupied Alt-A loans are Florida, Nevada, and Arizona.
Alt-A Percent non-owner occupied:
Florida:                                39.4%
Arizona:               37.5%
Nevada:               37.1%
California:           19.6%
Now this data is astounding.  For many of these states (all have seen the median price of homes drop by 40 to 50 percent) nearly half of the Alt-A products served as flipping vehicles for out of state and in state investors.  Now we can never get an accurate figure of how many of the Alt-A non-owner occupied borrowers are actually flippers but it is 95% likely that they did not buy these homes to rent or as a vacation pad in Tucson.  Why?  Because you would be negative cash flowing to the point of draining your bank account.  These loans were done to aspiring real estate investors that got sucked into the bubble glory days.  And that is the more troubling aspect of this all.
The Alt-A and pay Option ARM products were all spawn of the housing bubble.  They served one purpose and that was to survive in a bubble.  I remember early on in the life of these loans brokers would say that these products were designed for doctors, lawyers, or business people who really didn't want to tie up their income and wanted "cash flow" freed up in the near term.  Oh sure, and most people that play junior varsity basketball will make it to the NBA.  You tell me of the 2.1 million Alt-A loans out there how many are to borrowers who fit the best case scenario?  Brokers pushed whatever product gave them the most money.  It was that simple.  People were too busy counting their bubble wealth to step back for a second and actually think of how idiotic the entire scheme had gotten.  Housing became a quasi-Ponzi scheme.  The only way for the system to keep going was for more and more suckers to be found.  The suckers ran out and so did the funding and it all came crashing down.
I blame products like this but also a national obsession with owning real estate.  No one has a right to own a McMansion no more than I have the right to own a Mercedes.  These are luxury goods.  This country has adequate rental housing but we have subsidized the system to actually penalize those who don't own homes.  You don't get a tax break for renting.  You can't right off your rent for tax purposes.  You would think that we would have learned something after this mega housing bust but here we are handing out $8,000 tax breaks for people to buy homes!  People buying homes they could not afford is the exact reason that we are in this stinking mess.  And if you need a tax break to lure you into buying a home then you are not ready to buy.
If you want further proof how horrific these products are, take a look at how many of the Alt-A and pay Option ARM products originated with a second lien.  That is, low down or nothing down fantasy buyers.  In California, there are currently floating around 186,917 Alt-A mortgages with a second lien on them.  You can rest assured that 90 to 99 percent of these loans will implode in the upcoming months.  This is where your piggy back loans and 80-10-10 crap came about.  I remember when zero down was a crazy way to suck in unknowing investors to thousand dollar seminars but it actually became a mainstream way to buy a home.
Before you even wonder how safe these loans are 41.6 percent of California Alt-A mortgage holders already have one late in the last 12 months!  Keep in mind that most of this junk hasn't even hit recast points and nearly half are already late with one payment: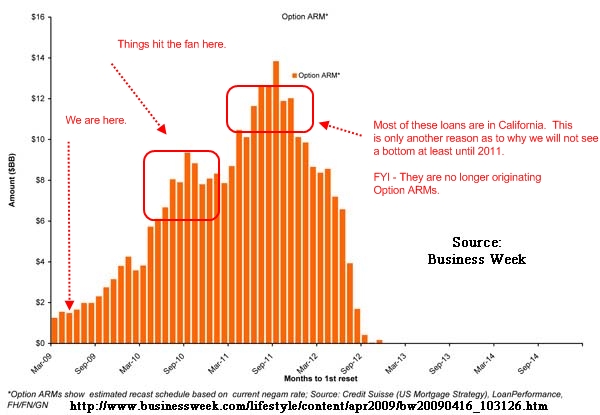 Some other useful information regarding the California Alt-A products are that 9.3 percent are already in foreclosure and 5.2 percent are REO.  And you'll love how thoroughly these loans were vetted:

82.8 percent of the California Alt-A or pay Option ARM products were either low or no doc loans!  Bwahahaha!  This is pure insanity.  These loans are going to go bad and go bad in an epic way.  And many of the loans with a recast period haven't even hit their major stride:

What is troubling is that out of the 2.1 million Alt-A loans 27.9 percent are on non-owner occupied property.  That is, many of these are failed flips.  So let us take a hypothetical case where someone in California had owned their home with a nice safe 30 year mortgage.  They stayed up too late at night and saw one of those brokers with the Hawaiian shirt and bad tan talking about flipping real estate around the country.  So they decide to take out two Alt-A loans and buy a property in Nevada and Arizona.  Technically on paper this person in California is in a safe secure product but they have now leveraged themselves to the hills and have put their entire balance sheet at risk.  For practical reasons we don't have the exact data but from the high non-owner occupancy rate of other states, I assure this happened and happened in a big way.
Hopefully this gives you a new perspective on the Alt-A and pay Option ARM world.  Things are evolving in this arena and it will be interesting to see what kind of dent is made when the PPIP taxpayer handout goes into effect this July.  Ironically the PPIP has an initial cap of $500 billion, just enough for all the Alt-A loans on irresponsible bank balance sheets.  Aren't you excited that your money is going to go to bailout these kinds of loans?  And since banks are so eager to give TARP money back, it would only be responsible to get rid of the PPIP and let them bid on assets with their newfound wealth.
Did You Enjoy The Post? Subscribe to Dr. Housing Bubble's Blog to get updated housing commentary, analysis, and information.