2010 was a year of economic contradictions.  The stock market had a solid rally yet the headline unemployment rate moved from 9.7 to 9.8 percent.  Many sectors had double digit gains yet the nationwide housing market declined and shows additional price weakness moving forward.  In the non-bubble past housing has typically been one of the strong sectors leading the economy out of a recession or financial funk.  That is not likely in this market with banks hoarding millions of homes in shadow inventory and aiming for a slow leaking out of properties.  The banking industry was aiming for a bounce in home prices but did not get it.  Yet the investment banking world has found other stock market sectors to make money on with bailout funds.  More and more, at least when it comes to real estate, it looks like a Japan lost decade of deflation in real estate is occurring.  According to Case Shiller data home prices are back to 2003 levels already.  In many areas a lost decade has already occurred yet banks continue to make solid profits when real estate used to be a stalwart of profits for commercial banking.  It is a year full of financial contradictions and 2011 is lining up for a set of unique challenges.
Best performing sectors
I always find it helpful to do a recap on where we started and where we ended up once a year comes to a close.  Let us look at a handful of sectors: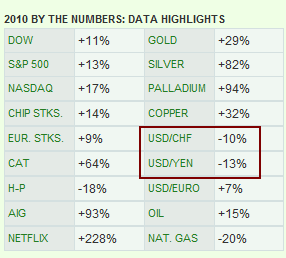 Source:  MarketWatch
The DOW ended the year up by 11 percent followed by the S&P 500 being up 13 percent.  At the same time the US dollar declined 13 percent against the Japanese Yen.  Oil was up 15 percent yet headline inflation gives us a year with no price movement.  Netflix had a 228 percent gain as many people seek out cheaper sources of entertainment.  Gold went up 28 percent and silver went up 94 percent as investors seek out safe havens in a market where central banks like the Federal Reserve can jump into billions of dollars of quantitative easing without the will of the people for purposefully currency devaluation.  Virtually every sector went up except housing and the US dollar.  This is essentially what the Fed wants but with home values going up.  This is a systematic inflation as investment banks chase profits with bailout dollars yet a slow crushing vice goes around the wages of Americans and home values decline.  Home values are declining because Americans pay for their mortgage with a W2 job typically.  Since both are incompatible, that is higher home prices with lower wages, the Fed is happy with allowing investment banks to return to their massive bailout sponsored profits.
The fact that the headline unemployment rate went from 9.7 to 9.8 percent in 2010 does not tell the entire story.  Many people are taking new jobs for much lower wages.  My hunch especially in housing bubble states is that many high paying jobs tied to real estate disappeared and many of those workers have jumped into other sectors but at much lower pay.  This hunch was correct:
"(NY Times) Some of these may have been workers who retrained for new fields they wished to enter, but many seem to have taken their new jobs out of desperation. Only a minority of those displaced workers changing careers — 22 percent — said they had taken a class or a training course before finding their new job.

Look, I am really happy to have a job — that's the main thing," said Sue Bires, 60, who was laid off from a job managing homeowners' associations in Orlando, Fla., in September 2008. She initially had another job lined up with a different realty association in Orlando, but when that fell through, she moved to Austin, Tex., to stay with a friend. She filed for bankruptcy and took a job at a call center.

But she now earns $30,000, far below the $45,000 she was paid when she was managing properties.

"It's competitive out there, even for the lower paying jobs, especially when you're 60 looking for a job in a young town," Ms. Bires said. "So I'm grateful to have a job where the people are nice and I have a little bit of flexibility in my hours. That's especially important now, since retirement is looking like a long way off."
The study found many cases like this.  Here you have someone that worked in the housing industry earning more than her current new job.  She is one of the fully employed today.  Yet the housing market for 2010 performed poorly: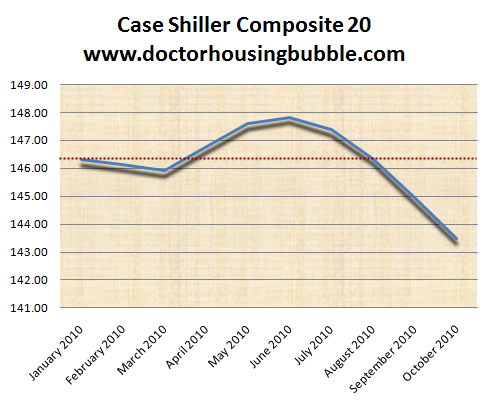 Here is a clear examination of what happened last year.  The year started out with the typical slow winter but picked up nicely for the summer.  At this point, the Federal Reserve and the banking industry must have thought that they were going to be able to will housing values back up merely by massive bailouts and artificially low interest rates that punish prudent savers.  Yet the main thing to remember is without exotic financing home prices need to reflect local area incomes.  Bottom line is families need to have home prices that fall within their budgets or people cannot buy.  We are seeing this in California where home prices in many markets are still inflated.  So what you see is inventory increasing and sales imploding.
Loan foreclosure by type
Not much is said or discussed about option ARMs anymore.  This does not make for a good nationwide story since most of the loans are in bubble states like California and Florida.  California has 50 percent of all option ARMs in terms of nominal value.  As it turns out comparing option ARMs to subprime mortgages gave subprime mortgages a bad name: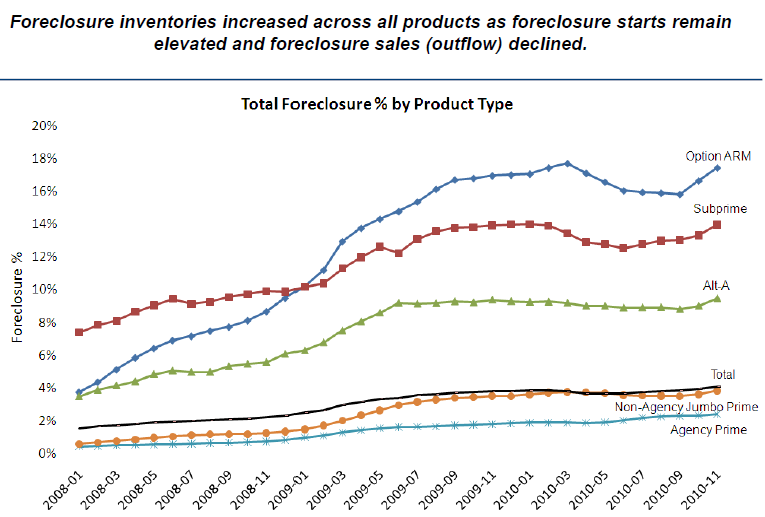 Source:  Lender Processing Services
Option ARMs win the award for the most toxic mortgage product out in the market.  Option ARMs were generally made on higher priced properties.  Half are in California and many are in middle tier markets.  Many of these loans have imploded yet banks have moved slowly on them to try to beef up their balance sheets with accounting chicanery.  Alt-A with no-doc or low-doc scrutiny is still a large mortgage product lingering in California.  The market is not making any more of these loans but the financial sins of the bubble still stubbornly remain.
If we look at California's unemployment rate over the last year not much has changed for the better:
January 2010:                     12.5

December 2010:               12.4
What I would argue is that California like the New York Times article has had thousands of people shift from high paying real estate related jobs and are now working for much less (or not working).  The pool of buyers for expensive homes continues to shrink yet the inventory is still elevated as we have seen with the above toxic mortgage chart.
Some markets take it on the chin quicker than others.  Let us look at the Los Angeles condo market next.
Condo values in LA
It is interesting to note that condo values did not have the mini bump seen in nationwide real estate during the winter.  Condo values have fallen directly lower in Los Angeles:
Condo values fell over 5 percent for the year in Los Angeles and the trend looks to push prices even lower.  Condos are usually seen as stepping stones into residential housing yet lower condo values would tell you that the equity build up in condos is also dwindling.  That is more future home buyers have less and less pull for more expensive homes.  Areas like Culver City and Pasadena are already seeing cracks in their markets.  With the current Congress it is likely there will be little sympathy for areas with $500,000+ homes when the median home price nationwide is closer to $170,000 and moving lower.
If 2010 was a year of financial contradictions 2011 may be a year of reckoning.  In fact these are the words of the incoming California governor.  The reality is many states face troubling budget deficits and a housing market that is now in a double-dip.  With so much information flying around you need to remember that home prices eventually can only reflect the incomes of families in an area.  You will always have tiny markets where home prices are too expensive for most people.  Yet these are a handful of areas and even there, prices have adjusted.  However 99 percent of the housing market caters to the average American and not the top tiny percent of wealthy Americans.  Looking forward it almost seems impossible that home prices will move anywhere but down in 2011.

Did You Enjoy The Post? Subscribe to Dr. Housing Bubble's Blog to get updated housing commentary, analysis, and information.