The Federal Reserve monetary policy hammer approaches every problem as if it could be solved with its arsenal of interest rate nails.  If low rates were the solution to a healthy economy we wouldn't be in this financial mess.  Remember those teaser 1.25 percent mortgage rates?  What about our near zero Federal Funds Rate (FFR) that spurred the housing bubble?  Repeating history, the Fed is actively trying to make mortgage rates even cheaper as a method to pull us out of this financial crisis.  The European debt crisis is causing funds to flow into U.S. markets only adding additional fuel for lower rates.  Is this a positive?  The only positive item about this is the Fed is protecting banks and allowing them to continue to keep inflated appraisals on their shadow inventory.  Some have now fallen in love with the mistress of moral hazard.  This financial situation is unsustainable and these low rates are a siren call for our economy.  These low rates are not here because things are healthy.  Low rates are here because the financial markets are a mess and the Fed only knows how to protect its banking allies.  We are the last domino so to speak.
Why low rates will fail the American economy
You always get a few comments about how wonderful low mortgage rates have become and how they will save the economy now that we have moved a few basis points down.  But mortgage rates for the last decade have been historically low.  Let us look at the data very carefully:

We have already had historically low mortgage rates and continue to inch lower now with the Fed embarking on purchasing $400 billion in longer term bonds with maturities that span out to 30 years.  Coupled with the European debt crisis and mortgage rates have hit a new historical low.  But look at the data above.  How big of a difference does this really make?  Over the last five years, if you took on a $300,000 mortgage, your principal and interest went from $1,697 to $1,433 (a change of $264 assuming you refinanced and get the current rate right now, which does cost money).  What about insurance and taxes?  The problem isn't with homeowners who are current of course and this approach goes after that segment.  The issue of course is with the shadow inventory.
By the way, $264 a month is not going to miraculously save the economy especially when these policies attack the U.S. dollar and you now have to pay that much more in food and gas (there goes that savings).  This move is really to keep the shadow inventory appraised at high values for as long as possible.  The issue you also have is with those that are underwater.  As things stand today, your options for refinancing an underwater mortgage are incredibly limited.
Low mortgage rates do not solve the underwater mortgage problem
The U.S. is still plagued with homes with negative equity: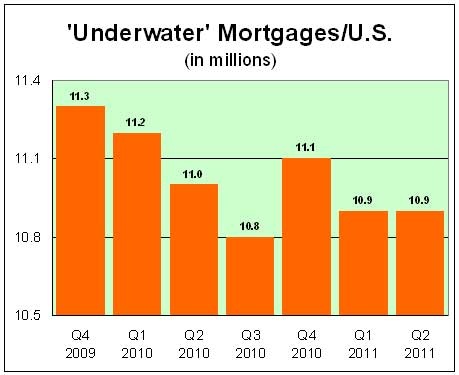 Chart:  OC Register
Of the 10.9 million underwater mortgages in the U.S. over 2 million of those are here in California.  How do low rates help those that are underwater?  So far it doesn't but new talks about allowing underwater homeowners to refinance is being mulled around.
"So if you over paid on that $400,000 shack that is now worth $350,000 the government is going to give you the blessing to refinance at the new low rate and reset your 30 year debt slave time clock.  I believe current talks are looking at capping the program at a 125 percent LTV ratio.  Doesn't really help the jumbo suckers who bought a one million dollar home now seeing it appraised at $700,000.  The big winner?  The banks of course because they can still keep the bubble price on their balance sheet."
I think you are starting to understand what happens when a system is captured by the financial industry.  And don't think it will be a panacea to simply refi each loan.  This will only apply to loans backed by Fannie Mae and Freddie Mac and 25 percent already have rates below 5 percent.  People are having a tough time paying their mortgage because household income has gone negative for over a decade.
The problem with the low mortgage rate approach is that it is simply an extension of what we have been doing for the past four years to solve this crisis.  The Fed and the banking system caused this problem and now we are allowing them to solve it?  The action in the housing market is so out of whack because of these horrible policies.  It is likely that a large portion of the mortgages underwater are private label mortgages and will not be helped by these future programs.  This is why this summer with insanely low mortgage rates and very generous incentives to purchase a home, sales fell in high priced markets like California because the underemployment rate is still above 23 percent.
Fed funds and mortgage rates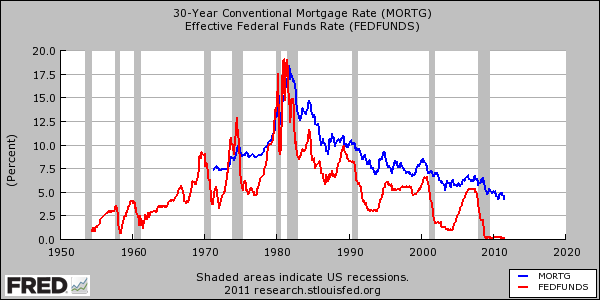 Low rates are not a new campaign in this market.  This is a known to the system.  Some now are arguing, "it is now cheaper to buy than rent!" and that may be the case.  Yet you will need to get comfortable for a very long time because it is unlikely you will see any appreciation for years to come.  These artificially low rates are dangerous and have addicted the country to something unsustainable.  This may go on for year or so as Europe battles its debt crisis but don't think we are out of the water here as well since we also have a debt crisis.  As we pointed out, if mortgage rates even trickle up to historical 40 year averages who will purchase your home at your inflated price?  There is no sign that household incomes will go up.  So you will either need to cut your price or simply continue living in your starter tiny home (this is especially true for California).  On the contrary these low rates may stabilize markets where household incomes are more in line with adjusted home prices.  A place like California will simply move lower inch by inch as people regain sanity from this bubble.
Some keep arguing that rents are growing by leaps and bounds.  This is not true.  Over the last year rents in Los Angeles have gone up by 1 percent according to the Department of Finance and have actually fallen in the last month.  I would assume that given the current problems emerging in the last two months, rents will have more pressure to the downside especially if more shadow inventory is pushed out to the market.
Apartment rents for two bedrooms in Los Angeles seem to hover around $1,800 ($1,200 for one bedrooms):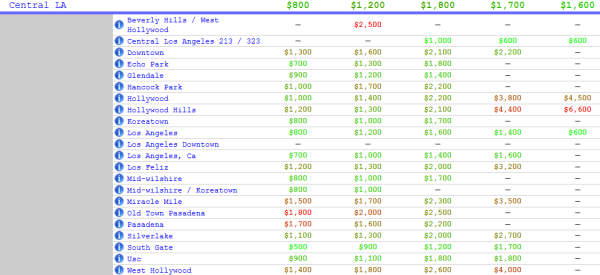 Source:  Rentilly, data from Craigslist
I find the above data fascinating because rent needs to be paid from a monthly nut (after taxes) with no subsidized benefits.  This is what over half of Californians can truly afford.  And given the 2 million underwater California mortgage holders, it would appear that many would probably do better as renters.  Nothing wrong with that.

Did You Enjoy The Post? Subscribe to Dr. Housing Bubble's Blog to get updated housing commentary, analysis, and information.