Last week HUD came out with laser focused ways of addressing its impending insolvency because of defaulting FHA insured loans. Now some of you were under the impression that something was already done to tighten lending standards given the precarious situation the housing bubble brought to our economy.  Yet that is not the case and incredibly, what passes for basic due diligence today seems excessive because only a few years ago loans were given out to people making $14,000 a year and financing their $720,000 home purchase.  FHA insured loans have become the staple of moving properties especially in areas like California.  The 3.5 percent minimum down payment is all people can muster up and apparently this has caused further deterioration in this market.
HUD is seeking public comments for the next 30 days on the below: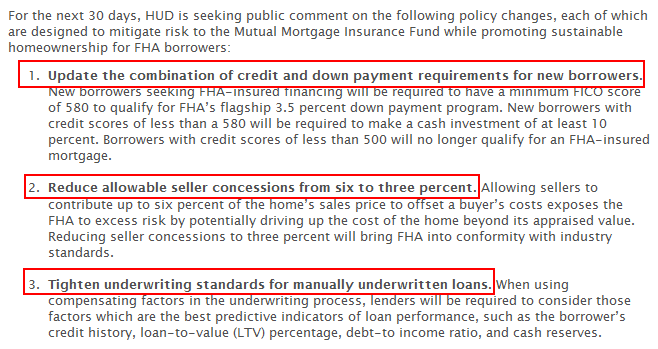 Source:  HUD

Now some of you might be thinking why we are asking these basic questions three years deep into the housing implosion.  The first question focuses on the credit score of borrowers.  Can you believe that a 580 credit score will enter you into the "flagship" 3.5 percent down payment FHA insured loan program?  No wonder why defaults are off the charts.  No bank in their right mind would lend their own money so banks are basically using the government as their lender and sucker of last resort to continue to make these financially troubling loans.  The second point relates to seller concessions.  Yes, this stuff is still going on.  Serious reform apparently doesn't involve basic common sense.  Finally, the third point focuses on tighter underwriting.  If we are asking these questions today from an agency that now insures approximately 4 out of every 10 loans we have some major issues coming down the pipeline.
Bank of America released their second quarter earnings report and you can see how poorly FHA insured loans are doing: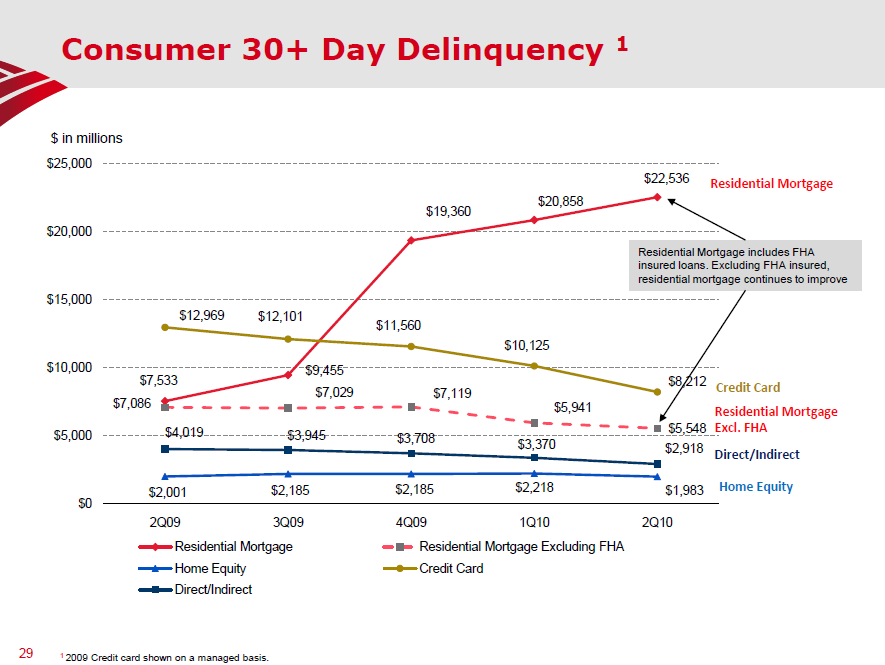 BofA saw a jump from $7.5 billion in Q2 of 2009 to $22.5 billion in their 30+ day late delinquent FHA loans.  This is nearly a 200 percent increase in one year.  Now how is this happening?  Well refer to the questions that are being asked from the agency overseeing FHA.  Did we not learn that a low down payment is a recipe for disaster?  It is also the case that a low down payment inflates housing values because it takes away the focus from actually saving money and going into massive debt instead.  What if you had to save 10 percent as a minimum to buy a home?  Think people would be willing to walk away from a property so quickly?  Plus, having a down payment creates a buffer.  I seem to be one of the few that think a good sized down payment is necessary in protecting us from future asset bubbles.  As you can see from the BofA chart above, the FHA is now in a big mess and this came about with income verified and documented underwriting.  But if you don't correct the bigger issues, then what use is it?
The government will not voluntarily tighten standards on mortgages because the only lender right now is the government.  And even with these ridiculously low down payment programs, the demand for housing is waning because the economy is in a major funk.  A house can cost $100,000 but without a job, it might as well cost $1 million.
Deed-in -ieu of foreclosure
Banks are catching on that people are willing to stay rent free in homes for 12 to 24 months in some cases.  At first, this might have made sense with a handful of borrowers but the flood is now growing.  Banks realize that losing 12 to 24 months of mortgage payments might not be a good idea.  So some are now going after the deed-in-lieu (DIL) of foreclosure option.  Why would they do this?
I think there are a few reasons for the DIL of foreclosure option now being explored more carefully by banks.  For some areas, banks may realize that spring and summer (clock is ticking) may be the prime time to put some properties back on the market.  After all, we don't know where interest rates will be next year and it already seems that the government is going to have to tighten lending standards more given massive defaults.  So banks would rather get a property back, ignore going after the borrower, and simply get the home back ASAP so they can put it back on the market while the government mortgage liquor is still flowing.  We don't have clear data on this but I will venture that banks are only going the DIL of foreclosure path on select properties in more targeted markets.  How many DIL of foreclosures did banks pursue in Detroit?
Some are arguing that this has more to do with HAFA:
"(WaPo) To qualify for a HAFA short sale or deed-in-lieu, the mortgage must be for a borrower's principal residence; the loan balance may not be more than $729,750; the borrower must have incurred some hardship such as a medical emergency or a drastic reduction in income; the loan must have closed before Jan. 1, 2009, and first-mortgage payments (including property taxes, insurance and mandatory homeowners or condo fees) must be more than 31 percent of current gross household income.
For a deed-in-lieu arrangement, borrowers must also be able to deliver clear and marketable title to the home, free and clear of all liens or encumbrances and leave the home in "broom clean" condition. Homeowners are given a minimum of 30 days to vacate the home from the date the short-sale agreement expires or the date of the deed-in-lieu agreement."
I'm not sure I agree with this assessment.  I think the bigger motivating factor is the amount of money being lost by strategic defaulters and the prospect of taking a property back and selling it in the current market while government cheese is still flowing out of politicians' pockets like mozzarella.  Next year it might be a very different picture.
Neglect and pay a fine
Another issue that might light a fire under banks to move shadow inventory is fines for neglected properties.  L.A. launched an effort to fine banks that don't maintain foreclosed properties.  The biggest landlord today is the banking system with the entire shadow inventory out in the market:
"(LA Times) A dilapidated South Los Angeles home with tall weeds, a fallen fence, broken windows and graffiti was chosen to serve as the backdrop for a news conference Saturday as city officials announced the launch of new efforts to clean up foreclosed properties.
The beige stucco bungalow on West 77th Street is a neighborhood eyesore, playing host to drunken transients and stray animals and reeking of urine and feces, neighbors said.
"A lot of vacant homes have become a nuisance in the neighborhood because of the foreclosure crisis," said Betty Steele, one of several community activists who canvassed the 77th Street neighborhood encouraging residents to report problem properties via the city's 311 hotline. "And the banks should be held accountable for cleaning them up."
As local governments hurt for money while the Federal government is off bailing out Wall Street, cities are going to try to get their funds from somewhere.  We are starting to see some of this trickle out into the market.  While all this is happening, a large number of Americans now have little faith in Social Security: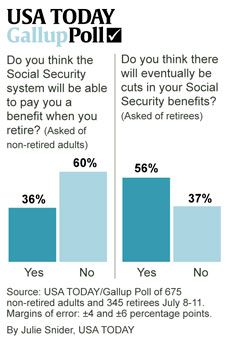 Source:  USA Today, Gallup
60 percent of non-retired adults believe Social Security won't be able to pay them a benefit when they retire.  Ultimately people get that the party has ended and major changes need to be done.  But the choices we have aren't pretty and very few politicians have the backbone to make the changes happen especially in an election year.  So what will happen?  We'll have more public comment on things that should have already taken place (the public is very clear on the bailouts by the way) and more bread and circus for everyone.

Did You Enjoy The Post? Subscribe to Dr. Housing Bubble's Blog to get updated housing commentary, analysis, and information.