The recent rise in interest rates is a big deal for the housing market.  As the economy appears to be heating up, hot money will flow to any sector with a perception of higher yields.  The recent increase is occurring because of this perception.  The Fed has put itself in a corner.  The stance is that QE3 and all easy monetary policy will continue so long as the economy is sluggish.  Well with a record rally in the stock market, jobs being added, and housing values overheating the Fed looks to be bluffing on this call.  Of course much of this rise has occurred because of hot money (the same fuel causing the rally).  The Fed has expanded its balance sheet by $500 billion since September of 2012 when QE3 began.  Does that seem like a slow pace of growth?  There is a big confidence game in housing at the moment.
Fed trying to talk down interest rates
The Federal Reserve has exhausted most normal monetary policy tools when it comes to stimulating the economy.  In more normal markets, the Fed would tinker with the Fed funds rate.  In a hot economy you would raise rates and in a slow economy you would lower rates.  The Goldilocks approach to economics.  Yet it is hard to go lower than 0 and we've been there for years.  Quantitative Easing and other asset purchase programs have provided alternative methods for the Fed to lower rates.  The Fed mentioned that it will continue to buy assets so long as it views the economy as growing slowly.  If that is the case, the Fed is seeing something we are not: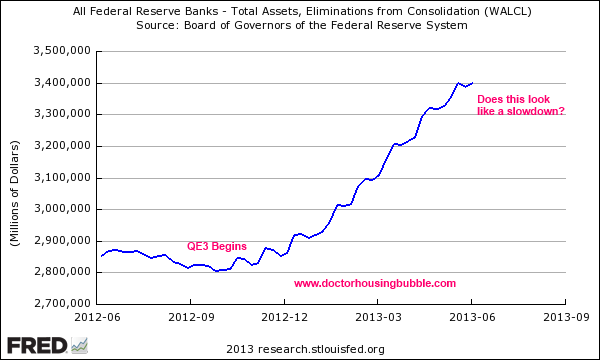 The Fed has expanded its balance sheet by $500 billion in a few short months only since QE3 started.  The Fed is hinting at slowing down QE3 but this is more of a bluff:
 "(WSJ) Federal Reserve officials are likely to signal at their June policy meeting that they're on track to begin pulling back their $85-billion-a-month bond-buying program later this year, as long as the economy doesn't disappoint."
Vague statements like that give the Fed power to enlarge a balance sheet to $3.4 trillion.  Before this crisis hit it was well below $1 trillion of mostly healthy and safe securities holdings.  That is no longer the case.  The housing market has been ravaged like locusts by the hungry appetites of yield seeking big money from Wall Street.  A reader is currently working on putting together some data on big money investors bailing on the real estate market (or trying) and we'll make sure to put together an article on this because this is a very telling trend similar to the massive short bets that were being placed in 2007 on subprime brokers.
Rates took a big turn recently: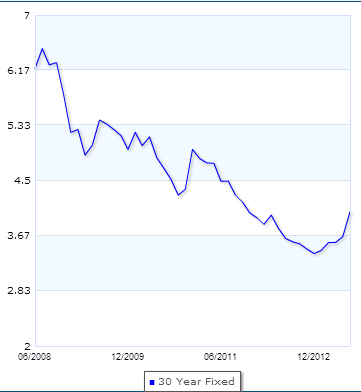 The 30-year fixed rate mortgage went above 4 percent reaching levels seen in 2011.  What is hilarious but fully understandable is that the rise comes because of the Fed hinting it will stop buying mortgage backed securities:
"(Bloomberg) Mortgage rates have been following government bond yields higher as a strengthening economy stokes speculation that the Federal Reserve will reduce efforts to push down borrowing costs. The increase may spur homebuyers to accelerate deals to lock in low rates, said Keith Gumbinger, vice president of HSH.com, a mortgage-information website."
Of course higher rates will stop the massive banking profits that are being generated by constant refinancing.  Readers are using their visual senses and are seeing the same thing that I am seeing on the morning television.  The amount of hyper-steroid like ads promoting refinancing are now plaguing the morning "news" like a 7:00am circus.  In between the weather jokes and Groundhog Day reports on traffic, many of the ads are either refinancing related, about furniture to fill your home, or plumbing for your home.  In other words SoCal's economy is once again tethered to real estate in a major way.
The Fed is mainly concerned about their key banking constituents.  With the stock market being this red hot and rental yields being crushed, big money will exit extremely fast given the opportunity.  Reading behind the cryptic words of the Fed is the reality that they will continue to buy large amounts of MBS (as noted by the Fed's giant balance sheet) and the Fed funds rate isn't going anywhere.  At this point the Fed is using words as a method of talking down rates.  This can only work as long as confidence holds up.  Like in any good con, you have to get someone fully invested in believing that you can do anything like a financial Houdini.  While the public may believe this, the fact that big money is pulling out of the market in many areas is probably a signal that something is starting to shift.

Did You Enjoy The Post? Subscribe to Dr. Housing Bubble's Blog to get updated housing commentary, analysis, and information.