Finding a dumpster for toxic assets just got easier when the tempest of financial distraction are keeping people focused on the shiny economic items of fear.  Remember that much of the uproar regarding the $700 billion TARP bailout plan was how the government was going to price toxic assets?  Which subsequently led to the demise of the first iteration of the bill in the House of Representatives.  The bill then was saddled with an additional $110 billion of pork and beans and suddenly the bill made sense.  Clearly the market didn't think so and has seen the worst week ever.  The market voted that idea down.
Paulson while scratching his head and looking at his "bailout for dummies book" must have found a cliff note telling him that Fannie Mae and Freddie Mac are already setup to purchase mortgages and in fact, for 2008 are pretty much the only game in town.  Genius idea!  So in the midst of the G-7 planning to authorize their own bailout with a Euro-zone flavor the idea of decoupling now seems like a wild-eyed joke.  What is worse than an incompetent central banker?  A group of central bankers.  There are now reports that Federal regulators are going to require Fannie Mae and Freddie Mac to each purchase $20 billion ($40 billion combined) each month in sub-prime and Alt-A non-performing loans.  That is right, the outrage that made the Economic and Housing Stabilization Act of 2008 go down in flames is now becoming a government mandate with Fannie Mae and Freddie Mac:
"SAN FRANCISCO (MarketWatch) – Federal regulators have ordered Fannie Mae and Freddie Mac to start buying $40 billion of troubled mortgage bonds each month as the U.S. government tries to revive the economy, according to a published report.
The purchases would be separate from the U.S. Treasury's $700 billion bailout plan, which was signed into law earlier this month, Bloomberg noted.
Fannie and Freddie were taken over by the U.S. government in early September, in the first of several bailouts the government has launched recently to try to halt the spread of the mortgage-fueled credit crisis.
Regulators initially restricted Fannie and Freddie's growth when they seized control. To "promote stability" and lower mortgage costs to borrowers, Treasury Secretary Henry Paulson said the two companies would be allowed to "modestly increase" their mortgage portfolios to as much as $1.7 trillion through the end of next year and said they would no longer be run "to maximize shareholder returns."
Wow, since when was $1.7 trillion a modest amount?  Amazingly this is additional money that will be flushed down the toilet on top of the $700 billion bailout plan.  You can do the quick math here.  If this starts this month, we have 15 months until 2010:
15 months x $40 bn = $600 billion more in toxic funds
Absurd.  This does absolutely nothing except guarantee that the taxpayer is going to be on the massive hook with the worst assets known to humankind.  All this will do is take sub-prime and Alt-A paper off the books of irresponsible lenders and put them on your bill.  Once again, the lenders are free to do what they wish and receive no justice for what they have perpetrated.  Those that say now is not the time to point fingers are completely off base.  Why?  Because unless we can pinpoint who the criminal is first, we have the inability to assign the punishment for the crime.   I love how this plan states that Fannie Mae and Freddie Mac will no longer be run to "maximize shareholder returns" as if current shareholders need to be reminded of that most obvious fact or told that the sky is blue:
The scary proposition here is that people would be better off if we simply sent each household a fraction of the $40 bn each month directly.  This idea will not promote stability because what then of the borrower?  You really have to logically think this out.  Let us assume a $50,000 household lied and got into a zero down $500,000 mortgage with a pay option ARM (a common occurrence here in California):
Borrower income:     $50,000/yr
I ran the numbers on an "excellent" pay option ARM scenario:

So the current payment of the borrower is roughly $1,660 a month.  Not bad, but once the loan hits a recast, the borrower is screwed.  Let us assume that $1,660 was the maximum they could afford since taxes and insurance will run an additional $600 to $650 a month.  Therefore, at the teaser rate their monthly payment is approximately:
Monthly teaser rate / house payment:             $2,260
As you can see from the chart above, a fully amortizing 30-year fixed rate mortgage would run about $2,754 plus the $600 a month in additional fees bringing the real payment to:
$2,754 + $600 = $3,354 a month
The real payment is $1,094 more a month.  So assume the government is going to try to please everyone (that is, the corrupt lender and the borrower that got in over their head).  The lender is happy taking the $500,000 payment from the taxpayer.  Thank you!  Next, the borrower can only make the max $2,260 payment.  What will the balance need to be knocked down to in order to make this work?
Well according to Freddie Mac the current 30 year fixed rate is 5.94%: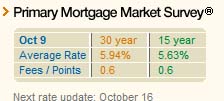 This is where the taxpayer gets royally screwed.  The loan amount will need to reduced to $280,000 in order to meet that $1,660 a month payment!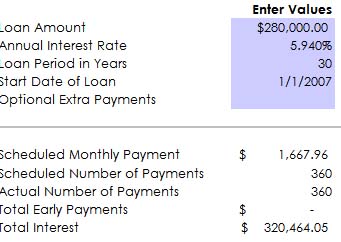 Where is that $220,000 going to come from?  Keep in mind that California has roughly $300 billion of the $500 billion in pay option ARMs outstanding so this state stands to benefit in an extraordinary way compared to other states.  For example, say a state like Texas where a home would cost $100,000, a pay option ARM rework may only cost the taxpayer $5,000 to $10,000.  Here, we are talking about a rework fee that is going to cost more than the national median house price of the majority of states!  How does this help out anyone else aside from the lenders and those that made royally idiotic loan in bubble states?  Wall Street and lenders are pushing their agenda on the back of many unfortunate states that are hurting with their local economies and are trying to lump everything under one umbrella; in reality it is a ploy to distract the American public to the most culpable states.  FYI, Countrywide is out here in Calabasas California and New Century Financial out of Irvine California.  Some of the borrowers that lied on their loans will walk away anyways because many were looking for a quick profit as well.  Take a look at some of the Real Homes of Genius and you will see why.
You may think that the $500,000 median price is way out in left field but remember only in August of 2007 did Los Angeles County, a county with 10,000,000 people had a median price of $550,000.  Now, the picture is very different:

Yes, the above is the proof of a mania like no other.  The nation might have gotten drunk on credit.  But California overdosed on bad debt.  This number may in fact underestimate the cost of what is out there.  Keep in mind that many of the Alt-A and pay Option ARM loans are even worse than sub-prime loans because they were given to folks with better credit and therefore this allowed people with an income of $100,000 to buy a $700,000 home.  They are worse in the sense that they will cost much more to remedy especially if this plan above goes through.  This idea is as brilliant as giving loans to people with insufficient income to purchase McMansions with granite countertops.  If you find yourself in a hole, put the shovel down and stop digging.  The government with all these half-hatched plans is not only digging faster, but calling the CAT machinery to help.
In addition, how are they going to value the assets?  If they are planning on using the now conservative crony capitalistic model which now looks like gold (I can't believe this plan is actually looking better and better as each day goes by), this wouldn't be so bad.  They would have to do the following:
(a)  Give lender only 90% of the current appraised value of the home, nothing more.
(b)  Lender would have to pay one time fee of 5%
(c)  Borrowers would have to enter into an equity sharing plan tiered on a 5 year model.  First year sale at a profit, 100% goes to government.  Second year sale with a profit, 90% of profit goes to government.  And so forth. 
You want to know a scary fact?  There are still a crap load of sub-prime loans out there.  According to data from the New York Federal Reserve for August of 2008:
Sub-prime loans outstanding:             2,919,604
Average sub-prime loan balance:        $183,917
Total U.S. sub-prime loan balance outstanding (August 2008):   $536,964,808,868
So we have over $500 bn of these loans still floating out there.  How much of this toxic junk is in California?
California sub-prime loans outstanding:         445,678
Average sub-prime loan balance:                    $327,081
Total California subprime loan balance:    $145,772,805,918
So even though 15% of the actual loans are here in California they make up nominally 27% of the actual value.  Now with that said, let us shift and look at the Alt-A numbers which don't present a better picture and also include the more disastrous option ARM mortgages:
Alt-A loans outstanding:                    2,259,502
Average Alt -A loan balance:             $321,572
Total U.S. Alt-A amount:                 $726,592,577,144
Right off the bat, we see that there is a much larger nominal amount of Alt-A loans floating out in the U.S.  In addition, even though there are fewer Alt-A loans in relation to sub-prime they carry a much larger balance, nearly twice as much.  Let us look at California specifically now:
California Alt-A loans outstanding:               699,337
California Average Alt-A loan balance:         $441,665
Total California Alt-A amount:                   $308,872,676,105
This is where things get murky.  Even though California makes up 30% of U.S. Alt-A loans, nominally it makes up 42% of the full amount!  This is where the $300 billion in pay Option ARM number comes from.  In fact, they might as well call this the Fannie Mae and Freddie Mac bail out California sub-prime and Alt-A lenders plan because that is truly what it is.
Given how things are playing out and so many moving and fluid parts people are simply not paying attention right now.  If this plan goes through, it will have the potential to mirror the cost of the $700 billion bailout plan.  In effect, we now have 2 $700 billion bailout plans running concurrently.  This is going to be a very expensive proposition for American taxpayers unless something radical is done to stop the economic digging.
Raw numbers of homeownership:
75.5 million households own their home
12 million are now underwater (16%)
64 million have equity
            (a) 24 million of these own their home free and clear
            (b) 40 million still have equity
In Los Angeles, 40% of those that purchased a home in the last 5 years is now underwater.  Who are we really helping here?
Did You Enjoy The Post? Subscribe to Dr. Housing Bubble's Blog to get updated housing commentary, analysis, and information.