One of the arguments made about quantitative easing is that it will somehow cause strong inflation and thus cause home prices to move up.  Why?  The argument follows the logic that the roundabout way the Federal Reserve is printing money will somehow result in consumer inflation and thus push home values up as well.  To that, we can point to quantitative easing part one (QEI) and see that U.S. property values clearly did not appreciate with $1.75 trillion of Fed intervention.  Why are we to believe another $600 billion will do anything different from the first round?  People will say that all this money had to go somewhere and that is true.  Much of it went to repair the balance sheet of insolvent banks but has also become hot money around the world.  Just because the housing bubble has popped here doesn't mean it isn't raging elsewhere in the world.  The housing bubbles of Japan in the 1980s and the current China housing bubble give us an interesting look at the aftermath of bursting bubbles, currency intervention, and quantitative easing.
Japan real estate bubble
For those of you who remember Japan was offering stiff competition on a global scale in the 1980s and many pundits in the U.S. would make frequent statements that Japan would soon eclipse the U.S. as the biggest economy.  The U.S. argued that the Yen was too strong and that Japan had to appreciate their currency.  Here is how things played out:
"(Vox) The Japanese property price started to increase with strong fundamentals and financial deregulation in the mid-1980s. In the beginning (say, 1984 to mid-1987), property price increases seemed reasonable and well-justified with strong macro fundamentals. Real demand came from a few booming sectors, like newly deregulated financial services. Foreign investors were interested in Japanese assets including stocks and real estate. Monetary policy remained very lax (i.e., the official discount rate being 2.5%, a record low at the time) from mid-1987 to mid-1989. Both stock prices and land prices kept rising, partly helped by the low interest rate. However, some time later (mid-1987 to end-89), the process became a bubble – that is, people invest in the property only to aim at capital gains. A leverage ratio became higher in pursuit of higher yields and as banks became more confident that the value of collateral would continue rising."
Here is the housing bubble expanding and bursting in Japan: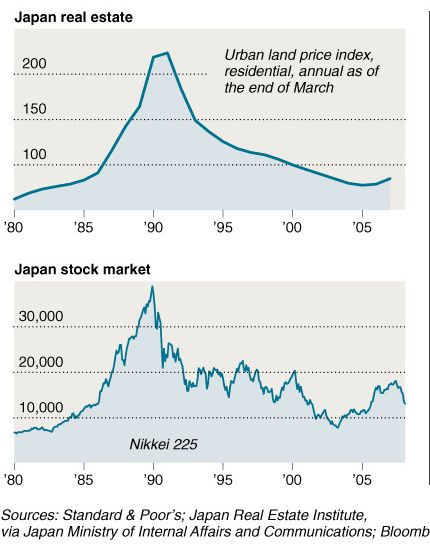 The bubble eventually burst and the Bank of Japan went into their own quantitative easing similar in scope to what the Federal Reserve is currently undergoing.  Japan protected its banks and many became "zombies" just like many of our large banks.  Few of the big banks were allowed to fail and were propped up by the central bank.  An inordinate amount of money was pumped into the banking system and clearly property prices did not rise as the chart above will show.  In fact, overall inflation moved sideways: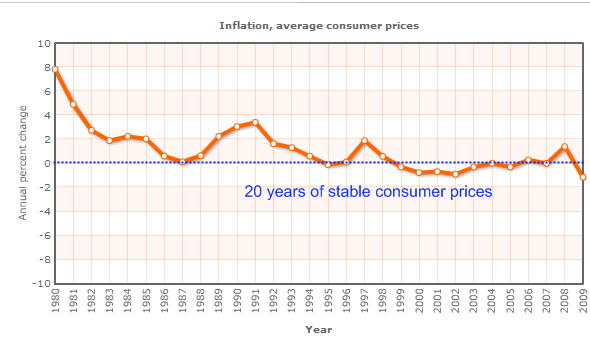 How can this be?  With global currency markets banks can use certain currencies (i.e., the Yen) to speculate in other markets (i.e., U.S. tech bubble in the 1990s).  So inflation doesn't necessarily mean it will be domestic.  Are we seeing wages surge up?  And with Japan, wages at the time were more in line with those in the U.S. but how do you compete with a country where workers make one tenth of what they would in the U.S.?  No amount of quantitative easing can fix that imbalance without serious pain somewhere.  That is why when we look at the China housing bubble there is a good sense of where the U.S. quantitative easing is heading:
"Many of our Chinese friends who live in Shanghai and Beijing are telling us that the property inflation rate exceeds 50% – and 100% in some areas. Available housing for a young couple is far from downtown, closer to one-hour commuting distance, and still more than ten times the average salary. There are also reports that the state government is borrowing with "protected" forest land as collateral (Dyer 2010). However, these stories do not match the Chinese official data (National Bureau of Statistics of China 2010a). The Chinese official statistics say that the average increase (year-on-year) in property prices was 10.7% in February. The increase is accelerating from a year-on-year rise of 9.5% in January."
There is no doubt that China is experiencing a housing bubble.  The question of course is how badly will it end when it bursts?  It seems however that China is looking to Japan's experiencing as a way of moving forward:
"Many Chinese officials tell us that they believe the origin of Japan's 20-year stagnation after its housing bubble burst lies in its failure to stand up to US pressure for the yen to appreciate. They cite this presumption as one of the reasons why they resist US pressure to allow the renminbi to appreciate. What is the logic behind this?

* The US pressure to appreciate the yen made the bubble size bigger;

* The US pressure to appreciate the yen made economic slump from bursting bubble worse; and

* The US pressure to appreciate the yen made the Japanese export sector to lose competitiveness that caused the 20-year decline."
Now this seems to be the arguments put on China at the moment by the U.S. Treasury and Federal Reserve.  There is no doubt that the first and ultimate goal of the Federal Reserve is to smack the dollar lower.  In other words, your standard of living will fall.  Each dollar you are paid with is going to be worth less and less if the Fed gets its way.  As Japan realized, quantitative easing did not revive their national economy and it definitely did not bring their housing bubble back.  Just look around your own home and see where most of the items you buy come from.  If your dollar has less purchasing power abroad, what will that do?  It would seem that inflation will happen but what if other countries also devalue their currencies at the same time?  At the moment, that seems to be the path many countries are going.
Now the Fed has already embarked on nearly $2 trillion of quantitative easing.  What has this done to inflation since the recession hit in 2007?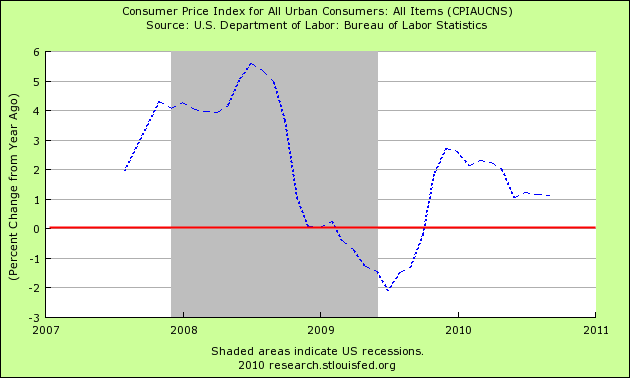 It looks like the Fed intervention has taken some of the edge off of the deflation caused by asset price destruction.  But where is the massive spike up in inflation because of QEI and QEII?  The issue of course is that people are looking domestically while all these funds have shifted into the hands of big banks that are now chasing hot money around the world.  One location is in China real estate.  I'm sure there are many markets like this but they are not here domestically.  Why?  Well how are Americans who are paid in U.S. dollars (a currency being pushed lower by our own central bank) going to pay for homes with a depreciating currency?  The logical thing would be to expect that home prices would move lower as the standard of living in the U.S. falls.  This is actually the case when we look at U.S. housing values: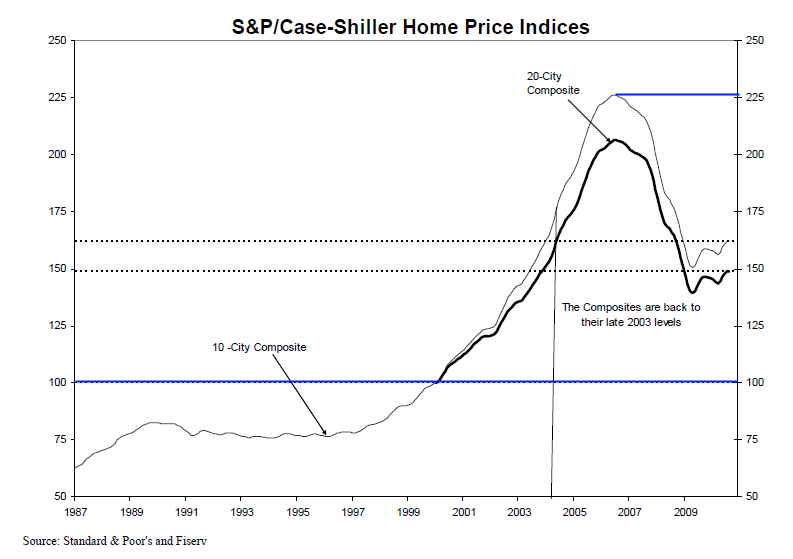 Doesn't seem like QEI did much to getting us close to peak prices.  In fact, the moderation that we recently saw was fueled by loan modification programs, forced low interest rates, ignoring delinquent borrowers, and additional tax breaks.  But now that the market has priced that in, home values are moving lower again although not as quickly to reflect the weak buying power that many are now feeling.
Game theory offers a few good explanations as to why things are not going to get easier any time soon.  China is overheating and housing bubbles are a manifestation of this just like Japan experienced.  Yet China at the moment has very little reason to allow its currency to appreciate.  Why?  This would make their products less competitive in the global marketplace and will cause domestic instability with rising unemployment (not exactly a good political move).  The Federal Reserve is calling this bluff and moving forward with QEI which has clearly not pleased Chinese policy makers:
"(MarketWatch) People like Geithner would argue that China should raise the currency to force American companies to move production back to the U.S. I suppose that that is how the whole yuan-appreciation idea may work. But, at what exchange rate would the American companies want to do it? American wages are 10 times China's. Should China increase its currency value 10 times?

Of course, the American pundits wouldn't put it that way. They would talk about China's trade or current-account surplus and the rising forex reserves, the prima facie evidence of currency manipulation. I don't want to deny that the rising forex reserves are a problem that China must tackle with. But, it is a separate issue from the U.S. economy. The solution isn't yuan appreciation either.

Everybody knows China has a massive savings rate of around half of its GDP. It's a simple equation that the current-account surplus is equal to savings minus investment. If the current-account surplus is a problem, it is either insufficient investment or excessive frugality. China's investment is over 40% of GDP. Even casual observers would find China's investment too much. Are Chinese people too frugal? The household income is probably under 40% of GDP. How could they be the source of the gigantic savings?"
It is a challenging situation for many nations.  Yet when I see what is going on currently (i.e., low inflation in the U.S. while real estate bubbles rage in China) you can see clearly where the hot money is going.  The money is certainly not flowing into U.S. real estate.  Ultimately people in the immediate markets need to be able to afford their local housing and rents are always a good indicator regarding the actual monthly amount people can carry (rents have been falling or stagnant over the last few years).  The global contagion is hitting again and Ireland is at the center for the past few weeks but an interesting article sheds a little light on the uniformity of how real estate bubbles burst:
"(Irish Times) Banks have been relying on two dams to block the torrent of defaults – house prices and social stigma – but both have started to crumble alarmingly.

People are going to extraordinary lengths – not paying other bills and borrowing heavily from their parents – to meet mortgage repayments, both out of fear of losing their homes and to avoid the stigma of admitting that they are broke. In a society like ours, where a person's moral worth is judged – by themselves as much as by others – by the car they drive and the house they own, the idea of admitting that you cannot afford your mortgage is unspeakably shameful.

That will change. The perception growing among borrowers is that while they played by the rules, the banks certainly did not, cynically persuading them into mortgages that they had no hope of affording. Facing a choice between obligations to the banks and to their families – mortgage or food – growing numbers are choosing the latter.

In the last year, America has seen a rising number of "strategic defaults". People choose to stop repaying their mortgages, realising they can live rent-free in their house for several years before eviction, and then rent a better house for less than the interest on their current mortgage. The prospect of being sued by banks is not credible – the State of Florida allows banks full recourse to the assets of delinquent borrowers just like here, but it has the highest default rate in the US – because there is no point pursuing someone who has no assets.

If one family defaults on its mortgage, they are pariahs: if 200,000 default they are a powerful political constituency. There is no shame in admitting that you too were mauled by the Celtic Tiger after being conned into taking out an unaffordable mortgage, when everyone around you is admitting the same."
This kind of brinkmanship always ends badly.  So where are things heading?  It is Japan redux except with China.  The early 1980s saw the U.S. in another bad recession.  This time however, countries are more tuned into what happened and many are racing to the bottom.  This puts bigger issues for the global economy on the table but with a nearly 10 percent unemployment rate (17 if we combine underemployment and unemployment), a declining currency, and the Fed exporting bubbles how housing values blast upwards in the U.S. is a mystery and clearly not reflected in the data.  Housing is the least of the worries for the economy and future job growth as usual is issue number one.

Did You Enjoy The Post? Subscribe to Dr. Housing Bubble's Blog to get updated housing commentary, analysis, and information.