I have been crunching the numbers on the housing market and the more fascinating trend isn't what is happening with home prices but the actual consumer behavior driving the change.  When we started getting more access to information in the early 2000s I thought this would serve as a buffer in terms of capping future bubbles.  Instead, it actually ramped up the mania.  Information goes viral.  So seeing prices go up actually caused people to buy basing their actions on recent trends and the information was available 24/7.  Before easily accessible information you simply relied on local sales comps and the advice of your real estate agent.  The newspaper analysis served as your bigger city snapshot.  Today, most people can dig through the information and find tons of data.  And this makes this boom-bust-boom cycle so fascinating.  Some of you have noticed that Zillow now offers a snapshot of foreclosure data.  For example, let us look at the always exclusive Beverly Hills.
Zillow and the pending Beverly Hills foreclosures
I think this snapshot tells a fairly important story: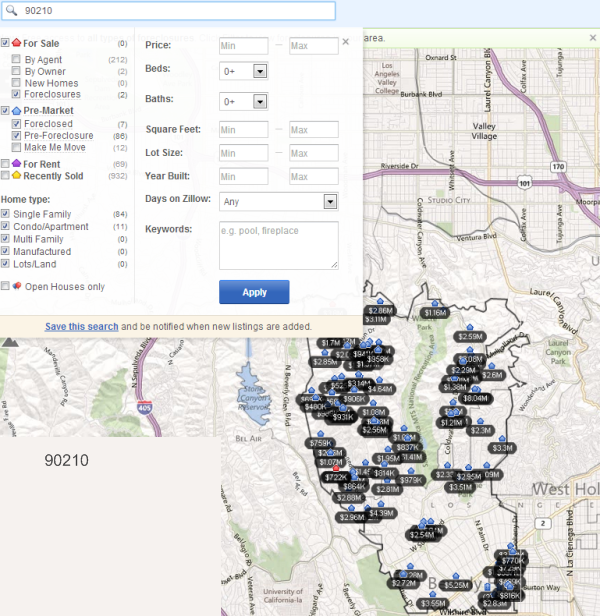 In the 90210 zip code, you have 2 foreclosures listed on the MLS for sale.  However, you have 86 properties in the pre-foreclosure process.  7 are foreclosed but don't appear on the MLS.  This is the distressed pipeline here.  Some tend to think that banks need to sell but the rules of the game have been completely upended and changed.  The Federal Reserve has essentially become the lending market by compressing rates lower via MBS purchases.  The financial industry largely controls this economy and what has been created is a system that works perfectly in tune for their goals:
-The bubble inventory is inflated (kept in a backlog)

-Allow time for rates to move lower

-Let inventory decline naturally

-Fed ramps up the process

-Prices begin to go up

-Unload into favorable winds
Keep in mind that since the bubble burst, millions of people have lost their homes.  This is a fact.  Yet it is interesting to see even in the midst of the California echo boom that places like Beverly Hills have a ton of distressed inventory.
Let us look at one of the foreclosed homes listed: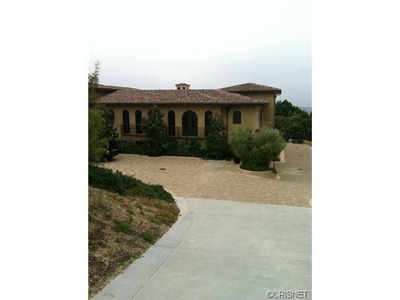 13870 Mulholland Dr. Beverly Hills, CA 90210

Beds:     6

Baths:   9

Sqft:      10,847

Lot:        43,534 sq ft / 1.00 acres

Type:     Single Family

Year built:            2008
From the ad:
"Stuning incomplete construction.This elegent home 4 Br+Maid's+guest &9 Baths.Backyard has amazing views.This is short sale ,all the terms and condition subject to the lender approval."
Looking at the tax assessment, the place was completely redone (built) in 2008.  The property was foreclosed at $4.6 million back to the lender and is currently on the market for $3.8 million.  I'm curious to see what comes of this place.  Even a low interest rate does very little at this price level in Beverly Hills.
If we filter properties in distress at $1 million and below we find 24 properties.  I find this new Zillow feature fascinating and will essentially open up the distressed inventory for people to examine.  But what will come of this?  Access to information is simply a tool and people are going to use that tool to fuel their ultimate goals.  And consumer behavior is driven by herd thinking.  Right now, people think they are going to miss out on housing boom 2.0.  So hard to tell how long this will last.  It can't last because household incomes are stagnant.  Until that changes, we are simply experiencing another volatility cycle through real estate.  I was talking with someone about real estate prices in China.  It was interesting to hear that people are buying simply as a store of value (perception being that tangible hard assets are much more durable, even if the place is vacant or has the potential to fall by 50 percent – at least it won't go to zero).  You have to wonder if Wall Street investors are looking at the rental market through this perspective because land lording and Wall Street do not go hand and hand.
I'm sure many of you are going to see what is going on in your neighborhood now that this data is accessible.  Don't feel bad, even Beverly Hills has a good amount of people in the foreclosure pipeline.

Did You Enjoy The Post? Subscribe to Dr. Housing Bubble's Blog to get updated housing commentary, analysis, and information.