We have troubling economic headwinds that are being felt on the shoulders of many American families.  Over a decade of stagnant wage growth is taking a toll on the psyche of many.  Many large cities still have inflated home prices yet these bubbles are slowly deflating just like the rest of housing in America.  The home price collapse stems from the massive bubble and mania, that could be categorized as stage one.  Yet stage two will be more ominous because home prices are now falling lower to reflect the lower wages many Americans are combating.  People can only afford so much based on their household income.  The fact that so many people are taking lower paying jobs and filling the seats at less than quality colleges for $50,000 a year shows how desperate many Americans are even though the recession has technically been over since the summer of 2009.  Let us examine three current economic trends that are likely to keep wages low and home prices just as low moving forward.
McJob wages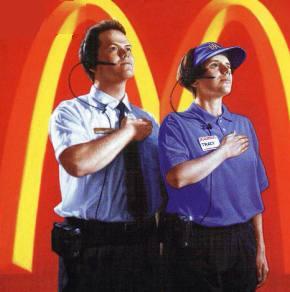 Many of you probably heard about the recent campaign McDonald's had in searching for 50,000 workers.  In the media McJobs are always seen lower on the ladder for employment.  Work is work however and the demand shown at some places is startling:
"(Bloomberg) McDonald's Corp. (MCD), the world's biggest restaurant chain, said it hired 24 percent more people than planned during an employment event this month.

McDonald's and its franchisees hired 62,000 people in the U.S. after receiving more than one million applications, the Oak Brook, Illinois-based company said today in an e-mailed statement. Previously, it said it planned to hire 50,000.

The April 19 national hiring day was the company's first, said Danya Proud, a McDonald's spokeswoman. She declined to disclose how many of the jobs were full- versus part-time. McDonald's employed 400,000 workers worldwide at company-owned stores at the end of 2010, according to a company filing."
You read the above correctly that for the 62,000 people hired, McDonald's received over 1,000,000+ job applications.  When I see things like this I have to ask are these people even looking to purchase a home or are they merely living paycheck to paycheck?  I think many here are simply looking for a paycheck and an honest day of work.  In the media there is this implicit notion that many Americans are out of work because of their personal failings.  Here we have 1,000,000+ people willing to work in probably one of the less glamorous jobs in the world.  Do you think this was their first choice?  I'm sure many exhausted multiple job applications and opportunities before applying.
I've also noticed that many college institutions, many with less than reputable track records, are capitalizing in this trend and are promising high paying jobs so long as you pay the $20,000 a year at a paper-mill for-profit or $50,000 a year for a lower tier university.
The inflated graduate
With our blue collar sector dismantled, it is becoming more and more apparent that the only way into the middle class going forward is by going to college.  Yet choosing a career and school is critical.  Someone sent over this chart which shows exactly where the jobs are being added in this so-called recovery: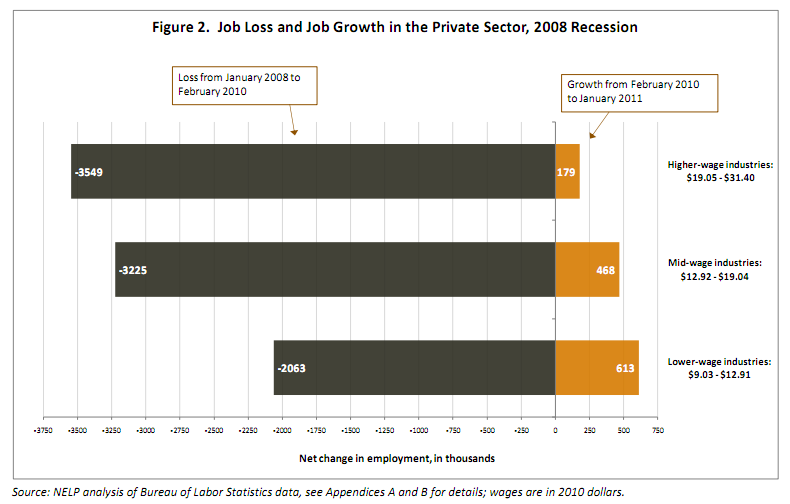 This I find troubling even more than the housing bust.  Since the recession started we've lost 3.5 million higher waged jobs (those that pay between $19.05 and $31.40 an hour).  But during the recovery only 179,000 of those jobs have been recovered.  You see a similar pattern occur in the middle range as well.  Yet most of our recent job growth has occurred in the lower-wage industries (those that pay $9.03 to $12.91 an hour).  We've lost 2 million jobs here yet 613,000 jobs have been added in this sector.  Not sure if that figure includes the 62,000 jobs added by McDonald's?
It is amazing that the cost of college has far outpaced almost every basket of goods or products in our economy: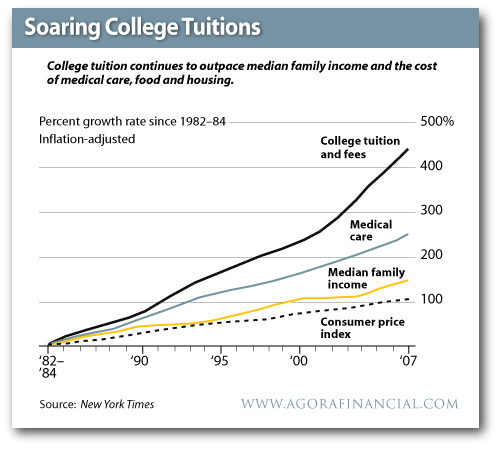 I think the above simply reflects the mythology that still pertains to education.  We saw this in housing where "homes never fall in price" or "a home is the best investment you can make."  Those mantras are undergoing a drastic surgical alteration.  Yet a college education still carries this brand.  Forget the fact that we have over 4,000 colleges and universities and how many of these are actually worth the money?  Even if we say 1,000 are quality that leaves 3,000 ripping people off.  Even if you go to a top 100 school and pick a major that doesn't prepare you for the current economy you are looking at moving back home with mom and dad except with boat loads of debt.  There is no reason someone should pay $50,000 a year to study basket weaving at a lower tier school.  But many are.  Late at night I've seen ads for the for-profit schools showing a kid playing video games and making it seem that he is only one call away from making millions a year (and of course $20,000+ a year in loans).
Of course there are many good institutions but just like buying a home with the correct mortgage and adequate income, this is a smart choice that needs to be walked into carefully.  Yet we are seeing more bad than good in the current market and the fact that student loan delinquencies are shooting up tells us something is wrong.  The culprits are more concentrated in the private sector: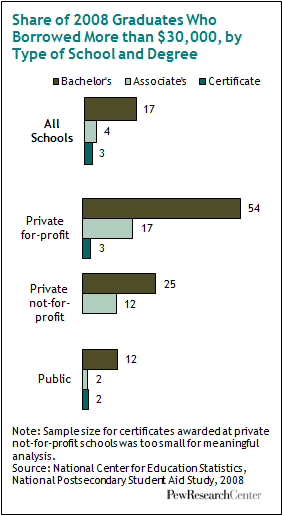 Just another bubble in our economy.  And it looks like government funding may be cut:
"(Colorado Independent) Student loan defaults are on the rise, according to a new federal tracking system. For students who began repaying their loans in 2008, 13.8 percent have since defaulted. For profit institutions had 25 percent of their graduates defaulting after three years, and public four-year colleges had 10.8 percent of their graduates defaulting after three years.

"These disturbing numbers clearly indicate the need for local, state, and national leaders to strengthen their prioritization of higher education," said United States Student Association President Lindsay McCluskey. "Young people face a staggering unemployment rate far above the national average and cannot afford to begin a post-collegiate life while saddled with tens of thousands of dollars of debt."

U.S. House Republicans sought $64 billion in cuts in Pell Grant mandatory funding over the next 10 years as a result of the deep reduction it would make in the 2011 fiscal year, through H.R. 1. It would go on to make a 30 percent reduction in 2014 to Pell grants, and a 34 percent reduction in 2017."
With many students coming out with the equivalent of mortgage debt before they purchase a home, many will carry this debt as an albatross for years to come.
Shadow inventory is here to stay
Finally the amount of shadow inventory in the U.S. is staggering.  There is still no clean mechanism in place to move out the excess inventory even though our government has plowed trillions of dollars to the banking system.  What we got in return was McJobs and the ability to watch banking profits soar.  Loans to small businesses are as tough as they were to get back in 2008 and consumer loans are contracting severely.  The liquidity went to one segment of our economy and banks are happy leaking out shadow inventory for years to come while hedging taxpayer bailouts in global markets and pushing Americans into lower paying jobs.
"(LA Times) 'Shadow inventory' of 1.8 million homes could prolong housing slump

The glut of troubled homes not yet on the market represents a nine-month supply at the current sales pace. That's in addition to 3.49 million previously owned homes already on the market."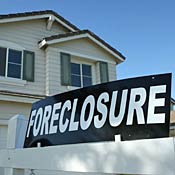 Early in the crisis I thought that people would be up and furious about what was going on.  I'm not so sure about that anymore.  If a crisis that was the worst since the Great Depression didn't get large number of Americans out to the streets and demand substantive action then nothing will.  Where is the organized movement to reform the capital markets?  Where is the multi-million person organization to break up the too big to fail banks?  This is why this leakage accompanied by falling wages seems to be the path forward.  Do you think big east coast investment banks care if certain prime cities in California see a 50 percent price decline?  They don't and that is why we are seeing more homes leak onto the market.  The profits made globally are now surpassing the chump change in housing so expect more lower priced homes to hit the market to reflect the lower wages Americans are earning.  McJobs to accompany the McMansions.

Did You Enjoy The Post? Subscribe to Dr. Housing Bubble's Blog to get updated housing commentary, analysis, and information.