While most people fixate on the $700 billion bailout there should be an intense focus on the other clandestine bailout that is occurring without Congressional approval.  The Federal Reserve has already lent out nearly $2 trillion in emergency loans to troubled institutions with little if any transparency.  Bloomberg News has recently requested the information be released under the Freedom of Information Act and filed a federal lawsuit on November 7th.  The Fed is keeping mum about the information or the lawsuit.  Frankly it is absurd that we even have to go through these lengths to find out where the money is going since the tax payers are now standing directly in the line of fire.
The Fed hiding information is like you going to your bank and them telling you, "sorry, we can't tell you where your money is at."  This is patently absurd and we can all take a wonderful guess as to where the money is at:
Keep in mind that just because these institutions were already bailed out, that does not mean that the money being dumped into them is all finished.  In one of our stories today, that of A.I.G. they are already back to the well looking for more cash.  Remember that game Hungry Hungry Hippos?  The dollar marbles are running out and the hippos are still very hungry.  $85 billion just doesn't buy you what it once did.  Now it is a $150 billion gamble.  You and your family were holding off that trip to Atlantic City but just to get your rush on, the government is gambling for you.
Auto makers are also begging to be included in the T.A.R.P. program.  They are seeking $50 billion simply to stay above water since they are burning through cash like Michael Jordan in a Vegas casino (notice how aptly these casino analogies keep fitting in?).  The deep and profound absurdity of these bailouts is we are bailing out the least deserving institutions out there.  Think of the almost comical nature of these bailouts:
(a)  Get too big to fail
Example:  Bear Stearns making stupid idiotic bets on derivatives and leveraging to a point that would make Thucydides blush.
(b)  Lose as much money as possible
Example:  Ford and GM are bleeding through money as if it was going out of style.  Why?  They made huge bets on high margin gas guzzling urban tanks.  While the times were good, they were swimming in the profits and even laughing at foreign auto makers for making girlie men cars.  Honda and Toyota for example had a fleet of lower priced highly fuel efficient cars.  They did well initially when gas prices went up.  This absolutely gutted the U.S. automakers.  But here is the ironic thing.  Gas prices are now back down to about $60 a barrel.  There argument about high fuel prices doesn't hold water anymore.  They are now being hurt since consumers are flat out pulling back on purchasing any new cars.
All the automakers are now getting hammered.  But GM and Ford have built plants betting on suburban tank drivers going on forever.  That game is over.  So what happens?  We now have to bail them out to retool their shops to get with the freaking program!  That is absurd.  This is rewarding bad behavior.  Why don't we give Toyota and Honda, who by the way have plants here in the U.S. and provide many American jobs, a handout as well since they actually already have plants ready to dish out fuel efficient cars?  Again, typical of rewarding bad behavior and the most extreme moral hazard financial problems we have seen in decades.  More of a political symbolism move here.
(c) Apply for Corporate Welfare
Example:  Fannie Mae and Freddie Mac.  Remember in the oh so distant past when we bailed out Fannie Mae and Freddie Mac and everyone was up in arms because it was the biggest bailout ever known to humanity?  That is, until a few months later we went off our meds and got a 3 page letter from Paulson asking for carte blanche authority for $700 billion to lend out to anyone that couldn't be crammed down into that $2 trillion secretive alphabet soup of crap the Fed is now accepting.  See dear readers, what we now have is a bailout blitzkrieg with so many institutions asking for corporate welfare that people are now becoming immune to all of this.  Read the bailout bill.  The initial bill was designed to buy toxic assets.  Now, we are injecting capital.  Frankly, this stuff is being made up as we go along.  Here is the section of market transparency:
SEC. 114. MARKET TRANSPARENCY.
Within 2 days of purchasing craptastic mortgages, they'll have to go public in some electronic form.  Imagine a Google interface except everything you pull up will be toxic assets.  Sort of like looking at the SEC short list except in a searchable format.
Technically the U.S. Treasury hasn't bought any toxic mortgages probably because of this reason and is running as much as it can through hidden market actions.  The only allocation we have done thus far is dumping money via capital injections to these banks: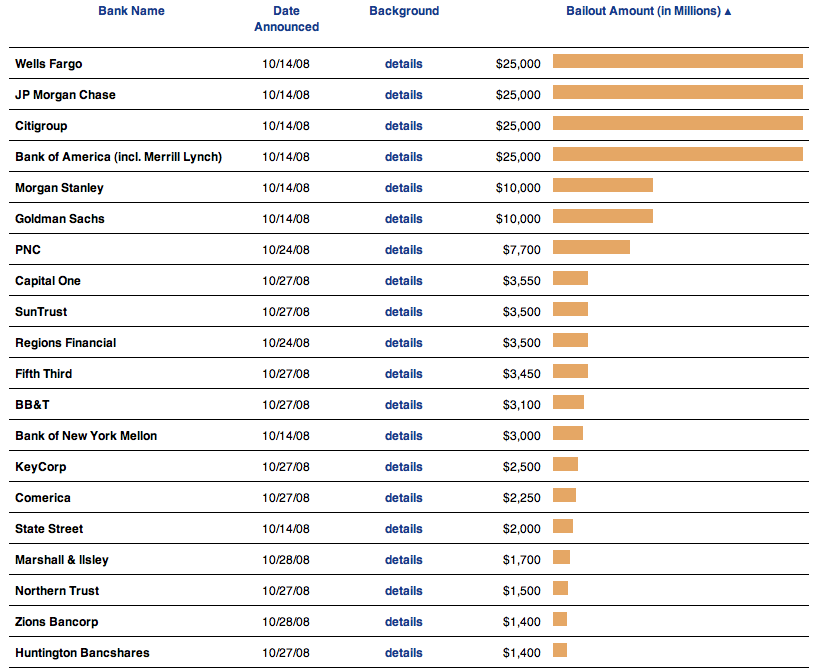 Source:  ProPublic
And where is this toxic sludge going?  Let us take a look at the off balance sheet security lending: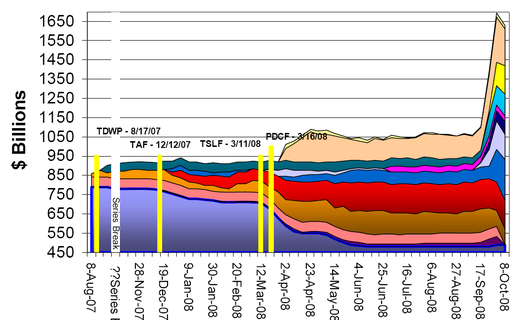 Source:  Cumberland Advisors
Let us now focus on Circuit City which only a few days ago we discussed about their closing of 155 stores.
Circuit City just short circuited and filed bankruptcy
Circuit City announced that it will be filing Chapter 11 bankruptcy.  That is essentially the nail in the coffin: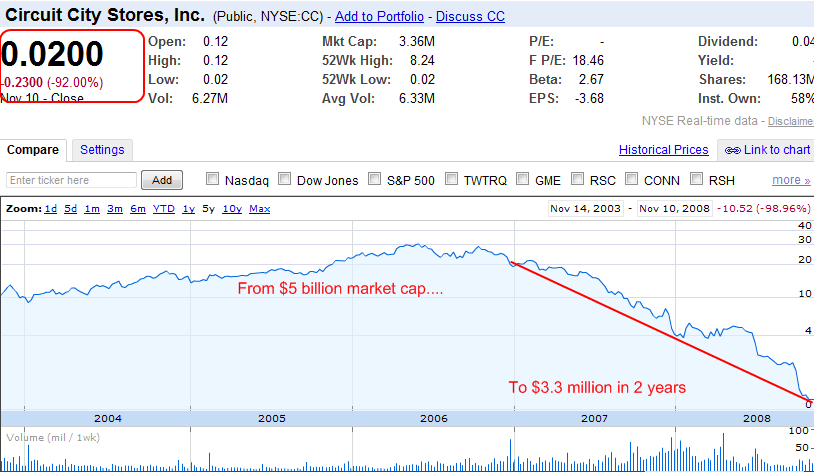 The electronic big item store is simply another casualty of the consumerist nation coming to a screeching halt.  There will be no layaway program here that can save this beast.  I was noticing in some reports that Circuit City was stating that competition from Best Buy was a major reason for their bankruptcy.  Wrong answer.  Try again.  Circuit City is closing down because people are flat out broke.  As in, lint in their pockets.  I know people feel freaking wealthy with 10 credit cards but you might as well line your wallet with monopoly money to garner a same effect.  It isn't your money.  It is spending today what you will earn tomorrow. And since our economy is laying off people in masse now, many insurers are realizing that some people may have no earnings tomorrow.
Also, to use Best Buy as a measure of comparison isn't using your noggin since they are getting smacked down as well: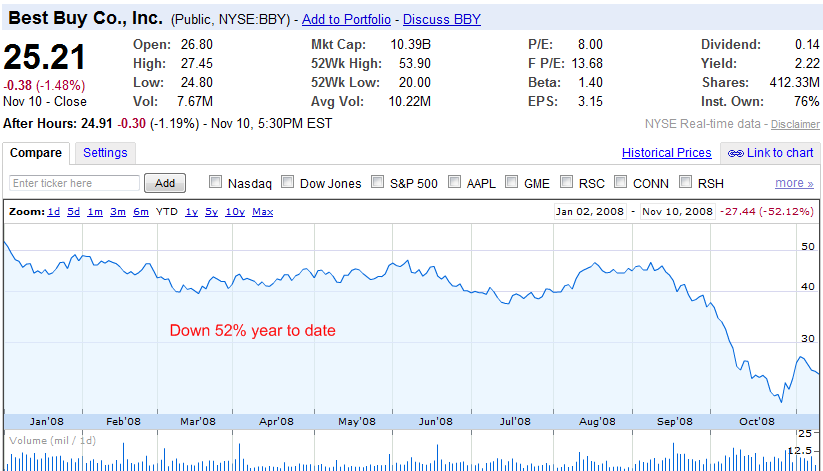 People are grasping at straws here.  The reality is, and most people don't want to hear it, is that we are no longer going to have access to absurd amounts of credit.  Why?  Because it was a once in a lifetime bubble.  For those of you who think credit will flood the streets like a broken fire hydrant in short time ask yourself one question.  Would I lend my own money to my neighbor with the new Mercedes?  Or what about the person with the new McMansion?  If the answer is no, then you have ask yourself why is the government pushing for this?
Welcome to the credit destruction phase of the downturn.  People will need to keep that car a few more years and you will have to make due with the flat screen instead of that new HDTV liquid plasma.
Did You Enjoy The Post? Subscribe to Dr. Housing Bubble's Blog to get updated housing commentary, analysis, and information.