We have now gone full circle when it comes to California real estate.  The San Francisco housing market is blistering hot with all common sense being flushed down the Twitter tubes.  While the idea of "tiny houses" seems like a new thing, this already happened over 100 years ago although by a force more powerful than the financial market.  After the 1906 earthquake and fire people sought shelter in tented communities and city parks.  Of course this was not a long-term solution so union carpenters in combination with the San Francisco Relief Corp., San Francisco Parks Commission, and the U.S. Army got busy on building the original earthquake shack.  These tiny cottages were built quickly and fast.  These places simply provided a roof over the heads of families after the devastation of the quake.  Today, they are being sold to future tech hipsters and investors for ridiculous prices.  The earthquake shack mania is now here!
Earthquake shacks with startling prices
The earthquake shacks were built fast and with simplistic utility.  These were not developed as a housing option for a modern day tech elite or investor crowd.  Yet here we are, recycling the old into a modern day mania.
Take a look at the original shacks built in 1906: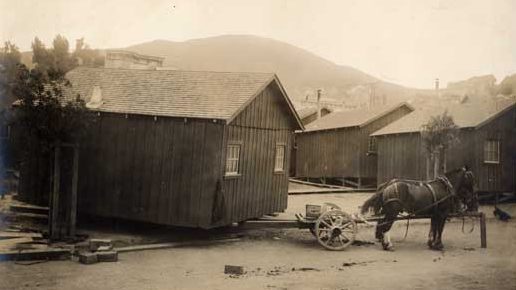 "Future million dollar pad"
Over 5,000 of these places were built.  This was the original "pre-fab" construction.  But when you look at the history here, these shacks were built to replace tents and shoddy shelters built by many displaced residents.
Back in the 1980s there was a push to save these earthquake shacks for historical purposes.  Many of these are now HGTV upgraded and available for sale in posh neighborhoods (with inflated prices).  Take a look at one of these "official" earthquake shacks: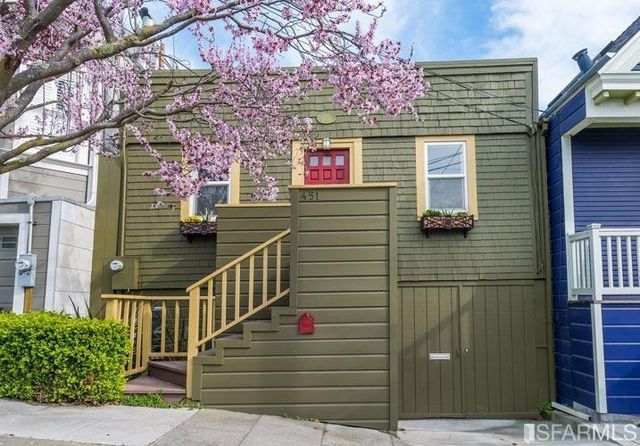 451 Anderson St,
San Francisco, CA 94110
2 beds, 1 bath, 1,100 square feet
Let us look at the description:
"Originally 2 earthquake shacks from 1906, they were combined to create this charming 2 level home which features 2 bedrooms (master bedroom with faux brick wall), one remodeled bathroom with skylight, wood floors, kitchen with breakfast bar and stainless appliances. The landscaped yard has 2 decks and private hot tub. 1 car garage parking, laundry room and storage. Perfectly situated just 1.5 blocks from the Cortland Street corridor, aka Cortlandia, with its myriad of neighborhood shops, cafes, bakeries and restaurants. The home has easy access to freeways, Muni and BART."
What a steal.  you get 2 earthquake shacks for the price of one.  This is a 2 bedroom and 1 bath home listed at 1,110 square feet.  The ad copy reads like it is targeting tech hipsters.  Get it, "Cortlandia" – so bust out those nerd glasses and rock that flannel out while eating organic beans.  It'll probably be all you can afford after you pay the mortgage.  Let us look at price history here:
The 1992 price of $179,000 seems reasonable for two earthquake shacks.  It sold again in 2005 for $610,000 and then was listed in April for $849,000.  And it actually almost sold.  But take the 1992 price which was during another California housing bubble.  What if the property merely tracked the overall inflation rate since that time?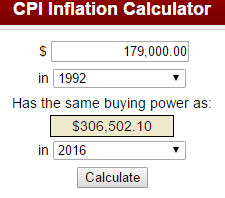 Source:  BLS
"But interest rates.  The Fed is like God.  Yadda yadda yadda!"  Sure, knock yourself out and buy this place.  Go ahead and pay $849,000 for 2 earthquake shacks that originally were probably hauled in by horses.  Maybe in 50 years they'll take 4 earthquake shacks and turn it into a Voltron like house for $3 million.
The schools in the area aren't even rated highly: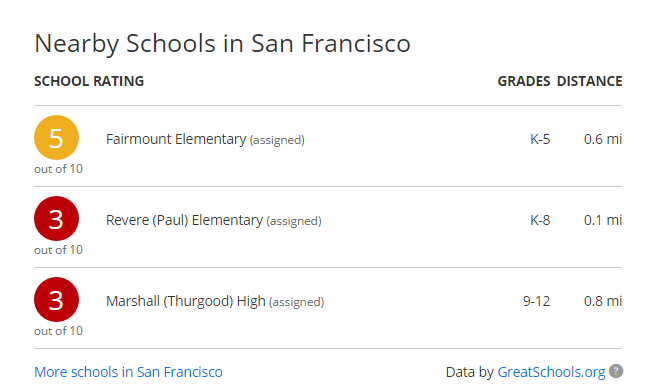 Next thing you'll have is people renting out vans for ridiculous prices.  Oh wait, we are already there.

Did You Enjoy The Post? Subscribe to Dr. Housing Bubble's Blog to get updated housing commentary, analysis, and information.