Rinse and repeat. That seems to be the mantra some flippers are adhering to in certain SoCal neighborhoods. Some zip codes seem to attract flippers like flies to a bright light. Eagle Rock is one of those markets. Nestled between Glendale and Pasadena, Eagle Rock seems to be a siren call for hipsters. What I find interesting in these hipster hoods is that they try to pitch a frugal eco-friendly lifestyle yet carry a massive mortgage. Okay, you are growing tomatoes and radishes but now have a mortgage on a $700,000 crap shack. Seems like cognitive dissonance especially when you are getting such a tiny living space. Hipsters seem to be buying it up but the market is now cooling off. Apparently living in a closet and having a tiny garden isn't so appealing when you look at the underlying price tag.
Eagle Rock fun
I've gotten a few e-mails from those in the housing industry talking about how hot Eagle Rock has become. A sort of center of hipster wishes and aspirations. It is an odd pitch when you are telling your prospective buyers to enjoy more "earthly" desires yet slap on a price tag as if they were buying an Italian Villa. Only in SoCal does it cost a lot to live as if you were broke.
I think smart sellers are realizing that something is turning in the market and are trying to capitalize while the getting is good. Take a look at this pad: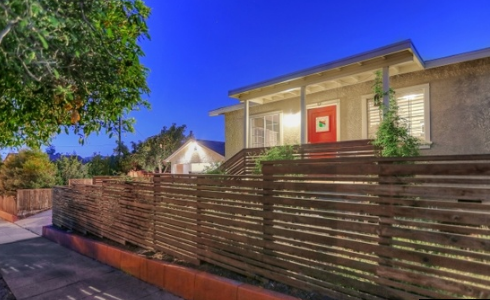 1727 N Avenue 45, Los Angeles, CA 90041
2 beds, 1 bath, 700 square feet
Don't you love the color saturation in this picture? You might as well be in a comic book. 700 square feet is the size of a bachelor pad. Let us look at the ad:
"Imagine a place where you can live, work and camp by the fireside, a home with an enchanting garden producing fruits, vegetables, and herbs on a drip irrigation system. Welcome home to a sunny and sophisticated renovated 1922 bungalow boasting a generous living room, new floors and windows, with built-in storage and tons of light. The open layout reveals a fresh kitchen with white cabinets and granite counters, stackable w/d and eat-in space, stainless steel appliances, and classic details."
"Generous" living room? Camp by the fireside? Keep in mind this place was originally built nearly 100 years ago. Someone is in a position to make some good money here: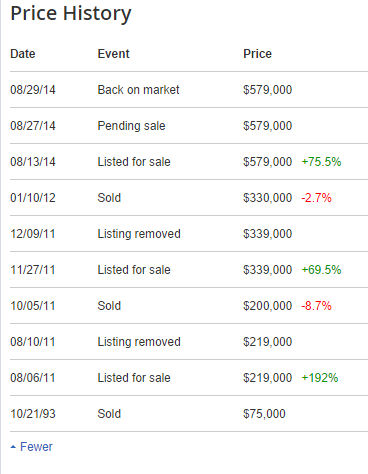 Someone snagged this place in 2011 for $200,000. It was then flipped for $330,000 three months later. Now, the current sellers are trying to sell it for $579,000. It looks like someone nearly bought this place in late August.
Now what happened in two years to justify a price jump from $330,000 to $579,000 on a 700 square foot Eagle Rock bungalow? Of course in SoCal real estate, you can always fake it until you make it. The current list price of $579,000 brings this place to a price of $827 per square foot which is very high, even for trendy Eagle Rock.
I love how Zillow also allows some owners to put a "Make me Move" price tag just for the heck of it. Take a look at some other owners in Eagle Rock fishing for offers: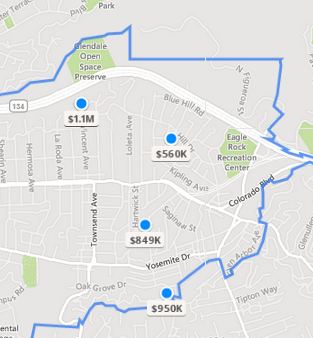 Generate interest without the commitment of listing your home.  Also, with your garden you'll be able to grow fresh veggies instead of chowing on Fancy Feast because of your massive mortgage. Eagle Rock is an interesting neighborhood and a hotbed of flipper activity. It'll be interesting to see if this continues as the market is now cooling off.

Did You Enjoy The Post? Subscribe to Dr. Housing Bubble's Blog to get updated housing commentary, analysis, and information.