U.S. housing values will continue to decline largely because of weak income growth, a massive amount of distressed properties still stagnant in the pipeline, and the end of the great debt bubble of the last few decades.  American housing values rose to stratospheric levels only because of a comically unchecked mortgage market and not because of sustainable income gains.  This seemed to be lost on many and a large number of Americans battling with stagnant incomes could not resist the siren call of easy money in real estate.  Instead of confronting the reality that incomes were shrinking because of global economic shifts and the pollution brought on by the unregulated financial sector many decided to jump into the mania and spend today what would be earned (hopefully) tomorrow.  Instead of one income being able to afford a home with a reasonable 30 year fixed mortgage it was now necessary for two incomes and a toxic mortgage simply for a basic home.  Home values will continue to go lower even below early bubble price levels because not only are we erasing the bubble era gains, we now have to contend with the lost decade of income gains.
Without rising incomes home prices cannot rise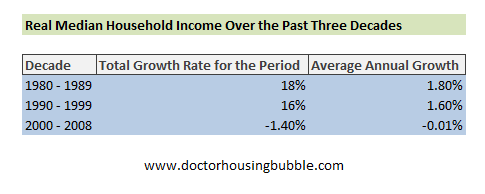 The above is a fascinating chart because it shows the stalling out of real household income gains.  What it also reflects is the illusion of wealth in the last decade.  From 1980 to 1989 real household income growth measured 18 percent.  From 1990 to 1999 real household income growth came in at 16 percent.  This is 20 years of real income gains although we'll point out a caveat on this later.  But from 2000 to 2008 real household income actually shrank by 1.4 percent (even more if we can include data from 2009 and 2010 which isn't available).  Now think about the implications of this.  Home prices rose to the highest levels during the weakest ten years of the last three decades.  How can that be?  The reason this happened was because of the casino like nature of Wall Street and the desire to turn housing into a speculative casino like investment that could be churned and sold around the world like any other pump and dump stock.
Some try to blame the government for the entire mess as if they forgot that the government had been involved in the housing market heavily since the Great Depression (1930s).  Yet over time, the government and Wall Street became more and more joined at the hip.  Eventually after Glass-Steagall was repealed (a law specifically designed to curb banking speculation) in the late 1990s did we finally see the housing bubble take off: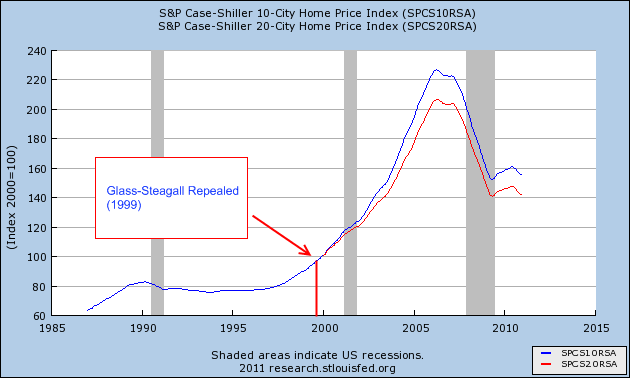 This was completely a Wall Street push.  It wasn't like some Republican or Democrat sat behind their crony desk and conjured up the ideas for collateralized debt obligations.  They got this idea from their overlords of banking lobbyists.  Both are guilty but do not mistake where this idea originated.  For nearly half a century of government backed mortgages with a boring sizeable down payment and of the 30 year variety, housing was rather stable.  During that time we never had one nationwide housing bubble.  But of course now Wall Street banks had nearly half a century of data on "stable housing" to start creating toxic mortgages that were to be packaged and sold to pension funds, foreign investors, and any other fool willing to hand over their money to a charlatan.
The above chart shows the magnitude of the housing bubble.  Keep in mind the massive run from 1999 to 2006 largely occurred at a time when real household incomes were falling.  So you ask again, how was this possible?  Pure and simple it was built on debt: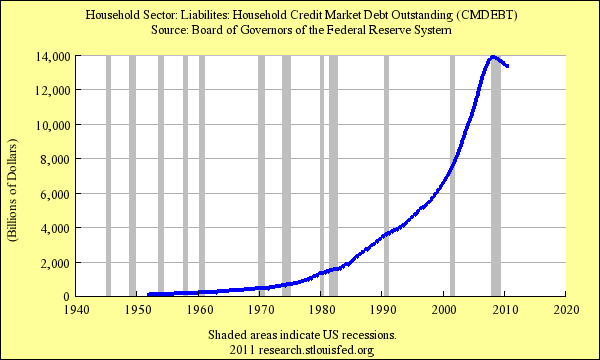 We reached the apex of debt overload when household debt aligned with annual GDP.  The credit markets made up for the faltering income gains during the last decade.  No need to check for income because this lost decade of real income gains didn't matter when you had mortgage brokers selling option ARMs to people fabricating incomes to purchase homes.  Brokers got their cut, the borrower got their home, and Wall Street investment banks now had more junk to speculate on and sell to unsuspecting investors.  Again, this happened because housing had been such a stable investment for half a century.  During the bubble I would constantly hear people say "well nationwide we have never seen home prices go  down."  That was true before Glass-Steagall was repealed but with housing and mortgages now part of the global casino all bets were off and home values did a rendition of Tulip mania.
Spending more than you earn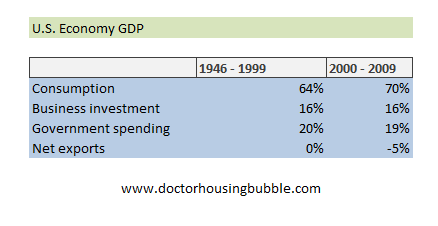 The above chart break down of GDP shows the unsustainable spending habits of our country.  From 1946 to 1999 consumption made up roughly 64 percent of GDP.  During our last decade it was up to 70 percent.  You also see our negative net export column reflecting our spending beyond our means ability.  This financial crisis is largely one of too much debt.  Debt isn't necessarily bad if you have the income to back it up.  If you make $1 million a year then a $1 million mortgage isn't so bad.  But if you only make $100,000 a year then there is no way a $1 million mortgage is going to work.  Yet that is exactly what happened over and over during the last decade.  Many of those mortgages are still out in the market.
Part of the financial pain now being felt in our economy is because of this unsustainable pattern we took on.  What is also hidden in the data however, is that during the decades when household income was rising much of this was largely due to having more workers per household: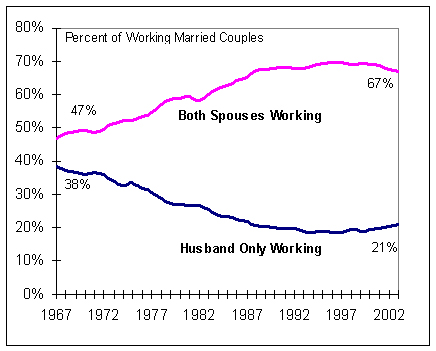 Source:  Tax Foundation
The dual income household trend moved steadily from the 1960s to the late 1990s where it seemed to peak.  So of course during this time real household income would go up since you are adding another bread winner.  But even with that, per capita income gains were muted and only access to more and more debt masked this shrinking access to capital.  Many Americans confused access to debt as access to wealth.  A perfect example was treating your home like an equity piñata when people would tap into it each year like a birthday celebration.  Debt is not wealth.  Clearly many bought into this model as demonstrated by the willingness to tap into housing equity and spend it like it was actual money saved.
More people are working under the same household yet fixed costs kept going up and up: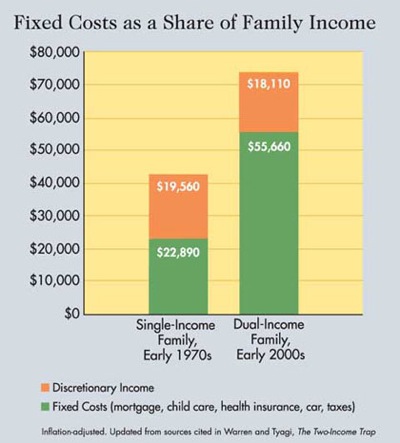 In the early 1970s a single earner household had more discretionary income than a dual income family in the early 2000s.  The only reason this was not apparent in say 2001 through 2006 was the easy access to debt.  Take away this easy access to debt and you have to confront the grim reality of a decade of stagnant income growth.  You also have to factor in that with an incredibly high unemployment rate of 9 percent and the underemployment rate close to 17 percent that many of these dual income households have now shifted to one income.  Where is the additional money going to come from to keep home prices inflated?
The housing industry is obsessed with keeping mortgage rates low because that seems to be the only tool in their belt in terms of keeping home prices inflated.  Yet rates can't go any lower.  In the early part of the decade keeping home prices inflated was simple; you gave loans to anyone and everyone and didn't even bother to check income.  If income was being checked many would have realized a stagnant economy.  Yet the appetite for mortgage backed securities seemed reasonable since for half a century home prices were stable so what could possibly go wrong?  After all, it was the sophisticated Wall Street investment banks now with the repeal of Glass-Steagall fully in charge and with absolutely no regulation or oversight.  It should be no surprise that in the end, it was the American people that got the bill and all those housing gains and benefits that were supposed to come simply went to a small group that actually served as the architects of this financial destruction.
The baby boomers are coming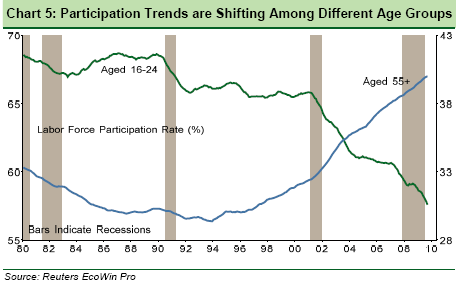 Most Americans derive their net worth from their housing equity.  With over $6 trillion of housing equity evaporating into thin air, many are now having to work into the later years of their lives.  The above chart shows this trend.  What is more troubling is the crowding out of younger workers.  You have more and more people having to hold off retirement while younger workers have fewer jobs to gain early experience.  I'm sure some of you have seen older workers at Wal-Mart which usually would have been a young person's job.  Do you really think someone working at Wal-Mart at 65 or 70 years of age is doing it because they want to?  The above chart shows this crowding out.
Now many baby boomers had a structured plan for retirement.  The stock market from 2000 to 2010 was going to return 10 percent per year and then they would sell their home that also increased by 10 percent per year to a young couple and all the money would then be spent sipping margaritas by a pool in some sunny retirement location.  None of that panned out.  The stock market is basically back to even for the decade and home prices are going in the wrong direction.  So now the 50 year old baby boomer in 2000 is 61 today and they don't have time for more stock market rallies or another housing bubble.  Many will have to sell but with lowered expected gains.  The stock market is rigged for short-term gains, not long term prosperity.  This is why you have investors like John Paulson who can make over a billion dollars in one year by betting on the failure of Americans and the housing market.  No value is added here and as we are finding out many of these investors had incentives to drum up support and push for demand in the market which led to more predatory lending in the market just to create a pool large enough for more Wall Street speculation.  In other words the incentives were designed for graft and exploitation of the market.  That is why we are left with this current financial mess except Wall Street banks received trillions of dollars in bailouts through TARP, PPIP, TALF, QE1, QE2, HAMP, HAFA, HARP, FASB mark to market suspensions, FDIC intervention, and yet home prices go down while banking profits soar.
Home price implications?

In the next one or two years I see home prices falling.  Much of this fall will come from the 7 million homes that are labeled as distressed.  The market right now is largely driven by these lower priced homes.  Bank of America recently hinted at working through a legacy loan portfolio of $1 trillion over the next three years (which puts us into 2014 or 2015 depending on when the program launches).  After that however, we have the built in issue of baby boomers retiring.  This is another group that is likely to be selling and downsizing homes.  Even though many may not have the equity they once thought they would have many will still go on with their retirement plans.  This group has no choice.  Time is not on their side and unless the stock market goes up another 100 percent and home values double a new reality is here.  Global competition is pushing wages lower and high unemployment will keep wage growth capped.  We have bigger issues than housing values but without income growth it is absurd to think home values will go up.

Did You Enjoy The Post? Subscribe to Dr. Housing Bubble's Blog to get updated housing commentary, analysis, and information.