One of the major stories of 2010 will revolve around how governments, local and statewide deal with massive budget gaps.  The solutions are simple at least on paper but people don't want to hear them.  You either cut spending or raise taxes.  That is it.  Unlike the federal government states and local governments don't have printing presses and need to raise money in other ways.  Yet as obvious as the solutions many are still clinging to their own delusions and are clouded by their own perception that certain markets are still immune to the laws of economics.  They are not.
For those investors that were planning on having an easy rental market, we found out in a report that 1.2 million households have disappeared during the recession.  That is why rental prices have fallen in this current market.  And it makes sense.  Those young college graduates that would have gotten their first apartment or small rental home are now moving back home or doubling up.  You also have many that have lost their jobs consolidating households.  The number only confirms what many of us are witnessing with our eyes.
But I wanted to bring this data closer to home to show how outrageous prices are in certain markets.  Areas like the Inland Empire have found out how to solve the crisis.  The solution is to cut home prices to levels that reflect the actual incomes of those around the area.  An area I have covered extensively, Culver City has been unable to adjust to this reality.  In fact, Culver City has income to home price ratios that make it even more expensive than Beverly Hills.  Today we salute Culver City with our Real City of Genius Award.
Getting Incomes and Prices Right
Culver City has seen the median price of a home come down since the peak.  Yet prices are still out of sync with local area economic fundamentals.  Let us first look at the current landscape of the city:

This area still has a much larger shadow inventory than what is listed for public view.  As we have been seeing, more inventory is making its way to the MLS but it is slow and drawn out.  At one point, both zip codes had median prices over $600,000.  That is now not the case.  But let us take that 90230 zip code and pull tax filing data:

Even with the early crash, the 2007 income already reflected the new economic climate.  Now using the adjusted gross income data and home price data we can get a rudimentary ratio:
(90230 median price $456,000 / $62,972) =            7.2
Now ironically, this ratio is higher than the famous 90210 Beverly Hills zip code:

The latest median price for this zip code is $2,359,000.  So let us run those numbers for this zip code:
(90210 median price $2,359,000 / $507,288) =      4.6
This is why it is so important to look at local area incomes to actually find out if a market is healthy.  Take a look at some areas in the Inland Empire as a contrast:

So even though incomes are much lower in Moreno Valley, home prices have fallen to a point where ratios are now starting to make more sense:
92553 median price:                        $122,000
(92553 median price $122,000 / $31,234) =            3.9
Like in golf, the lower the number the better here.  Some cities like Culver City are still over priced for what families make.  That is why I get many e-mails from working families with incomes over $100,000 to $150,000 (and higher) that still don't want to buy because the metrics don't make sense.  Yet for those people I say go out and find a rental.  For example, let me list a few rentals out there on the market:

Some of the places are smaller but let us examine the last 2 because we can pull up some home information and compare.  In fact that rental on Oregon is close to a home that is scheduled for auction: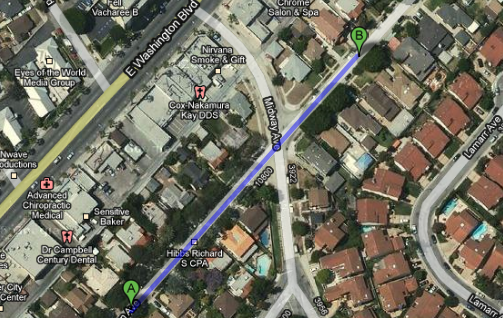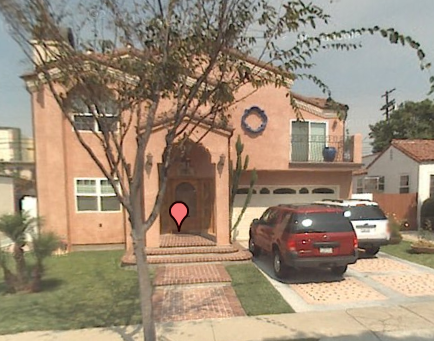 The home that is scheduled for auction is much larger but this just highlights that even on the same street, people have no idea what is going on with their neighbors.  The story seems common when we pull up the data:

It looks to have over $1 million in loans including an $117,000 second mortgage.  The auction is scheduled for May but who really knows what will happen since nothing happens on schedule with the foreclosure process anymore.  Yet we know that a rental on this street is going for $2,650 (the 3 bedroom).  So in essence you can rent in a million dollar neighborhood for $2,650 a month.  This is California for you and this is why in areas like Culver City something will eventually give.
In fact, there was an interesting case of seeing a home for sale that is also up for rent.  I spotted this home on two different sources:

The home is for sale for $925,000 and is a good sized place.  But what are they asking for in rent?

This is the first I've seen of a home being listed on the MLS for sale and also on a different site as a rental.  As a simple rule of thumb, you usually would like to get a 1% monthly rent from the property if you were an investor:
$100,000 x  1 percent                   =             $1,000 monthly rent
Like most rules, this is just a way to get an idea if a property is valued accurately.  For example, the above home at $925,000 should yield $9,250 in monthly rents.  Yet the actual rental is half that.  These kind of massive discrepancies tell us that either prices will come down or incomes will boom up to reflect the current prices.
Today we salute you Culver City with our Real City of Genius.
Did You Enjoy The Post? Subscribe to Dr. Housing Bubble's Blog to get updated housing commentary, analysis, and information.