People lose perspective all the time when it comes to housing.  In California we have this deeply rooted #YoLo movement where people are willing to spend every nickel in their wallet for rent or leveraging into a crap shack.  The buy now or be priced out forever rhetoric was strong in 2013 and 2014.  Today it has waned as people regain their senses one by one.  As investors pullback current prices are meeting a pesky wall of resistance called "income" even though all you need is basically five percent down and two working stiffs to buy.  So it should be no surprise that when banks run the numbers not many families qualify because of debt-to-income ratios.  Culver City is a perfect example of a mania in action.  People want to buy crap shack number one to leverage into a bigger home.  Of course this assumption is all based on a greater fool theory and California is boom and bust central.  Numbers don't adequately show the full story.  Let us take a look at what we can buy for $700,000 in Culver City today.
Green does grow on Culver City houses
Money may not grow on trees but it appears that it grows on homes in Culver City.  People forget that you actually have to live in the home and get caught up on the notion that past gains are going to continue so they can plan their escape.  The idea that people stay put is baloney.  Many buyers are house horny property ladder aficionados.
Let us take a look at our first home on the market for sale: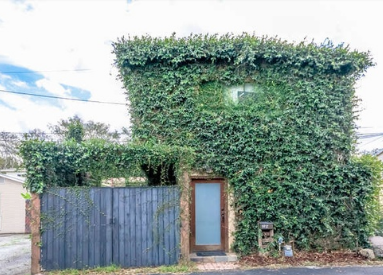 9052 Poinsettia Ct, Culver City, CA 90232
2 beds 1 bath 873 sqft
This certainly will take some getting used to.  Of course the inside has all the HGTV upgrades an 873 square foot home can support:
It might be useful to look at some price history here: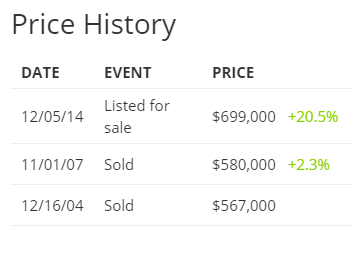 Timing people.  From 2004 to 2007 this place actually fell in value.  Those that bought in 2004 did not get the "never lose on real estate in California" memo or that buying in a city like Culver City makes you bust proof.  Those that bought in 2007 are riding this out.  They are looking for a $119,000 gain over seven years.
I always like looking at Google Maps since it gives you the non-Photoshop perspective: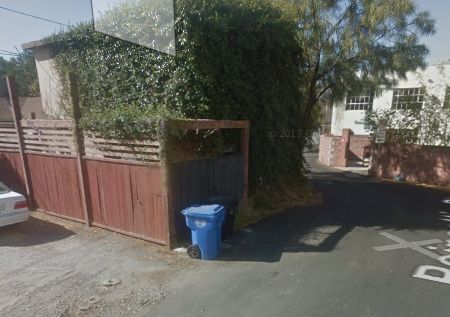 Seems a bit cramped and the area has a large number of mulit-family dwellings.  A home of similar size on the same street went for sale a few years ago but it ultimately didn't sell: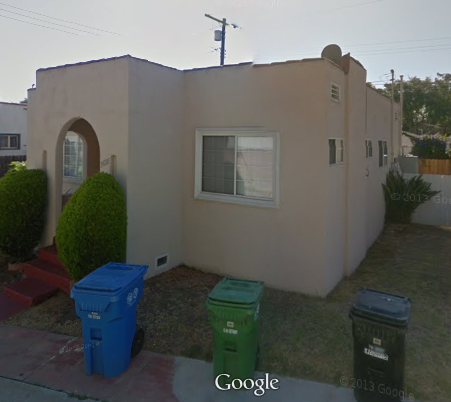 9028 Poinsettia Ct, Culver City, CA 90232
2 beds, 1 bath, 896 square feet
"AUTHENTIC 1920S SPANISH GEM IN THE WONDERFUL RANCHO HIGUERA NEIGHBORHOOD FILLED WITH CHARACTER HOMES. NICE PORCH ENTRYWAY LEADS YOU TO A TWO BEDROOM, ONE BATH HOME FEATURING HARDWOOD FLOORS, DOUBLE PANE WINDOWS, FIREPLACE IN LIVING ROOM, CEILING FAN IN DINING AREA AND COPPER PLUMBING. BACKYARD HAS A DECK GREAT FOR PARTIES AND JOYFUL ENTERTAINING. DETACHED ONE-CAR OVERSIZED GARAGE OFFERS PERFECT STORAGE OR OFFICE OPTIONS IN R-2 LOT. WALK TO TRENDY SHOPS, HIP RESTAURANTS, SONY STUDIOS, KIRK DOUGLAS THEATER AND DOWNTOWN CULVER CITY CENTRE. PROPERTY IS BEING SOLD AS-IS."
ALL CAPS!  Trendy shops, hip restaurants, Sony Studios, and the Kirk Douglas Theater!  And you get some nice trash cans as well.  Someone was going for $735,000 back in 2008: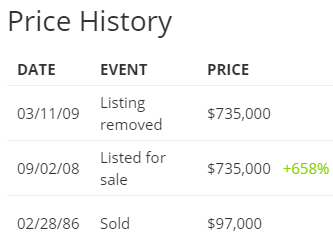 Ultimately it got yanked in 2009.  The 2014 tax assessment valued the property at $160,976 so we can assume this is a Prop 13 winner.  Someone tried to cash in on their stucco box lottery ticket.  Sometimes living in a trendy area and eating Friskies is better than cashing in.  Apparently money does grow on houses in Culver City.

Did You Enjoy The Post? Subscribe to Dr. Housing Bubble's Blog to get updated housing commentary, analysis, and information.