Desirable areas in Southern California have always carried some sort of premium.  Yet the days of bidding wars and having to make offers with limited contingencies are back.  Agents have told buyers that unless they make a bid that day with a cushy reserve, they are likely to lose out.  Culver City is another prime example of how insane the current market has become.  How crazy are things?  Inventory is down by a stunning 75 percent from two years ago and the median list price is up over 100 percent.  There is obviously no sustainability to this current market trend and the story continues to be the dwindling inventory causing people to lose their sanity and dive into homes with no contingencies and fighting over a home as if they were bidding on a baseball card on eBay.  It is important to see what is going on in Culver City currently since this is a desirable area that is seeing some fascinating trends.
Culver City sales data
It is useful to first see what the latest sales data shows us:
Median sale price (last month)
Culver City (90230):                         $647,000 (17 sales – price up 17.2 percent y-o-y)

Culver City (90232):                         $705,000 (7 sales – price up 14.4 percent y-o-y)
For Los Angeles County, the median price is up 17.7 percent year-over-year so the trend is hitting the region.  However, the median price for Los Angeles County is $352,000.  This big push in the median price is driven by the massive shift in the mix of home sales.  Distressed properties are not a big part of the market anymore in terms of MLS properties.  Banks are finding a sweet spot by restricting properties given that mark-to-market valuation have been long suspended and there is little rush to sell.  The Fed has also made it possible for banks to become temporary landlords if they desired.  I haven't seen many banks in SoCal go this route since the market is moving so fast and demand is off the charts for a low amount of supply.
If we look at what has occurred in Culver City over the last two years, the trend becomes even more dramatic: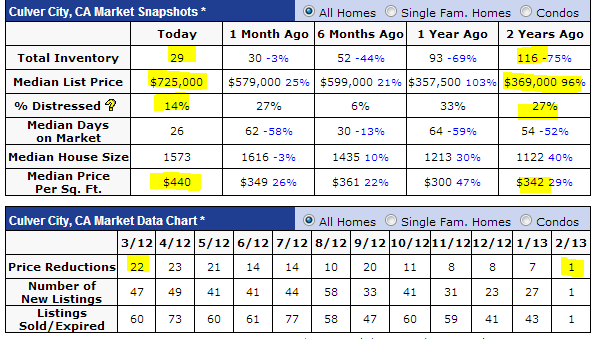 Some critical points:
-1.  Massive drop in available inventory (drop of 75 percent).

-2.  Major increase in list price showing shift in makeup of homes (up from $369,000 to $725,000).

-3.  Median price per square feet is up 29 percent.

-4.  Price reductions went from 22 last March down to 7 last month.
The incredible drop in inventory is really the big story.  A 75 percent drop in a booming market seems to go against the rules of economics.  Now consider the 29 properties listed as inventory versus the distressed properties in Culver City: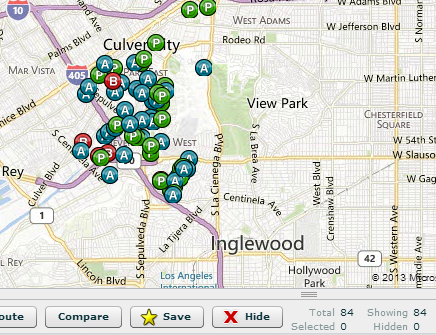 Over 84 properties are in some stage of foreclosure, nearly 3 times the total visible inventory.  Would this change the pressure in the current market?  Of course but ultimately for those looking to buy you can only purchase what is listed on the MLS.  Of course with this kind of market, fraud is rampant (from a story last year):
"(CBS) Atiqullah Nabizada, 29, of Coto de Caza,  and Kenneth Moore, 49, of Tustin, were arrested Thursday at their homes after a grand jury returned two indictments charging them and a third defendant – 32-year-old Ahmed Tariq Asghari, of Sherman Oaks – with fraud violations and identity theft in connection with a variety of schemes using real or fake short sale real estate transactions and home loans."
Short sale fraud has always been an issue but it will only get worse given the mania that is hitting (i.e., bids way above list, PowerPoint presentations, personal letters to sellers, dropping all contingencies, etc).  When good deals hit, many times in very hot markets like the one we have right now these deals go to those with insider information.  It is of course against the law but like that stopped people during the last part of our mania?  In fact, fraudulent behavior became the status quo at many large institutions.
So how does the adjusted household income look like for Culver City?  We can look at tax data for both zip codes:
Culver City 90230 (AGI 2010):      $65,808

Culver City 90232 (AGI 2010):      $133,031
What is interesting about the 90232 zip code is that AGI went from $66,825 in 2009 to $133,031 in 2010.  That is a dramatic jump but also highlights that bigger money is entering some prime areas.  $133,000 is still too low for diving into a $700,000 home.  What does $700,000 get you in the 90232 part of Culver City?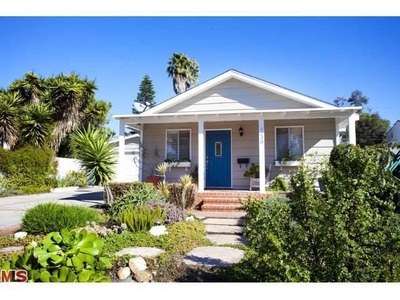 4230 Revere Pl, Culver City, CA 90232
Bedrooms:          2 beds
Single Family:     910 sq ft
Lot:6,752 sq ft
Year Built:1923
Last Sold:             Oct 2007 for $230,000
We also see that in 1993 it sold for $220,000 so the 2007 sale price was nearly unchanged for 14 years.
Some of you lived in college apartments bigger than this.  Keep in mind this place sold in 2007 for $230,000.  This clearly had some work done: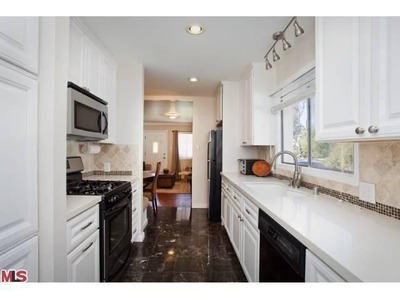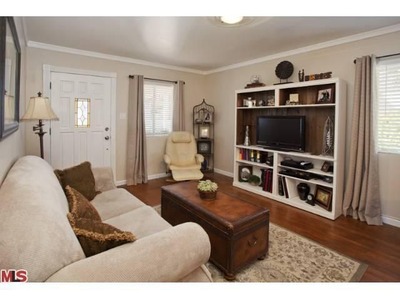 These pictures almost make you forget that this is 910 square feet.  The list price?  $749,000.  Have fun home shopping.  Welcome to flipper's paradise!

Did You Enjoy The Post? Subscribe to Dr. Housing Bubble's Blog to get updated housing commentary, analysis, and information.