It is hard to ignore the current foreclosure mess stories regarding banks and their sloppy mortgage paperwork.  This shouldn't surprise anyone since these are the masterminds that brought you the option ARM and managed to convince investors to purchase large pools of toxic mortgage waste that was rated triple-A as a secure investment.  These are also the folks that thought nothing down mortgages were somehow a good idea.  But here are the hard facts.  Out of a total mortgage universe of 50,747,854 (2009 Census data) you have roughly 43,643,154 Americans that are still paying their mortgage on time.  The vast majority of Americans are subsidizing the banks.  Your question might be with the bulk paying their mortgage on time why so many issues in the system?  Because the 11 million underwater homeowners have $2.9 trillion in mortgages.  Yet we need to remember that we are living in a moral hazard universe where bad behavior is rewarded and responsible taxpayers need to bailout corrupt banks.  The average foreclosure is now up to 18 months!  Banks in their haste to sell shoddy mortgages didn't spend the adequate time to check and make sure all the paperwork was cleared through the system.  Forget about systemic failure, we have systemic fraud.
Here is some data on mortgage delinquencies:
"(MBA) The combined percentage of loans in foreclosure or at least one payment past due was 13.97 percent on a non-seasonally adjusted basis, a four basis point decline from 14.01 percent last quarter."
The reason this is such a big problem when the vast majority of mortgage holders are current is that banks are operating with thin amounts of capital and large amounts of leverage.  Our big mistake in this crisis was focusing on banks and the troubled loans.  Think of the worst case scenario for many here.  In many cases many of these people have to rent (welcome to the world of half the population of California).  Would it be so bad for people to rent?  Don't you think we would have advanced our economy further if we would have focused on more productive ways of reviving jobs instead of listening to banks who only wanted a way to dump toxic mortgages off their books while trying to guilt the rest of Americans who do pay their mortgage into doing "the right thing" and staying current?  You can see how far that has gotten us.  And inventory is still going up:

Hard to tell what these foreclosure moratoriums will do but the legal challenges can drag thing outs for years to come.  Yet we already knew that.  And guess what?  Since Fannie Mae and Freddie Mac own half the mortgages taxpayers are on the hook for many of these loans.  In other words, we are getting the price tag of nationalization without any of the benefits from it.  We should break up the banks and systematically clear the backlog.  This path made sense three years ago and makes sense today.  Still trust the banking system with what is going on?  If we want to see a tangible example of the problem let us look at a duplex in Culver City that is scheduled for auction.
Culver City Duplex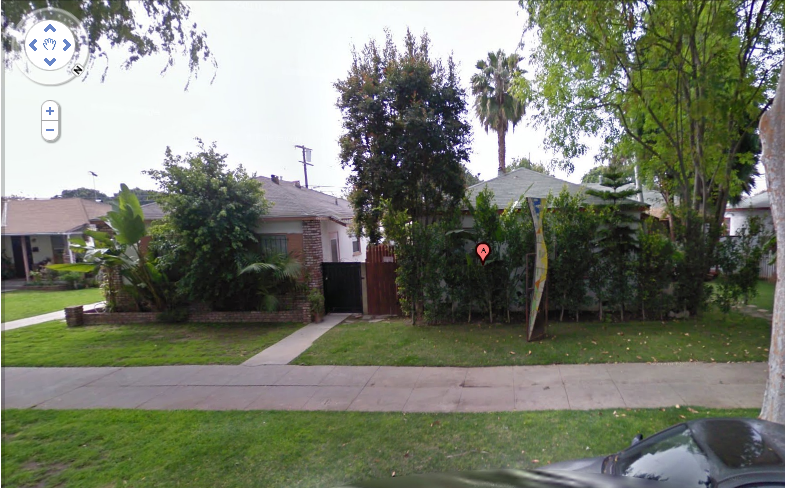 Beds:                                     4

Baths:                                   2

Square feet:                       1,417

Built:                                      1944

Style:                                     Bungalow
Normally I focus on single family homes especially in Culver City but looking at a duplex requires putting on investment goggles.  Given the listed size, these are small units.  When you purchase an investment property you are looking at a variety of factors including rents, expected appreciation, and alternative investment yields.  We'll examine some of this later in the article but let us take a look at the current financing here:

Here we have another refinancing at the top of the market.  On January 2007 a loan of $670,000 was placed on this property.  Three months later mortgage superstar WaMu granted a second mortgage of $133,910 on this property bringing the total debt to $803,910.  Keep in mind this is for a duplex with roughly 1,400 square feet.
If we assume very generous terms of financing we can expect the following monthly payment:
PITI:                       $6,653
Now this is the monthly carrying cost here (we are being generous with loan terms).  Do you think that each unit can rent for $3,300?  That is highly unlikely.  Here are additional pictures of the property:


The ad tells us that this place would be ideal for an "artist" type but for those from SoCal many know that no average artist is going to be able to fork out $3,300 a month.  And the foreclosure filing data above shows that to be the case in the market as well.  If you could break even, wouldn't you just rent the place out?  But this home is being sold for:
Current listing price:                      $590,000
I find this interesting given that the auction date is slated for early November.  It looks like this is a cut of $213,000 from the peak mortgage balance.  It doesn't matter who owns the mortgage here, these numbers flat out don't work.  But look at some other rentals in Culver City: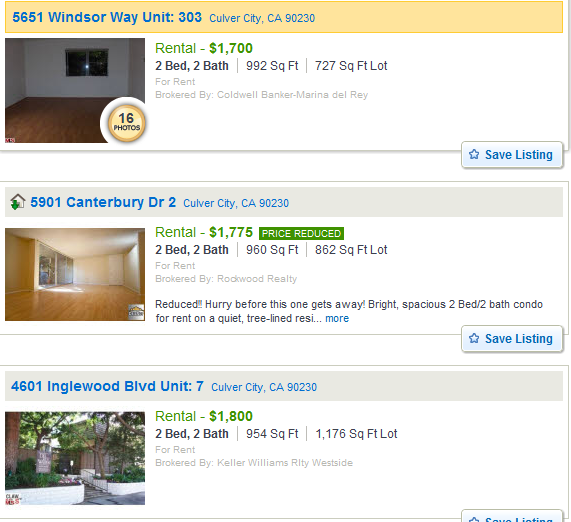 These are actually bigger units and included 2 baths instead of one (which makes a big deal if you are renting with a roommate).  It looks like the rental rate hovers around $1,700 to $1,800 for a two bedroom with this kind of square feet.  Is the current price a deal?
Let us examine the three items we first mentioned in regards to rents, expected appreciation, and alternative investments.  We already know our rent targets.  Let us say we can rent each unit for $1,800 a month for a total of $3,600 a month.  We can try to figure out a cap rate.  Most conservative property investors set aside 50 percent for operating expenses and I have found that to be the case in the real world as well:
Cap rate =           $21,600 (NOI) / $590,000 =           3.6%
Is this good?  No.  This is much too low.  Just to give you an example of a property that may make sense think of a property selling for $100,000 that throws off $1,000 per month:
Cap rate =           $6,000 (NOI) $100,000 =                6%
This is a big difference and keep in mind we are estimating that we will get $1,800 for each unit.  Now in California for many years, investors also factored in appreciation.  As we all know, we are facing anti-appreciation so this should be a moot point.  In fact, I would argue that we should be given a premium to protect ourselves from additional price declines.
From experience a good rule of thumb is an investment property should not cost more than 100 times its monthly rent.  For example in this case:
$3,600 x 100 = $360,000
For all rules of thumb, you have to factor in many other things but you get the picture that even at the current price it is too high.  There is a large glut of rental properties on the market.  Given the current paperwork mess, it might just make sense to rent to see how things play out in the next year.  The odds of prices going up are remote and rentals are plentiful in the market.  The attention right now is all governed on the moral hazard of our banking system.  I've even heard a few people discussing that if banks can't get their paperwork straight, they'll get a free home!  At the very worst, they get to live rent free for one or two years.  The system is rife with fraud and it is no wonder why so many Americans are frustrated with entire system especially with banks.  It is in many ways broken.  With 11 million underwater homeowners if things like this catch wind, the temptation to walk away might be too great.
Today we salute you Culver City with our Real Homes of Genius Award.

Did You Enjoy The Post? Subscribe to Dr. Housing Bubble's Blog to get updated housing commentary, analysis, and information.