When the California housing market started falling apart in 2006 and 2007 the first areas to see major pricing and sales hits were in condos and townhomes.  Many might remember the long lines and waiting lists for future condo developments.  Condos do not carry the premium that single family homes do and also cater to those just starting out.  I remember having a conversation with a colleague at the time that was in the process of buying a condo during the mania.  He casually told me as if it were some sort of unwritten rule that I should know that, "first you buy a condo, let the equity build up, then you buy a starter home, then let the equity build up, and then you have your ideal home."  Simple enough process right?  Amazingly this kind of economic superstition permeated the California real estate market for the large part of the decade.  Not once during the bubble did I hear someone say that prices were disconnected from incomes or that the California housing market resembled Florida in the 1920s.  We had articles and a handful of economists chiming the bell but the public on the ground had bought the idea that my colleague was talking about hook, line, and sinker.  Today we are seeing a methodical correction in the condo market just like we did in 2006 and 2007 but this time it is happening in prime areas like Culver City.  Let us examine the data closely.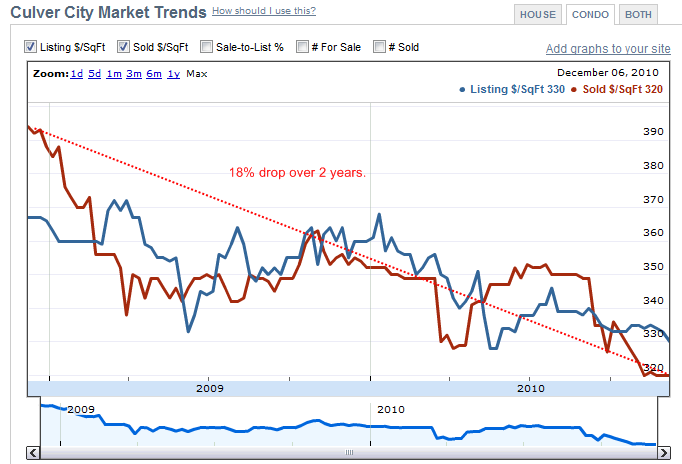 Source:  Redfin
The above chart only goes back two years.  But we can see that over the last two years the sold square foot price has steadily decreased dropping by 18 percent.  This doesn't really do the price correction justice so we'll get data from the peak in 2007 just to put this in context.  Let us take a sample of how insane prices got in Culver City back in 2007:

This should put the collapse in condo prices even more in perspective.  Prices for Culver City condos have now steadily fallen for over three years.  The condo market in many other areas corrected first before home prices followed.  After all, if prices are low enough demand will be pulled to condos in the short-term.  It is also the case that condos are purchased by those with fewer resources (typically) so any weaknesses in the economy are seen here first.  With the California economy still mired in problems people are looking for affordable options.  It is interesting that when we look at current home sales trends you can see that the condo market is correcting first: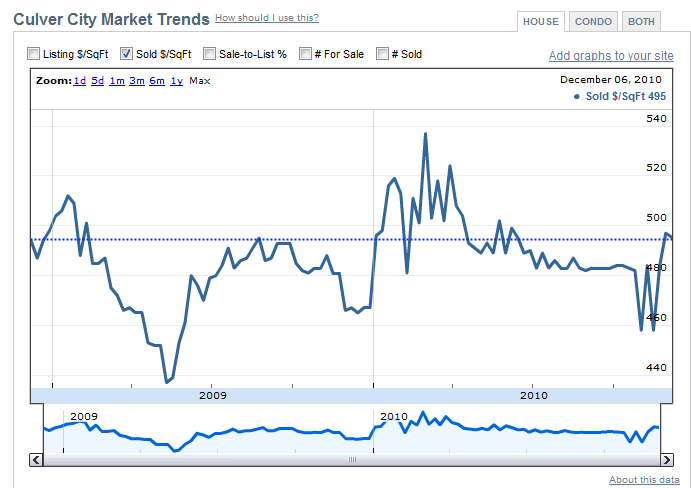 Source:  Redfin
You clearly see the early 2010 gimmick where people thought the bottom was fully in and many rushed out to take advantage of the tax credits.  With that exhausted prices fell from nearly $540 per square foot to the current $490.  Yet this amount is still in a bubble.  If we look at the February 2007 data we find that the price per square foot sold was $507.  In other words, this market is still fully in a bubble.
We should examine what we have on the market in Culver City:
MLS non-distressed listings

Single family homes:                      51

Condos:                                               63

Townhomes:                                     8
But if we include distressed inventory as well the numbers blast upwards:
Single family homes:                      103

Condos:                                               136

Townhomes:                                     8
When we include distressed inventory the amount of properties nearly doubles for a prime location.  We also find that condos dominate the market in Culver City.  The Southern California housing market has still not figured out a way to deal with the immense amount of shadow inventory.  That is why sales have completely collapsed in the last few months.  If people are going to hold out on prices then the pool of buyers is limited because they now have to verify income.  If we look at total home sales they are tracking lower but right now this is seasonal: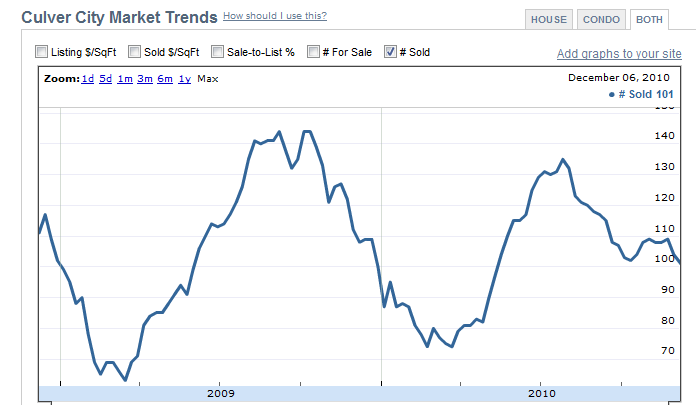 Will we see a major jump upwards during the spring in the summer?  That is the real question especially if no other gimmicks are put out into the market.  But if you are looking for a cheap condo Culver City is starting to have a flood of short sales: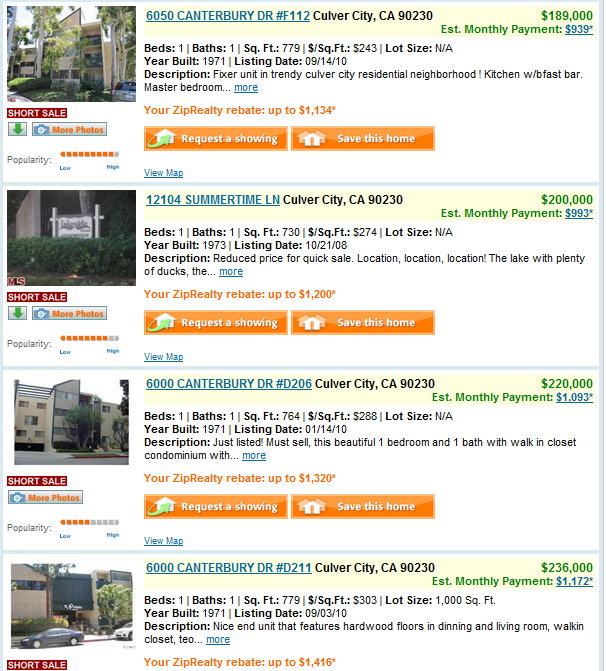 The condo on Summertime Lane sold for $335,000 in May of 2007.  At $200,000 it is now down by 40 percent in Culver City.  The psychology is fascinating for the delusional out there.  You can see the progression as follows:
First it was: "Home prices are only falling in areas like the Inland Empire.  Not in prime areas or counties."

Then it was: "Well only lower income cities in Los Angeles are falling.  It won't happen in the prime cities."

Finally we have: "Well home prices are only falling on condos and crappy home in prime markets.  The good homes in the prime areas with the prime designers with the exquisite kitchens aren't falling."
Can you spot the pattern?  We even see this in some of the current listings for homes that are clearly yearning for the days of 2007: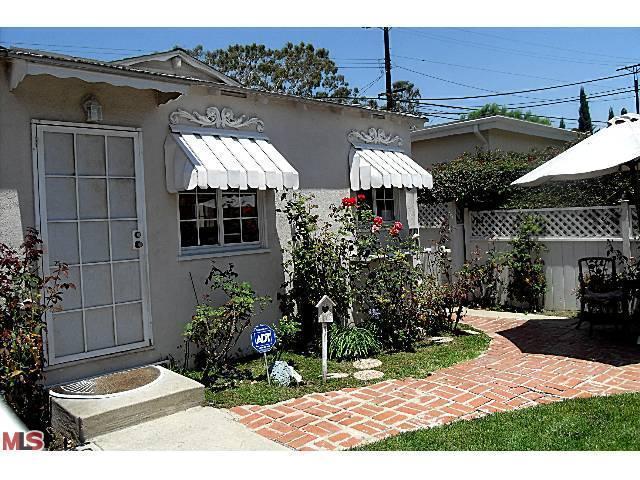 12023 ALBERTA DR, Culver City, CA 90230

Beds:                    2

Baths:                   1

Square feet:       800
This is a perfect example of a home thinking we are in 2007.  Let us look at the listing history: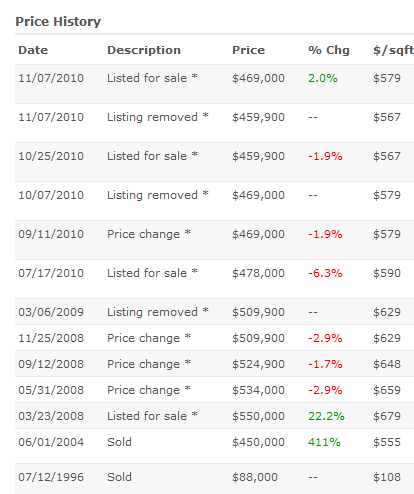 This place sold of $450,000 back in 2004.  In 2008 they were trying to get $550,000 for this place!  Today the home is now listed at $459,900.  If you run the numbers, at this sale price the buyer at $450,000 won't even make a profit.  But they would be lucky if it sold at this price.  Let us take a look at the listing description for more information:
"Beautiful turnkey home! Move right in to this charming cottage with decorator touches throughout. Home features an open floor plan and is flooded in natural light. Original hardwood floors, smooth ceilings, crown molding all add to the charm and warmth. Nursery/bedroom was professionally decorated by "queer eye"" tv show several years back- a real show-stopper! Cedar lined walk-in closet. There is an added permitted area at the rear of the home currently used as a sound-proof music studio, but would make a perfect home office/storage area or playroom. Home also features dual paned windows, convenient location to all westside cities/amenities. Beautifully landscaped yard with rose garden, brick walkway/patio. This is a prefect alternative for condo buyers who prefer privacy and their own space. It's hard to find a home in this price range that is this turnkey..And a standard sale – no waiting for the bank!!! Not to be missed!!"
The place does have a good design obviously.  I find it interesting that the description says this is a good alternative to a condo.  Let us look inside: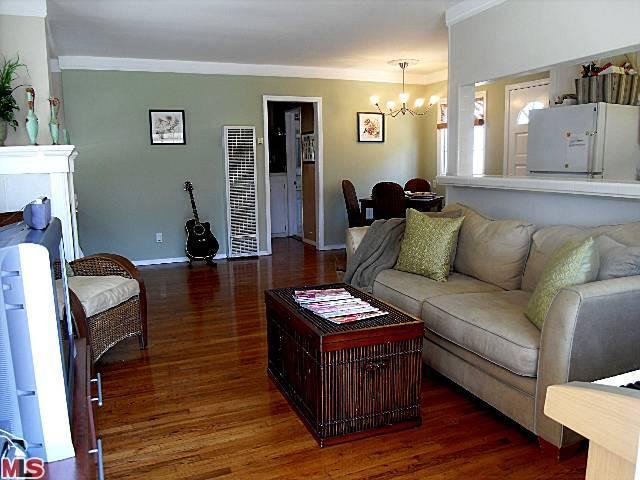 Yet the price is much too high.  It is rather clear that the condo market has tanked and is correcting even further in Culver City.  Some condos are seeing 40 percent price cuts.  Condos are usually the first places to fold in housing corrections and we saw this in 2006 and 2007.  Does this tell us what is in store for 2011 and 2012?  Keep in mind home prices in Culver City are down by 20 percent from their peak so the correction is hitting.  Yet prices based on incomes and the current economy still signify a bubble.

Did You Enjoy The Post? Subscribe to Dr. Housing Bubble's Blog to get updated housing commentary, analysis, and information.