Investors have been the rocket fuel of the housing market.  Starting in 2014 however big money started exiting the market in a methodical fashion.  Now, the large investment money is coming from foreign buyers into targeted parts of the country.  Every time something gets so hot, there are ideas floating around trying to make things accessible to the masses so they can jump in and party like a hedge fund rock star.  Usually the gig is getting close to a top when you start seeing hot money trying to seek a home in any investment possible.  There is now a democratization of information for people including things like Zillow, AirBnB, Uber, or robo-investment software as well.  Ironically, something like Zillow is merely showing people how priced out they are in certain markets unless they want to drop $700,000 for a crap shack.  I ran into a site that actually allows you to crowd fund into real estate investments that in the past, were the realm of hard money lenders with deep pockets.
Crowd funding into real estate
Hard money lending is an interesting market.  I remember in the previous housing bubble that if you didn't want to lock cash down, it was fairly easy to get hard money loans to cover down payments.  For example, say you wanted to buy a $500,000 investment property requiring 20 percent down.  Instead of locking up your own cash, you could get a hard money loan from a private investor for a high interest rate covering the 20 percent down and getting the other 80 percent financed via a traditional bank loan.  Many people effectively went zero percent down this way.  For hard money lenders, this is a good way to make a high return in a hot market.  Of course this is all built on real estate going up.
There is a website called Patch of Land that looks to crowd fund real estate deals.  It is an interesting concept that seems to fill the role of hard money lenders to some degree.  If you want to play the role of banker, here is your chance and it looks like you can get in on some big deals with a minimum of $5,000.  It also appears that foreign investors can participate in this crowd funding.  Think this is a bit risky?  Well money is flowing into this in a steady stream:

Something is going on here.  Let us look at a couple of examples.
Take a look at one investment in Echo Park: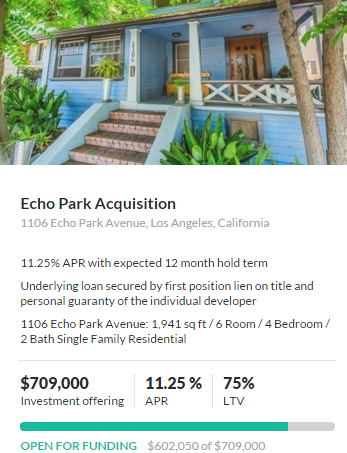 This property just sold for $945,000: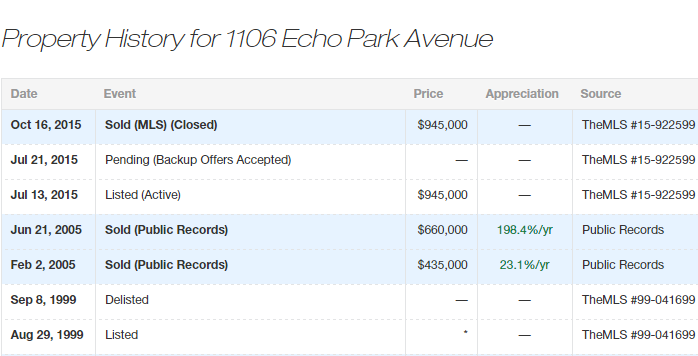 Not sure what they are going for here with this loan.  Possibly to convert into a rental?  Angry at the big investors?  Here is your chance to play ball.  You are looking at getting 11.25% on this deal.
Or maybe you want to crowd fund a flip in house humping tech crazy San Francisco: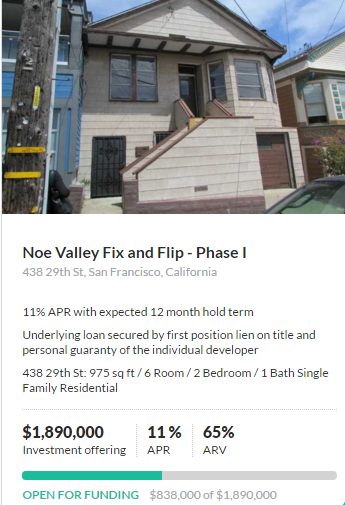 Here is another clear picture: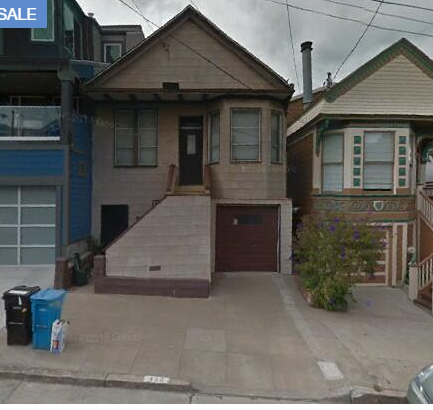 This place sold back in July of this year for $1,100,000 and is listed at 975 square feet.  The loan deal is seeking out $1,890,000 and has already found $838,000 of funding.  This is a flip by the way.  As an investor, you are looking at getting 11%.
Of course all of these deals are predicated on the market continuing to go up.  We've just noted that it looks like a top is forming.  In many counties of California, home prices are already softening leading into the slower winter season.
Things seem frothy as well because these returns are insanely high for rehabs and flips.  11% returns simply for making a few clicks on the computer and then hoping investors take care of the real estate work and find a willing sucker buyer to offload onto at a much higher premium?  I can understand making some "sweat equity" by rehabbing a place but all this involves is literally a few clicks on the mouse.  This was the same logic in 2004 through 2007.  Big money and returns for little real work.  All of this works so long as prices continue to go up.  As we all know, California home prices never go down.

Did You Enjoy The Post? Subscribe to Dr. Housing Bubble's Blog to get updated housing commentary, analysis, and information.