I was having a conversation with a colleague in the real estate industry about the ubiquitous access of real estate information available to the public.  This easy access to home sales data and tracking historical prices without going to the county registrar is so common today we take it for granted.  You would think that access to information would cause people to make wiser decisions but that is not always the case.  In fact it can be argued that this access to information accelerated the mania by encouraging the herd to look at rising prices on a daily basis.  They would pull up data and see home prices rising on a monthly basis.  How often would you hear, "in the last year, my home went up X thousand dollars" as if this was somehow normal?  In this line of reasoning, more people had quicker access to view the massive rise in home values and those who were skeptical, would likely punch a few keys on their keyboard and verify this data point.  If access to information made the bubble grow faster, will it make the bubble pop that much deeper?  I wanted to do a historical examination of a mid-tier city in Orange County, Costa Mesa.  We are such forward looking creatures that when we look at the past data we understand why it is so crucial not to forget history.
Orange County median price will reach $1 million?
The headline above might seem a bit hyperbolic today but this prediction was made back in 2005.  Someone sent an article from the O.C. Register going back to July of 2005 at the height of the bubble.  I think it warrants close examination and would be useful to update where things stand today: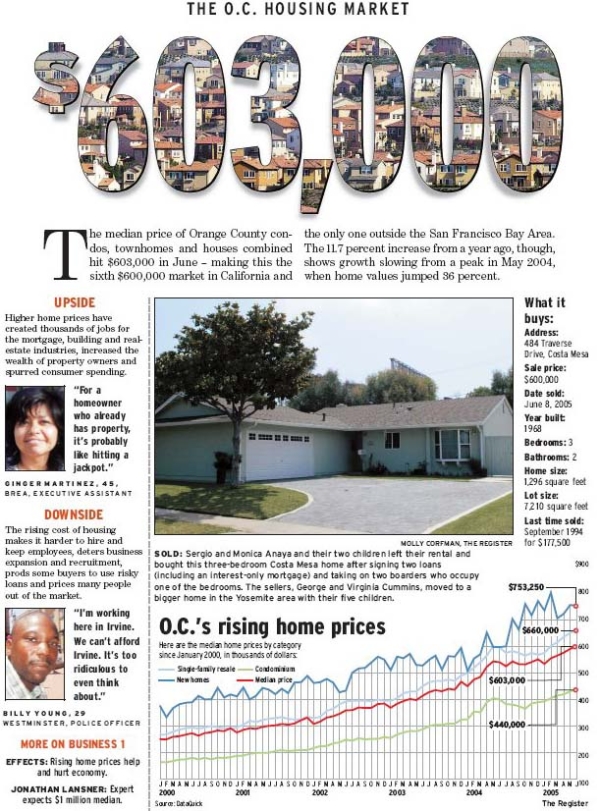 Source:  OC Register
The headline is unmistakable.  Orange County hit a median price of $603,000.  The chart in the article has an unmistakable trajectory rising up.  Even at the lower left hand corner we read:
"Expert expects $1 million median."
If you look at the below mania chart and simply took it for face value this might make sense but certainly incomes weren't rising this way.  And the proof of this was right in front of their faces even in this article!  You have one person saying:
"I'm working here in Irvine.  We can't afford Irvine.  It's too ridiculous to even think about."
This coming from a Westminster Police Officer.  The mania was in full bloom at this time.  Let us examine the cover house on this article:
"SOLD: Sergio and Monica Anaya and their two children left their rental and bought this three-bedroom Costa Mesa home after signing two loans (including an interest-only mortgage) and taking on two boarders who occupy one of the bedrooms."
This is simply more glaring proof of the bubble even within this article.  Purchasing a home for $600,000 with an interest-only mortgage and taking on two boarders.  Would this end badly?  Take a wild guess.  Now, how about we look at some actual proof and fast forward: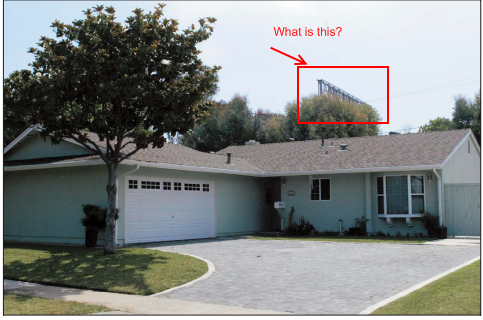 Costa Mesa is a mid-tier city in Orange County.  There is nothing extraordinary about the area and certainly not warranting a $600,000 price tag for the home above.  You might notice something creeping above over the tree in the picture.  What is that?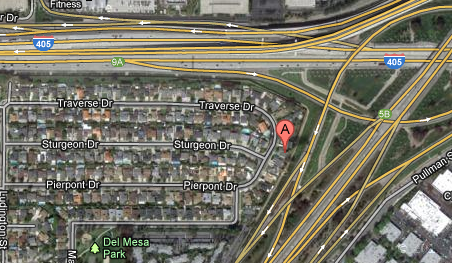 This home literally is in between two major traffic sections including the wonderful 405.  Of course if someone is paying $600,000 you would expect much more.  The home details are as follows:
484 Traverse Dr, Costa Mesa

Beds:     3

Baths:   2

Sqft:      1,296

Year built:            1968
Now that we can fast forward six years into the future, how has the home performed?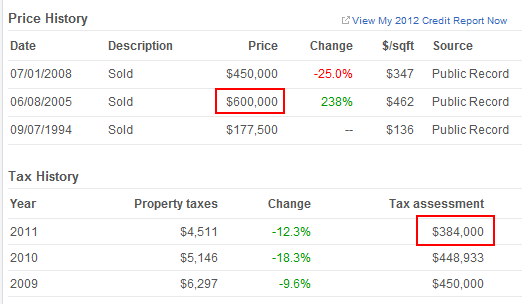 Apparently this home never hit the $1 million median price and actually went into full reverse.  This for an area where households pull in $45,000 to $60,000 a year depending on which of the two zip codes you look at.  The home likely ended up in foreclosure and sold in 2008 for $450,000.  Dig deeper and look at the tax assessment.  In 2011 the place was assessed for $384,000.  That is a price point $66,000 below the 2008 purchase price which had already dropped by $150,000 from the 2005 sales price.  Costa Mesa and other mid-tier markets are places were the shadow inventory is going to be an additional drag on prices.    
The MLS lists 8 foreclosures in Costa Mesa.  How many places are in the foreclosure pipeline?  313!        
You tell me if Orange County is going to hit that median $1 million price in the next decade.  For those keeping score, the latest median price is $388,000.  It always helps to keep things in perspective especially when the shadow inventory is immense in mid-tier cities in Southern California.

Did You Enjoy The Post? Subscribe to Dr. Housing Bubble's Blog to get updated housing commentary, analysis, and information.