The old adage that cash is king seems to be the new mantra for real estate in a post housing crash world. Investors continue to dominate the housing market out maneuvering house horny buyers that simply want a place to call home. Beer budgets, champagne tastes, love of debt. Of course, as some of you astute readers know, the typical holding time for a first home buyer is in the range of 7 to 10 years. Not that this matters much for many since first time home buying is near record lows especially in expensive states like California that are undergoing a renting renaissance. Actually, this is more like a new middle ages in housing were big money from all over the world is crowding out regular home buyers. Yet big money is fickle. It moves around quickly. We are already seeing inventory creep up because prices are becoming less attractive to investors. Of course the crowd is always late to the party. Those that time the market get a large amount of attention while the 7,000,000 that underwent foreclosure since 2005 seem to be relegated to the appendix of "real estate never goes down" history. Some new interesting data on all that cash buying. 58 percent of all recent REO sales went to cash buyers (compared to 40 percent of all sales going to cash buyers). REOs are better deals and usually are priced more attractively which ironically, is what income strapped households actually need. Then again, this isn't your typical housing market.
REOs provide better deals and are going to cash buyers
Some think that investors will continue to buy aimlessly and mindlessly as if they had no interest in protecting their wealth. While foreign money might make a big impact in key areas, the U.S. is a very large country. I know, shocking. For some in places like California, they have little idea of the world beyond their immediate bubble. It is important for some to own no matter the costs. People forget that the epic housing bubble we just lived through was because people lusted after housing so much, they started treating it as religious dogma. Today, you have this mantra creeping back in but those investors are keen at looking at prices. That is why most of their attention has been on REOs.
Take a look at cash sales based on actual property status: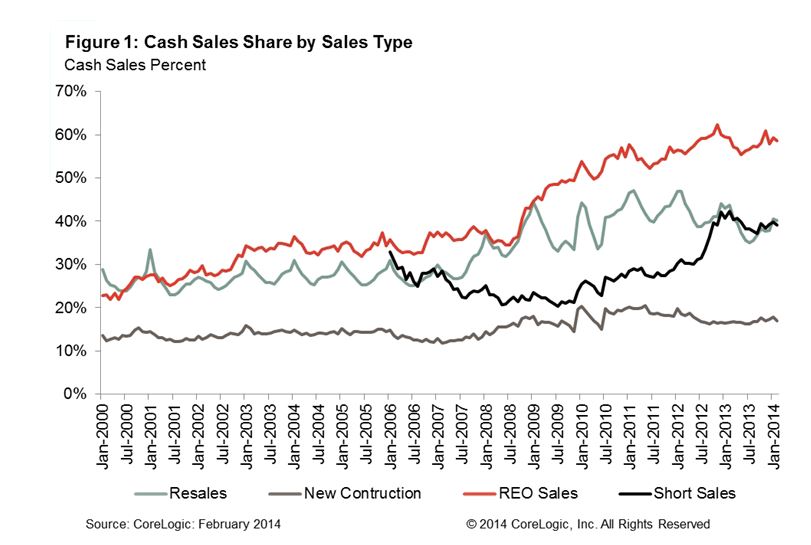 Source: CoreLogic
This is a really interesting chart. In more traditional times, cash sales make up about 20 to 30 percent of all REO deals. Since REOs were a small part of all sales, this usually was a tiny amount of overall sales. Of course all that changed with the epic housing crash. REO sales were suddenly a big part of the market. You'll notice in 2008 that investors started targeting REOs as their preference in purchases.
As inventory shrank and it was harder to find deals, REOs became the prime place to ferret out good properties. Of course, most regular buyers are confined to what they see on the MLS or other websites. Many of the better deals were done in bulk or through auctions where a cashier check was required. Good luck on that one where most Americans are flat out cash strapped and need debt for every little need in life (i.e., autos, college, housing, etc).
You'll also notice that short sales suddenly picked up recently for cash buyers. Short sales take longer to usher through but when good deals are in short supply, you have to go to your next best option. New home sales are largely higher priced and targeted for buyers that plan on staying put for some time (not a big target for investors here).
It is important to note that the chart above is a representation of all sales, which overall have been going down. It highlights that the traditional buyer is largely absent in this housing recovery.
Take a look at state data: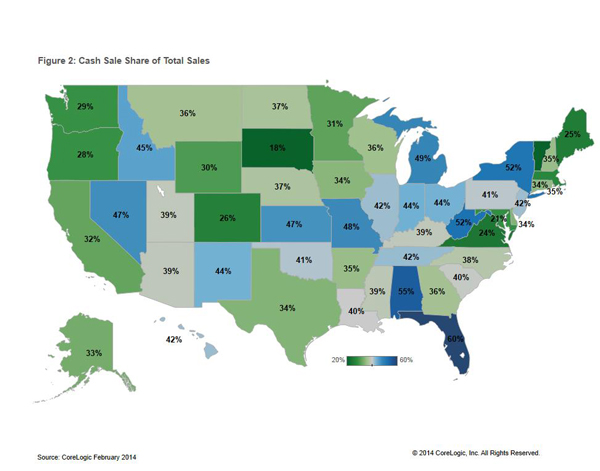 Places like Nevada, Arizona, and Florida are completely dominated by cash buyers. Interesting to see that many other states are cracking the 40 percent mark. The point is clear and that is cash buying is a big part of the recent push up in housing prices across the nation. This is a multi-year trend that is reversing. The impact is yet to be seen.
Inventory slowly creeping back
Sales are weak and mortgage applications are at levels last seen in 2000. As investors pull back, inventory of course is increasing: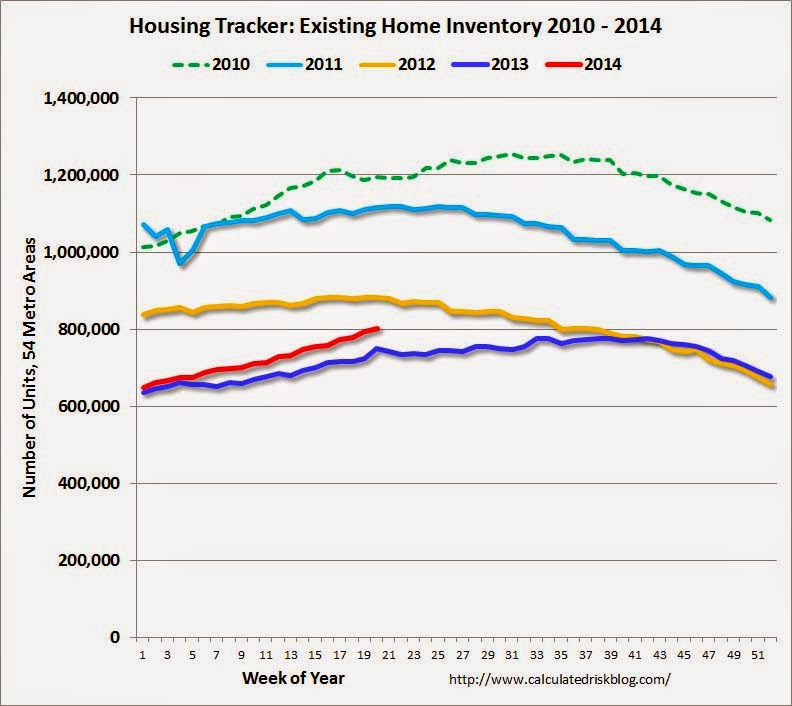 Not a big jump but this is the first time since 2010 that we actually see inventory starting the year ahead compared to the previous year. This is being driven simply by sky high prices and the pullback with investor buying. Investors want deals and those are harder to find in the current market. Even in California, only the best of the best areas are still seeing big house horny demand. Other areas are seeing inventory buildup. If you plan on renting a place out, you better hope local area incomes can support your market price.
The funny thing, is that many that champion real estate in the current market are largely advocating this for others. The line of thinking is the same: "I bought in 2004, 2005, 2006 and look where prices are today in 2007!" Today it is more like I bought in 2011 or 2012 but would they pay the current market price of their home? Many would not. They got a good deal and that is great. But what about now? Was there only one bus that left the station? What about the fact that only 1 out of 3 Californians can actually afford to buy? What if Prop 13 changes, which now seems more likely? What will the impact be of becoming a state with a heavier renting population? The fact that sales are slowing down dramatically and prices are stalling out suggests something is in the offing. The housing market is a massive ship and trends once started, take years to unfold. So far we've had a good run with low interest rates, massive investor buying, and constrained inventory. Is this trend going to hold?
SoCal example: REO sales small portion of market
The reason that investors are pulling back is there are fewer deals to be had. Take a look at SoCal sales and the percentage being made up by foreclosures: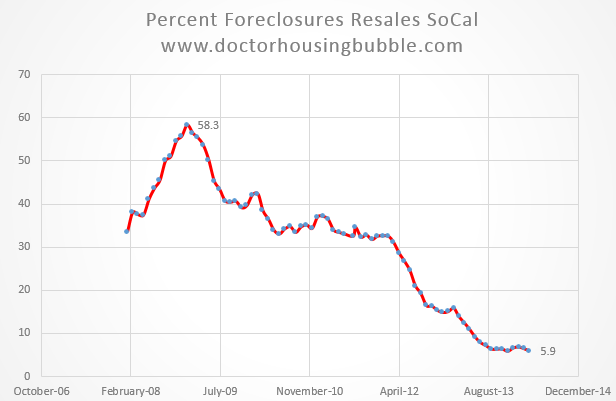 Not a large number of foreclosure resales. So investors will likely have to pay current market prices if they want to play and many sellers are high as a kite with their asking prices hoping some newly baptized sucker is ready to bite. The rental investor buyers are massively pulling back. Cap rates are pathetic. You still have foreign money flowing into places like San Francisco but what options are left for those in the area or in other areas where the vast majority of people live?
A personal residence is not an investment. If you own a rental, it is throwing income to you. If you live in a place you have the following expenses: principal, interest, insurance, taxes, HOAs, and maintenance. Some of these never go away even with the mortgage paid off. This is why we have the odd phenomenon of folks living in prime areas of SoCal in a home valued at $1 million shopping at the 99 Cents Store or Wal-Mart for food and hoping Prop 13 stays in place because they suddenly wouldn't be able to afford their annual tax bill (which of course, is no issue for the new neighbor). These are your golden sarcophagus dwelling boomers that are probably staying put especially with many of their offspring coming back home.
Cash buying is slowing down and the premium for buying is much higher now:
"Buyers paying cash last month accounted for 26.7 percent of Southland home sales, down from 29.8 percent the month before and down from 34.4 percent in April last year. The peak was 36.9 percent in February 2013. Since 1988 the monthly average for cash buyers is 16.5 percent of all sales. Cash buyers paid a median $380,000 last month, up 26.7 percent from a year earlier."
The median price last month was $404,000 for SoCal. Fewer deals, lower cash buyer volume, and rising inventories. With fewer REOs out there, the good deals are harder to find for investors and you have house horny buyers now leveraging up with low down payments and the use of ARMs is back to a six year high (14.1 percent for April 2014 versus 7.9 percent in April 2013). Good luck paying $600,000 or $700,000 for some poorly built home and trying to convince yourself you have found the next Malibu. As the storm of investors slowly ebbs back, we are truly going to find out what areas the new feudal lords deem as prime and areas were aspirations are bigger than their wallets. SoCal is the land of the all hat and no cattle lifestyle.

Did You Enjoy The Post? Subscribe to Dr. Housing Bubble's Blog to get updated housing commentary, analysis, and information.