The Canadian housing market is entering into a "housing correction" courtesy of the mega debt our neighbors to the north have taken on.  The bubble grew and grew and like most real estate bubbles, they can go on for years beyond what most would expect.  Canada's housing market is deep in a bubble.  You have households deeply in debt and many taking on wild loans secured to the value of their real estate.  It has been a few months but key markets are now seeing noticeable changes.  The online news feed no longer reads like a cryptocurrency surge where everyone has to get in before missing the party.  Canadians went full USA in their housing bubble.  Should you expect a different outcome?
Canada did it bigger than the USA
The Canadian housing bubble is massive because when US real estate values were correcting and the market was being flushed, prices in Canada simply kept on climbing higher oblivious to what was going on in the south.  The excuse was "hey, we didn't have NINJA loans so we are good!" but this is nonsense.  As we noted, out of the over 7 million US foreclosures most happened on plain vanilla 30-year fixed rate mortgages.  The wild loans were simply the tip of the iceberg.
Take a look at Canadian home values relative to US home values: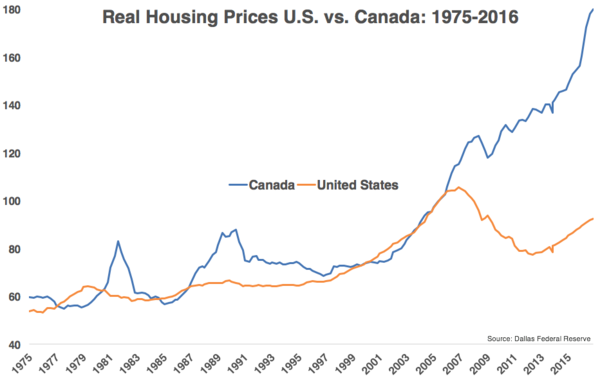 The market has been out of control for a few years now.  And of course, Canadian households drank their own Kool-Aid and have tapped out equity from their homes: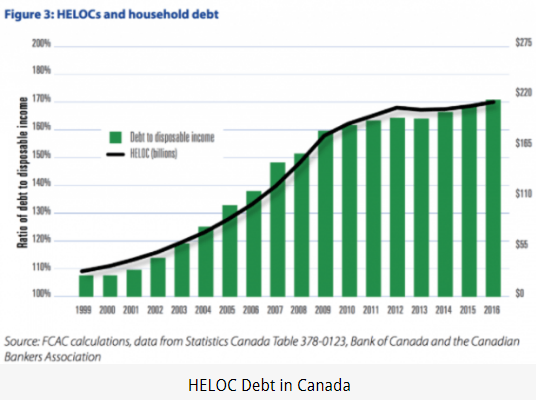 Reminds you of the US when homes were being used like ATMs.
Canadians are securing debt to their homes as if prices were never going to go down ever: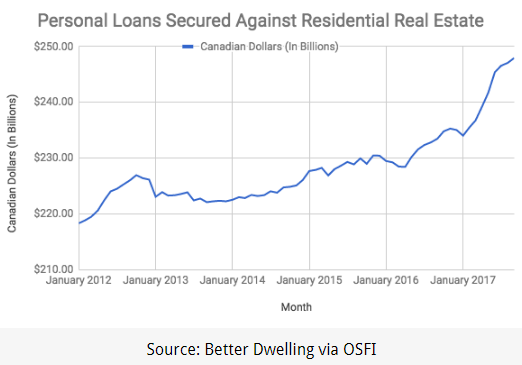 The end result is that you have a nation with massively indebted people.  The entire pyramid is built on ever growing housing values.  And values are so out of sync that even a minor correction is set to topple this weak foundation.
Are prices falling?  Oh yes they are:
"OTTAWA, Dec 13 (Reuters) – Canadian home prices fell again in November, the third straight monthly decline and the largest November drop outside of a recession, as Toronto prices fell for the fourth month and Vancouver prices were flat, data showed on Wednesday.

The Teranet-National Bank Composite House Price Index, which measures changes for repeat sales of single-family homes, showed national prices declined 0.5 percent in November from the month before as four of the 11 cities surveyed weakened."
While these are only the first cracks these are rare headlines for the Canadian housing market.  Yet confidence is a big part of the current widespread bull market.  Canada's housing bubble is a symptom of a nation in too much debt (where the debt-to-disposable-income ratio is now over 170%).  The strains were already there and 2018 is only going to push on this bubble more deeply.

Did You Enjoy The Post? Subscribe to Dr. Housing Bubble's Blog to get updated housing commentary, analysis, and information.