Apparently home buyers didn't get the memo about buying California real estate.  November home sales tumbled to their lowest November showing dating back to 2007.  When real estate markets turn, you will always see sales volume dry up first before any price changes.  We are already seeing marginal areas throwing out some properties with lower prices.  The drop in sales volume was to be expected given that investors are largely pulling away from California and regular families simply do not have the income to support current prices.  If buying real estate was a no brainer you would expect that sales volume would be running at a healthy clip.  It isn't.  In fact, this was the slowest November going back to 2007.  Not a lot of good things were happening in 2007 but sales were dropping year-over-year yet year-over-year home prices were up.
The tumble in home sales
The drop in California home sales is sharp and reflects a market that is having a tough time weaning itself from years of investor buying.  You have many sellers delusional about their own crap shacks and many buyers are shopping with beer budgets and champagne tastes.  Speculation is running rampant and what we can learn from current markets is that "experts" don't always get things right.  It was assumed that we would have oil hovering around $100 per barrel and nothing less for years to come.  Obviously that is not the case.
Take a look at California home sales: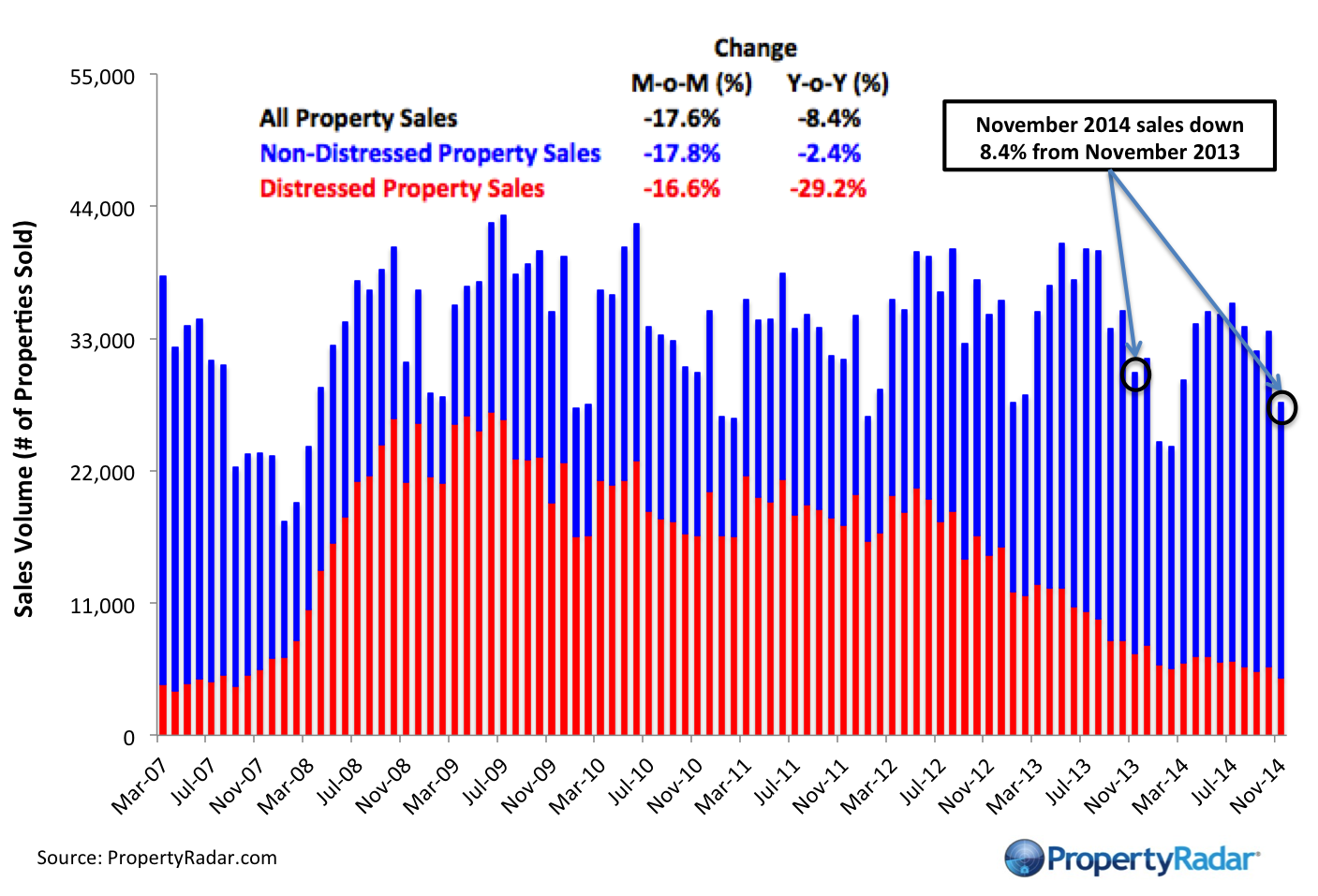 The drop in sales volume is rather dramatic.  What is important to also note is that mortgage rates are still hovering near historic lows.  The main reason for this drop in sales volume is investor demand pulling back but also the speed in which prices rose in 2013:
Prices were pushed up largely by investors, a group that is now pulling back from the market.  In 2013 year-over-year price increases were in the 20+ percent range far outstripping stagnant incomes.  Now that investors have pulled back, regular families are left having to stretch their budgets to squeeze into the crap shacks that litter the market.
The above chart reflects the LA/OC metro areas.  You can clearly see that SoCal (and California) is built on a boom and bust model of real estate.  These cycles take years to unfold.  External events can accelerate corrections like the mortgage market collapsing or certain industries pulling away.  What is causing this sales volume plunge is merely big investors deciding that California no longer has many good deals.  Rental yields lost their attraction late in 2013 for many big players.
If you look at mortgage applications, you will find that volume is back to 20 year lows as well: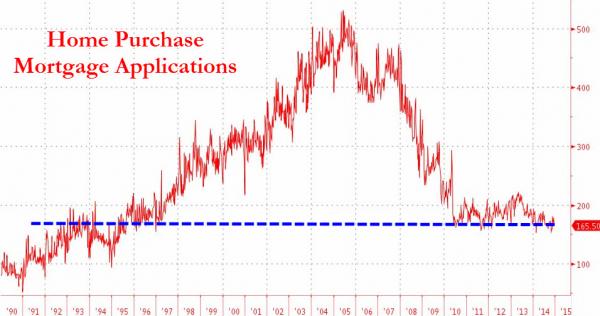 Even for a home priced at $200,000 nationwide most families will need to leverage up with a mortgage.  This is also why the FHFA is dropping down payments to a paltry 3 percent because most Americans have very little saved up in terms of a housing down payment. A big part of the sales volume since 2007 has come from big investors.
The drop in sales reflects your typical boom and bust cycle in California.  These things take years to unfold but if this low volume trend continues expect prices to wane in 2015.  Just look at what $700,000 can buy you and decide if this is worth mortgaging 30 years of your life.  Based on sales volume and mortgage applications, many people are saying the answer to that question is no.

Did You Enjoy The Post? Subscribe to Dr. Housing Bubble's Blog to get updated housing commentary, analysis, and information.