The median price for a home is a useful measure in more stable markets.  However, this current market is anything but stable especially for California.  That is why according to the California Association of Realtors, the median price for a home in California went up 28.2 percent in one year.  Even DataQuick has the year over year jump above 20 percent.  This jump in the median price is on par to what we saw during the high powered early 2000s.  Yet the current jump is coming more from the shift in the homes being sold.  Fewer foreclosures are being sold and thus the mix is made up of higher priced properties overall.  Foreclosures in general sell for much less than non-distressed homes.  Yet the median price for a home gets quoted in the press and causes a self-fulfilling prophecy similar to when home prices start moving down.  It is worth looking at this data since it is telling.
The shift in market mix
Here is the current California real estate market data: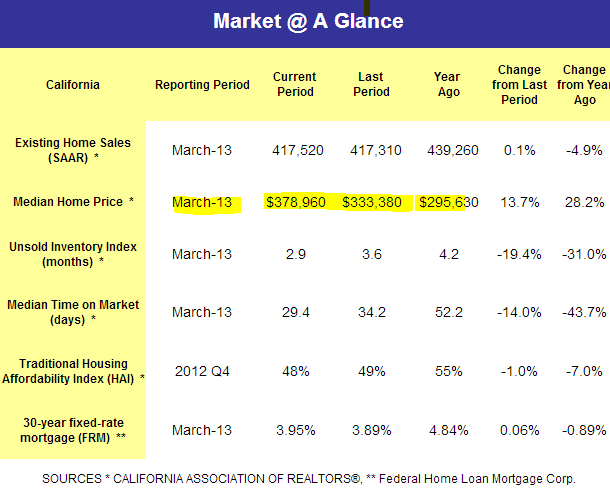 The median price has gone from $295,630 in March of 2012 to $378,960.  This is a one year gain of $83,330.  I often said during the bubble days that you could leave your job and simply live on the continually growing equity in your home by yanking out equity every year that it went up.  Apparently many people live by this mantra.  What is interesting in the data above is also the big jump over one period.  In one period the median price went up by $45,000.  Obviously this is not sustainable.
The amount of inventory is also very low.  A normal market will have about 6 months of unsold inventory.  Today it is down to 2.9 months.  Sales are not booming and this is obviously a case of a market being driven by low inventory, rock bottom mortgage rates, and an insatiable demand for properties by investors.
Non-distressed sales
An interesting chart that I recently saw broke out the number of non-distressed sales for California between 2005 and 2013: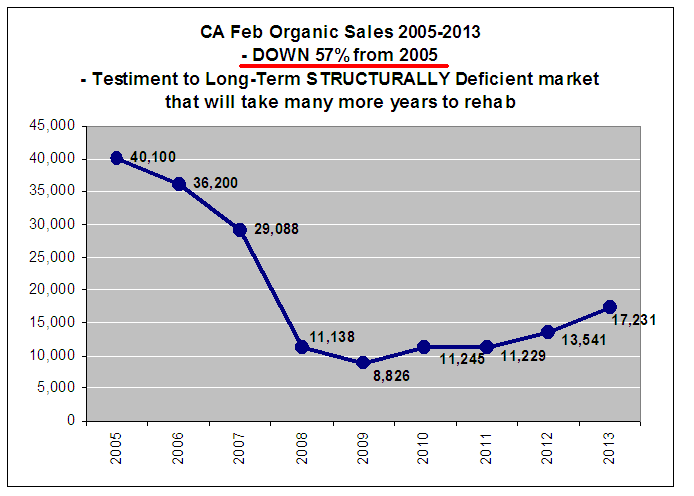 Source:  mhanson.com
Even though foreclosures are now a small part of the re-sale market, short sales are still a good part of all sales.  Yet in midst of two year momentum, the actual number of non-distressed properties being sold is still rather low for a large state like California.  The chart above highlights the case of a low inventory housing push.
Will inventory bounce back?  That is really the question as we are now into the spring and summer selling seasons.  There does seem to be some inventory hitting the market but it is tiny: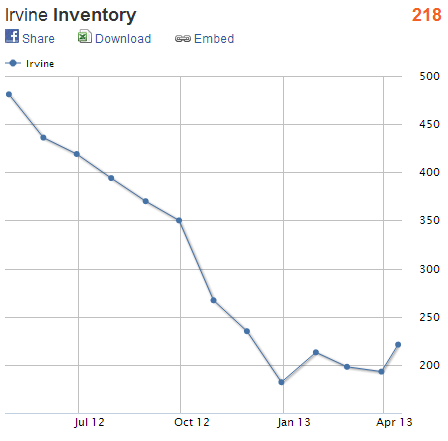 And not all areas are seeing inventory move up: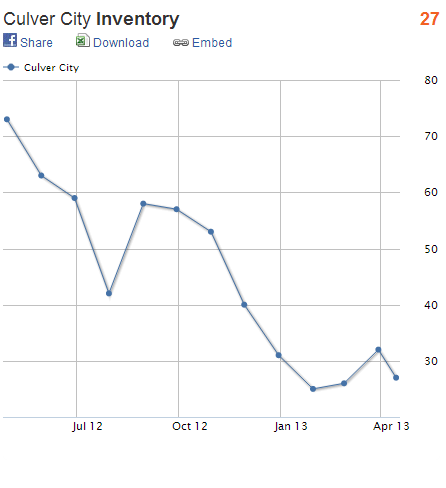 The median price data will begin calming down over the next year simply by sheer momentum.  It is important to understand why the current housing market is acting the way it is.  Amazing that some people actually want to compete in this mania where personal letters to sellers (plus a big offer over list price) are status quo.  In prime markets you need to come to the table with a big down payment or all cash.

Did You Enjoy The Post? Subscribe to Dr. Housing Bubble's Blog to get updated housing commentary, analysis, and information.