Housing markets have a very slow inflection point compared to say the stock market. When the stock market corrects, the reaction is nearly instantaneously and the visual cues are so apparent by thousands of flashing red signs. In housing however corrections happen in a multi-step process yet will feel like watching grass to those viewing the spectacle. With a couple of decades of watching SoCal housing, the turn in the market has followed a very similar pattern. This applies to the dip in the early 1990s to the epic crash of the 2000s. Sales tend to be the leading indicator of future change. Seeing a jump in sales volume usually will indicate price changes ahead. A sustained drop in sales usually means price adjustments ahead. Of course, this is not your typical housing market because of low inventory, investor demand, and stagnant incomes but even with these new paradigms the slow turn is appearing again. For example, we are already witnessing a ceiling on what some sellers can charge. Some are full on delusional and inventory is building back up. There are still plenty of house horny buyers but the larger trend is unmistakable. Let us look at some real estate history for SoCal to see what is in store for the market.
Price changes and sales volume
The median price for a SoCal home went from $197,000 to start off 2000 to a peak of $505,000. This amounted to a 155 percent increase over a six year window. What is interesting is that once at the peak, the median price stayed put for nearly two full years (from 2006 to 2007). Sales volume on the other hand started tanking in 2005, 2006, and hit a big dip in 2007.
Once the apex was reached, momentum grew on the opposite end and the median sales price plunged 50 percent from 2008 to 2009. So what took six years to build up, was pushed over the cliff within one year. It can be argued that when markets correct they fall faster than the speed in which they moved up.
It might be helpful to look at the SoCal median price history going back to 2000: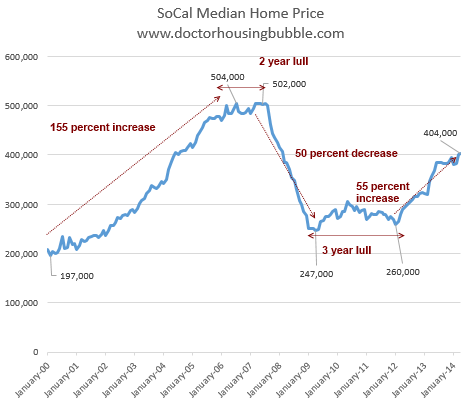 When the market hit a bottom in 2009, it bounced around the trough for nearly three years. Starting in 2012 prices have gone up 55 percent. Looking at the current median price and what is going on in the current market, we are going to see a stalling out in year-over-year increases. This is important. The upward volume and price movement in 2012 set the stage for the full-on house horny narrative that permeated the market in 2013. That narrative is only going to get weaker and weaker. Even investors are starting to pullback because current prices make absolutely no sense in relation to overall economic fundamentals.
It is useful to look at overall sales volume to illustrate the leading nature of home sales: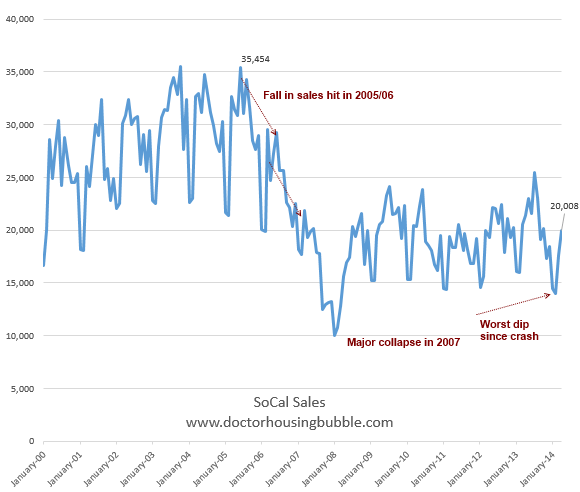 This latest winter sales volume was pathetic ushering in the lowest volume outside of the full on market panic of 2007 and 2008 when sales completed stalled out. Sales volume continues to be weak and at least in the 2000 to 2005 run-up, sales volume was truly in a manic stage. Today, very low inventory and investors have created a razor thin market where a few properties are setting prices on the margin. Given how appraisals are done, this can turn a market quicker since a few sales to the downside will set a new trend for the correction especially in thinly traded markets.
The narrative today is odd. You have some saying that they bought in 2010 – 2012 and how great a deal it was. I fully understand that argument but what about buying today at current prices? Are potential buyers seeing something different from what we are looking at? You have house horny flippers and investors starting to think twice. Who will they sell to? Baby boomers might be locked in for the duration given that many of their adult kids are now living at home probably permanently.
There is also this notion that somehow making big bucks in real estate is all about intelligence versus blind dumb luck. These folks should read the Black Swan and understand the larger economic trends here but this would cut into their misguided narrative. Beach property by itself is not a precursor to success (i.e., Baja California has plenty of beach front property and so does Florida). I'm sure all those mortgage brokers during the 2000s also thought themselves geniuses big of what they were earning. I agree that fortune favors the prepared but the stock market is up something like 180 percent from 2009! So does that mean stock investors are bigger geniuses than real estate investors? I'm fascinated by the elementary like view of success/failure and good/evil by some of the people in the industry.
The charts and trends above should be clear. We are facing an inflection point. Big money investors are slowing down given the lack of deals in the market. What comes next? The lull. This likely results in a "come to religion" moment for sellers when their properties languish on the market for months. We are still not there yet. However, gear up for hearing more and more about those weak year-over-year price increases. Investors are already pulling back and if we use the logic of some real estate folks, since they are tied to the stock market (bigger gains), they are smarter so the fact that they are pulling back means they are shrewder than the regular run of the mill flipper that is still in it to win it and is misjudging a short-term trend versus larger macro changes. But if you are going to forget about financial history, SoCal is the place to do it. Just look at the charts above and you realize some people in SoCal underwent some epic financial carnage. Let us just not talk about that as we enter a new paradigm.

Did You Enjoy The Post? Subscribe to Dr. Housing Bubble's Blog to get updated housing commentary, analysis, and information.