Home owners have a vested interest in seeing their home value increase.  This is probably no shocking revelation.  But local governments may have an even bigger interest in rising values.  Property taxes are on the uptrend with higher home values.  Property taxes are a major source of revenue for local governments and go to various things including school districts, community colleges, counties, and cities.  Certainly the big jump in real estate values is causing these local agencies to cheer on the real estate market.  Even with the 1 percent property tax rate in California, local governments collected well over $50 billion.  There is another $4 to $5 billion in additional property taxes levied to pay bonded indebtedness and many in Orange County and Los Angeles County get a taste of this on an annual basis.  Many local governments I'm sure love the fact that many properties are being sold at a much higher reassessed values.  Let us examine the trend with property taxes.
The largest source of tax – property taxes
In spite of having one of the lowest property tax rates in the nation on a percentage basis, property taxes collect a large amount of money for local governments: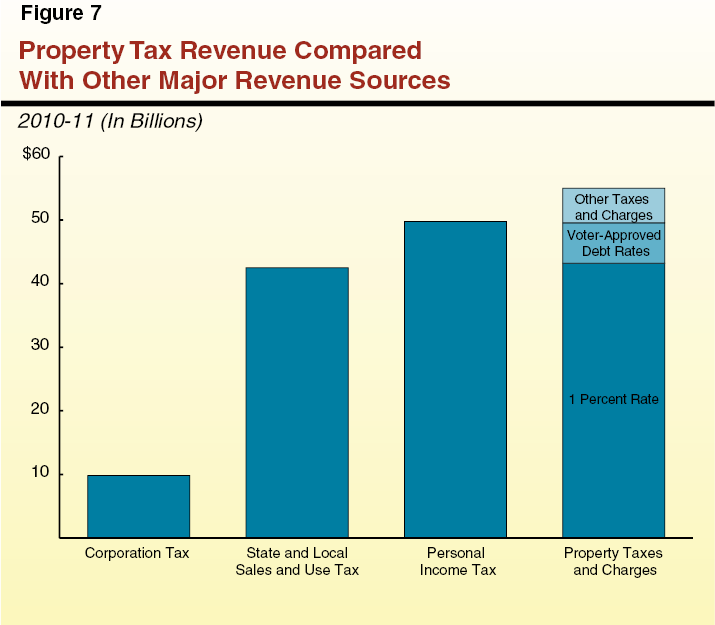 Source:  LAO
Roughly $55 billion in property taxes were collected in 2010-11.  This is even higher than the amount collected through personal income taxes.  Of course this rise has moved hand and hand with rising real estate values: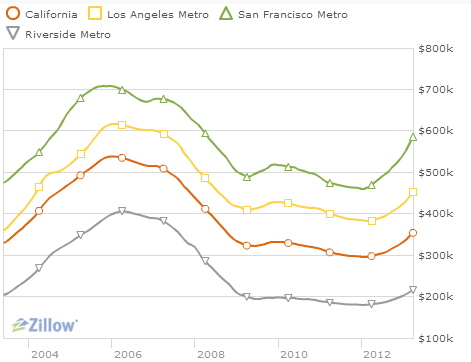 The rise in home values and the steady churn of sales causes properties to be reassessed at higher levels.  While the Federal Reserve is on a mission for low interest rates, the fever it has caused in housing is coming at the cost of higher home prices and more money being diverted to other items like property taxes.  Take a look at collections in Los Angeles County: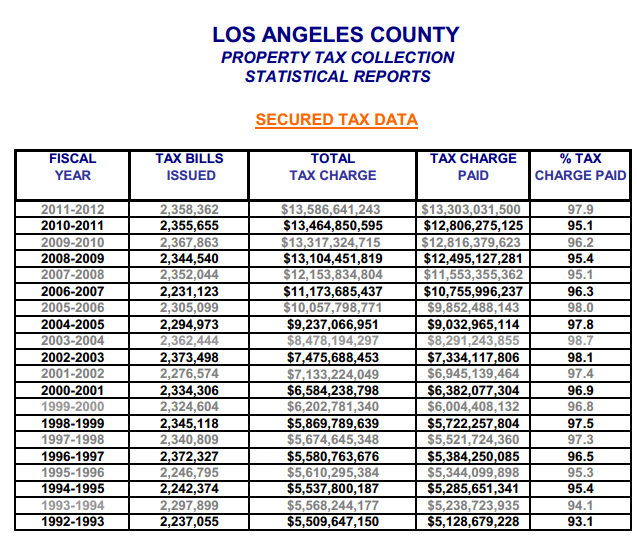 Property tax collections went up by 35 percent between 2006-07 and 2011-12 for Los Angeles County.  In fact, property taxes are fairly stable on the upside (you'll notice the bubble didn't do much here).  What is interesting is that while some home owners avoided paying their mortgage on underwater homes, they definitely paid their tax bill.  Many banks certainly kept the tax bill current.  While this might be true in more prime areas, the case doesn't apply in all areas of California:
"STOCKTON (CBS13) — Some of the same banks that foreclosed on homes up and down the valley are now skipping out on paying their property taxes, a Call Kurtis investigation has uncovered.

While local counties lay off workers — unable to pay for the services they once could ­— Call Kurtis found more than $3 million dollars in back taxes and penalties on properties owned by the banks, according to tax collectors in six Northern California counties."
Of course you would like to believe that local governments are setting aside some of these funds but knowing how things operate in California, that is unlikely the case.  It is definitely hard to predict where things will go when so many programs are taking us into uncharted territory.  Just look at this chart showing all the intervention into the mortgage market: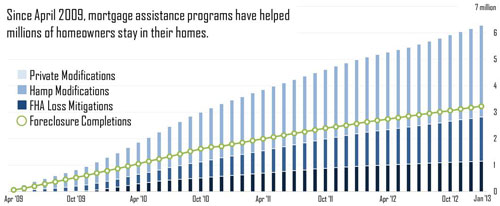 Millions of various types of modifications have occurred and many have lost their homes.  The Federal Reserve has jumped into the deep end of the pool by using QE to purchase up mortgage backed securities.  One thing is certain and that is any kind of savings has been discouraged and there is a definite undertone to spending here, especially when it comes to real estate.  The Fed has unlocked the animal spirits of the market in the short-term.  Even reading the very thoughtful comments many are capitulating and have already bought or are planning to buy while they share reservations on how much footing this recovery may have.  Many even acknowledge the manic like behavior now in the market when it comes to buying a home and the fierce competition for the record low inventory.
You have to wonder if the Fed also intended for low rates to be a backdoor method of getting more taxes to local government agencies in a cash strapped environment?  After all, most are only focused on the monthly payment and so what if more is going to taxes versus principal or interest.  In California however you might have someone paying $1,000 a year versus a newly moved in person paying $8,000 a year and both enjoy the same level of service and government programs (i.e., good public schools, community colleges, etc).  The current housing market is basically shifting a large portion of the hidden costs to new home buyers.  Don't expect to hear local governments say a word when it comes to these new found revenue streams.

Did You Enjoy The Post? Subscribe to Dr. Housing Bubble's Blog to get updated housing commentary, analysis, and information.