People didn't want to believe it but we are now shifting to a rental nation. California is now a renter's paradise and the idea that baby boomers who purchased property "back in the day" were going to stay in inflated properties while Millennials run around voting to protect said inflated properties never made sense. Interestingly enough many of these Millennial "kids" now live at home with their parents in California enjoying those inflated real estate values. Yet the political winds are shifting. A Senate Bill just saw the light of day in which single-family zoning may get removed for higher density housing. So just imagine your already crowded California street seeing double or triple the traffic (you probably already see some of this with adult "kids" living at home and adding more cars to the street). Yet this was all foreseeable as a younger generation is priced out of the housing market.
NIMBYism is unsupportable
California has been living in a NIMBYism fantasy. People have been operating in a "I got mine" so forget about you world and guess what? The sentiment is now shifting politically. The entire political shift we are seeing right now is largely due to this economic compression of the middle class. On one end of the spectrum you have a billionaire real estate mogul President that seems to cater to the temporarily embarrassed millionaire syndrome of many and on the other end you have candidates that seem to be offering free everything to a younger population that is frustrated with the status quo. It is a polarizing time so it is no surprise that old antiquated systems like single family zoning or even Prop 13 will face challenges when the majority of your population rents and has access to the internet.
The most populated county in the United States, Los Angeles with over 10 million people is now a renting majority county: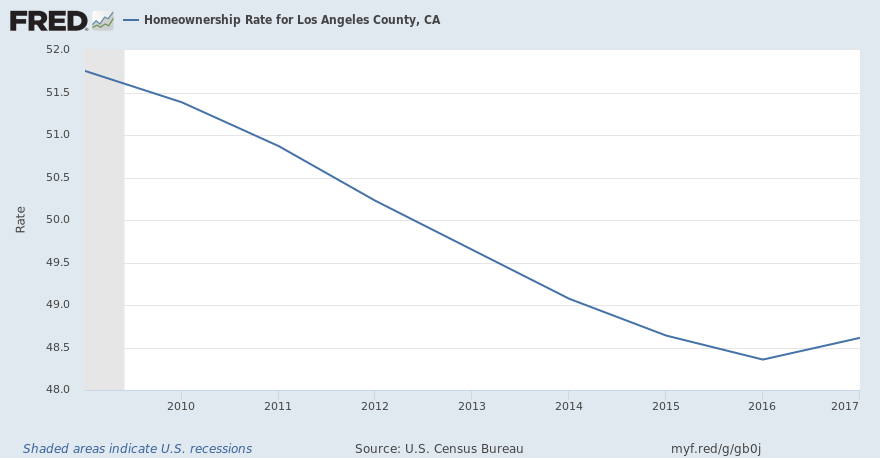 So of course the times are changing:
"(LA Times) Still — let's just pause on the fact that a bipartisan group of lawmakers voted in favor of a bill that would allow apartments pretty much anywhere in California.
Again, this would be a major change from the status quo. Wiener has said that it's illegal to build more than a single-family house (plus an in-law unit) in roughly 80% of California's residential neighborhoods."
Keep in mind the status quo in the previous election. Just look at all the polls before the election. People that think Prop 13 or NIMBYism is going to stay are simply not paying attention. Things are changing. Simply having asset bubbles running rampant to support a financial apparatus is going to cause some economic disruption. I've seen a few VC pitches and we are back to LaLa Land in terms of valuations and running out of ideas as to where to put money.
Property values have also hit a stagnation point this past year and for a model built for continual price increases, this is not going to look good for the real estate machinery that is built on annual price gains. It doesn't sound good when you say "year-over-year prices are down" and you are carrying a massive mortgage with Principal, Interest, Taxes, and Insurance weighing you all down (plus the new tax laws do punish states like California and New York with inflated asset classes).
The fact that Senate Bill 50 has gotten this far is stunning. It is simply a sign of the times. And we are now in a 10 year bull run. Corrections are simply a part of the business cycle. Now do you think when that correction hits we are going to see more homeowners?
Did You Enjoy The Post? Subscribe to Dr. Housing Bubble's Blog to get updated housing commentary, analysis, and information.