California has a severe housing affordability problem and much of it is brought on by its own laws and regulation.  The state suffers from a deep and profound form of NIMBYism.  While it is clear that there is a rental crisis and buying a home is out of reach for many younger families, the status quo continues to march on because of entrenched NIMBYism.  It is hard for some to imagine California home prices tracking nationwide trends but they did for an entire generation between 1940 and 1980.  Then, thanks to wild speculation, regulations, and the introduction of mania inducing mortgages, California started marching to a different beat.  The tech market and Hollywood like marketing of the perpetual sun made this a destination of choice.  Now typically when demand arises supply is there to meet the need but not so much in California.  But those who got in early were too busy protecting their plot of land with local building regulations, zoning restrictions, and things like Prop 13 that basically rewarded those who "got here first" yet provide little economic benefit moving forward. It also creates a dangerous boom and bust system where things are fine as long as the stock market is rolling along.  Let us look at some figures here.
When did California housing detach from nationwide trends?
California housing prices carried a slight premium over nationwide trends but the differential wasn't so pronounced as it is today.  You need to remember that nationwide figures also include states like Texas, Ohio, and Oklahoma for example where home prices are very affordable.  Even with that said, California was tracking nationwide home price changes for an entire generation.
From the 1940s to the early 1980s California home prices tracked nationwide prices: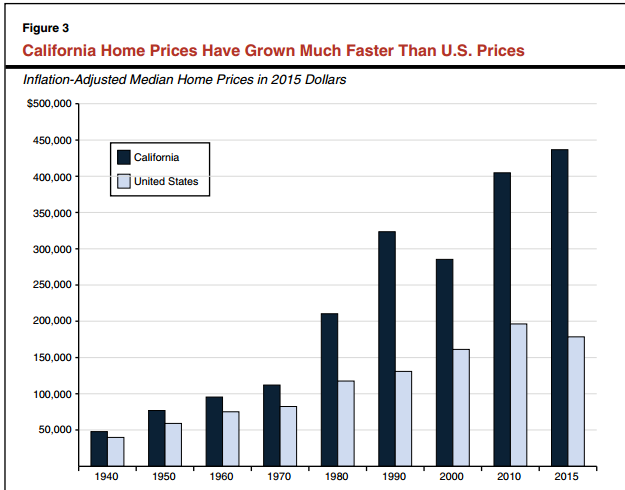 Source:  LAO
The above chart shows inflation adjusted prices to better highlight the dramatic change.  As of 2015, the differential from nationwide home prices and California home prices is near a peak once again  What happened in the 1980s was the introduction of funky mortgages and Wall Street playing the same game we are seeing today.  California has seen a share of booms and busts.  The peaks and valleys are only magnified by the not in my backyard mentality.
Even in California alone, the difference between Inland areas and those close to the coast is dramatic: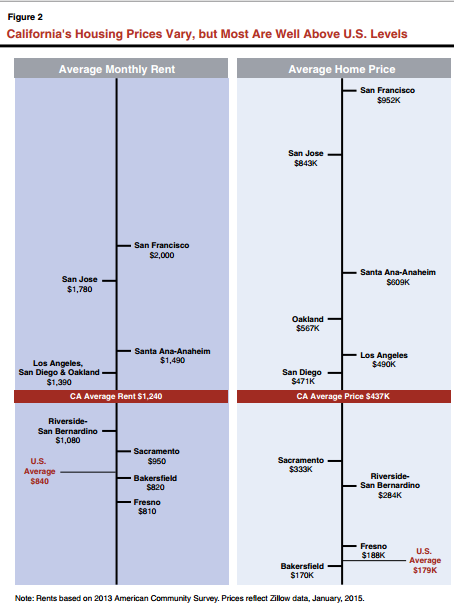 You have places like San Francisco where the median home price is well over $1 million to places like Bakersfield where home prices track nationwide trends.  But what is certain is that the closer to the coast that you get, the more NIMBYism you are going to find.
Take a look at building growth: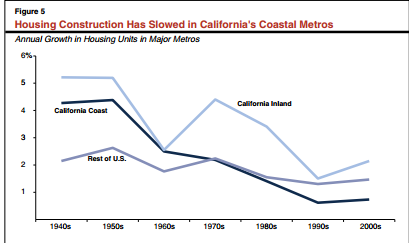 Housing units were being added nicely up until the 1980s and then things stopped.  California's Inland continues to add units near or above the nationwide trend.  The coast is barely adding units.  And the need is great: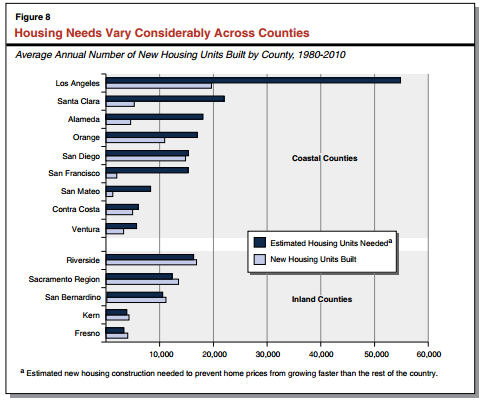 The coastal communities are in significant need of housing units.  When we say coastal we mean 15 to even 25 miles inland and not beach front Malibu.  And it would be rather simple by adding high density housing.  Look at a place like New York.  But people want an anti-drought prone yard and grand-fathered in tax rates from the Carter administration while younger families are hammered on rents and mortgage payments on inflated homes.  Increasingly, many of those able to buy are foreigners so they crowd out regular buyers on the already low amount of units available.
Even the LAO realizes that high home prices are tough on California households and the state's economy as more money is simply siphoned away into housing payments.  Here are the main reasons for resistance to high density housing on the coast:
-Community resistance to new housing
-Environmental reviews can be used to stop or limit housing development
-Local finance structure favors nonresidential development
-Limited vacant land to develop upon
And the irony is that some of these residents have "liberal" ideology so long as the ideology keeps people gentrified out of their market.  We are "inclusive" so long as it doesn't include you being my neighbor.  It is true and you can simply look at San Francisco as to what is happening to their residents.  NIMBYism is a big issue but as of now, the market is being driven by hot Wall Street money, house humping investors, foreign money, and households leveraging every nickel to get into a glorified crap shack.

Did You Enjoy The Post? Subscribe to Dr. Housing Bubble's Blog to get updated housing commentary, analysis, and information.