California for a generation has been a high cost of living state.  This is no surprising revelation.  Yet the tech boom in the 1990s set the state into a unique stratosphere of real estate.  Hundreds of thousands of jobs now depend on big tech companies including Facebook, Google, Apple, and other common names.  Changes like this have added to drive up in real estate values.  New data highlights that California's metro areas are the least affordable for those looking to buy based on the families living in those areas.  Of course, investors are bringing outside money so that is one way to move around this new reality.  Unlike an Ohio or Nebraska, California real estate is global in nature.  The only problem today is the massive gap is pushing many middle class families out of reach from buying a piece of real estate.  It is becoming more challenging for families to purchase real estate in California and the data backs this up.
California has least affordable metro areas
Trulia ran some numbers on metro areas and the least affordable markets are here in the Golden State: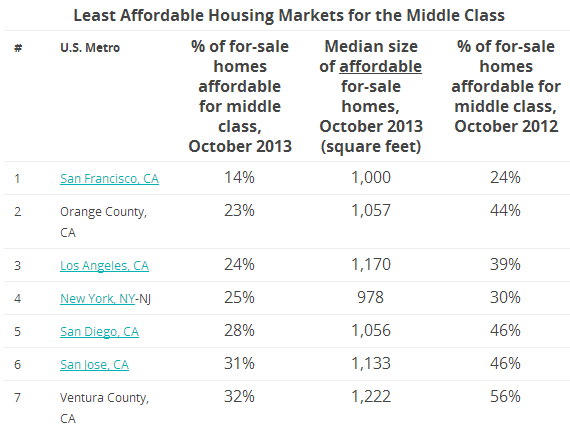 Source: Trulia
San Francisco, Orange County, and Los Angeles rank as the least affordable markets in the entire country.  Only 14 percent of homes for sale in San Francisco are currently affordable to the middle class (and this is tech central).  Orange County and Los Angeles rank at 23 and 24 percent respectively.  Over the last year, this drop in affordability has come by the massive rise in prices.
This is a problem with booms and busts when household incomes do not follow real estate values.  You can see that late in 2012 prices were much more affordable based on market values and rates.  Yet today, only a small portion can purchase without over stretching their budgets.  That is why you have investors completely dominating the market and families looking to buy today are stretching beyond what is reasonable to play this game.  Agents are telling buyers to offer $50,000 and more above list price just "to get an offer considered."  Thankfully from recent trends, this madness seems to be abating.
At least when it comes to real estate, California is no place for the middle class.
Incomes simply not keeping up
Incomes absolutely matter and when we look at other markets, we see how little inventory is available for the middle class: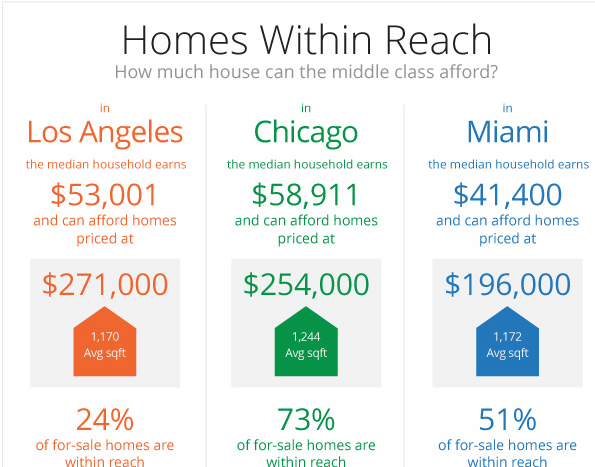 Only 24 percent of for sale homes are within reach for a middle class family in Los Angeles.  And these 24 percent of homes are probably in lower priced areas like Palmdale, Lancaster, Compton, or Bell for example.
Places like Chicago and Miami are much more affordable even with the current inventory on the market.  Some people tend to think this has not impacted moving patterns but it has (simply looking at population growth may not help).
Many have moved out
From 2000 to 2010 California has lost 1.4 million domestic residents (this was largely made up with foreign migration).  This is likely a pushing out of the middle class.  Americans deeply want to own real estate and for many, it is unlikely to materialize in California.  However many others simply will not move and look for alternative options.  One of those options is renting and this has grown since the crisis hit:

The renting class continues to grow in California:

While we've lost 233,000 owner households we've gained 500,000 renting households from 2007 to 2011.  That is a big change.  This trend has continued if we look at the ownership rate.  Plus, you have big money investors buying up blocks of property so in reality, you have one owner taking up countless properties unlike a family that essentially owns one place.  Big money is dominating the game.  California has become an even more challenging place for middle class families to live especially if they aspire to own real estate.  The fact that home prices went up by 30 percent last year is stunning in the face of stagnant incomes.  Even those with rosy colored glasses realize this pace is unsustainable and call for moderate appreciation in 2014.  Next year will be interesting because inventory is already rising and cap rates are abysmal at the moment for investors.  The flipper trade is growing but that can turn around very quickly.
The fact that California is the least affordable state is no secret but the dramatic change over the last year highlights the boom and bust nature of our real estate economy.  California just got that more unaffordable for the middle class.  What is ironic in all of this is that many policies are put into place that try to help the middle class (i.e., rent controls, Prop 13, etc) and these actually have backfired to only make properties more expensive.  Similar to the Fed artificially lowering rates, the big winners have been the big banks and not the middle class.  At least with real estate, interfering with the market seems to be a big loss for the middle class.

Did You Enjoy The Post? Subscribe to Dr. Housing Bubble's Blog to get updated housing commentary, analysis, and information.