The California housing market is showing signs of slowing down.  Price reductions are now commonplace and you can go to an open house without feeling like you are entering an exclusive nightclub.  There are signs that investors are pulling back and this should come as no surprise given the dramatic rise in prices over the last year.  The fragile nature of the market was revealed simply by a modest rise in interest rates over the summer.  That was it.  The market took a 180 degree turn from the first half of the year.  Since foreclosures are now a tiny part of the sales volume, we can expect that seasonal patterns will emerge and inventory will begin to increase once 2014 hits.  Yet California is an unaffordable place for the middle class.  Only one-third of families can afford to buy a place at current price levels and incomes.  We also have an astounding number of people in poverty despite the economic recovery.  Is California gentrifying the middle class out of the state?
California unaffordable to two-thirds of families
It is rough for a middle class family to purchase a home in California.  In fact, only one-third of households actually have the income to buy your typical priced home in the state:
"(MortgageNewsDaily) Home buyers needed to earn a minimum annual income of $89,170 to qualify for the purchase of a $433,940 statewide median-priced, existing single-family home in the third quarter of 2013.  The monthly payment, including taxes and insurance on a 30-year fixed-rate loan, would be $2,230, assuming a 20 percent down payment and an effective composite interest rate of 4.36 percent.  A year earlier it required an annual income of $65,828 to purchase a median priced home of $339,930 in California with an interest rate of 3.64 percent."
This environment has created a situation where investors have dominated home purchases and the overall home ownership rate has continued to decline for households: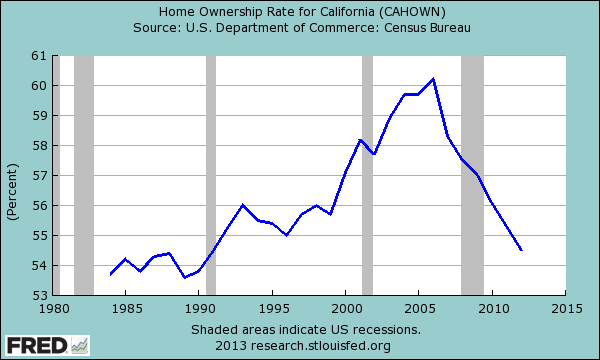 California relative to other states already has a large renting population but this has now grown.  With only one-third having the income to buy, what do you expect?  Investors have been buying up properties for the last few years while most households had to contend with a low inventory market.  A low interest rate environment has caused big money to seek out higher yields and Wall Street suddenly had an interest in being landlords.
Momentum has dramatically slowed down in the second half of 2013.  Prices rose at levels last seen during the previous housing mania.  For the last year speculation once again was a main driving force.  The gritty details of income where once again ignored and papered over by massive interest rate manipulation trying to squeeze in households with stretched budgets.
Many middle class families wanting to own a home but unable to in more coastal areas have been pushed inland.  This is why in places like the Inland Empire some 40 percent of workers make the traffic pilgrimage daily into L.A. and Orange counties.
Large number of Californians in poverty despite recovery
California is largely becoming a state with a small portion of wealthy households and a large under-class.  The middle class is shrinking.  This isn't speculation but we need only look at the facts: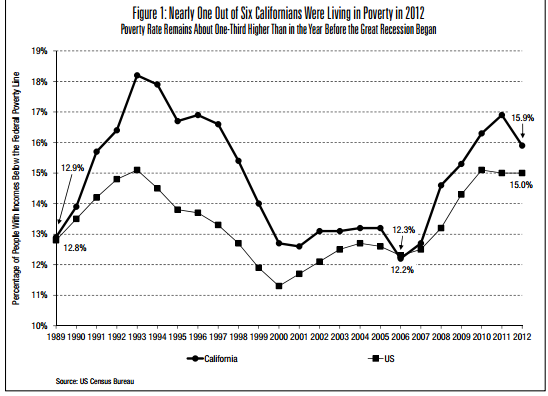 One out of six Californians were living in poverty in 2012 despite of the current recovery.  We have a record number of Californians on food stamps:

The recession end in the summer of 2009 yet over this time food stamp usage surged 55 percent.  We have 4.1 million Californians on food stamps.  Many of the new poor came from formerly middle class California households.  Industries downsized or structurally gone because of the recession did not come back in full force.
Clearly this group is not in a spot to buy and this is one of the fastest growing segments of California.  Affordability is going to be an important trend over the next few years.  California's tax laws and programs are flawed and create generational lottery tickets for some and create poor incentives for young professional families.  With a growing population of renters and voters, it'll be interesting to see how long this lasts.
A large number of Californians uninsured
The new healthcare legislation will have an impact on the state given that 17.9 percent of Californians are uninsured: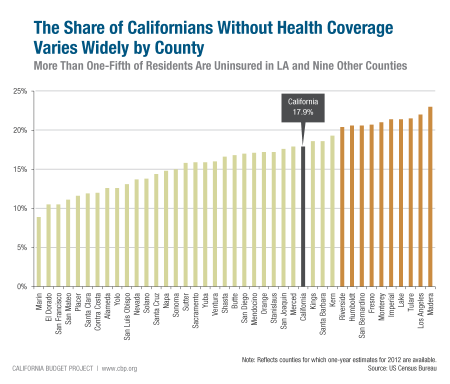 This will extract money out of the economy and direct more funds to healthcare (either via new premiums or people paying the penalty).  It is hard to say what impact this will have but having nearly 1 out of 5 Californians without healthcare coverage is not a positive for the economy.  It also speaks to the challenges of getting by in this state.
California home values went up by 25 percent in the last year ($70,000 for the median priced home).  Per capita income went up by 1.5 percent nominally (or $930).  So think about that: the typical California worker saw their income go up by $930 but the typical house went up by $70,000 (more than the median household income).  Does this sound like a good economic situation for middle class families?

Did You Enjoy The Post? Subscribe to Dr. Housing Bubble's Blog to get updated housing commentary, analysis, and information.