There has been little information on the makeup of the all cash buyer in Southern California.  Sure, we know that for the last few years hedge funds have been swooping in on markets in Arizona and Nevada but also in the Inland Empire of Southern California.  The markets went into a short panic this week at the hint that the Fed would slow down their MBS QE program.  This is a big deal for markets in California where home prices are already at bubble levels and people are stepping over one another to get into open houses.  Logic is now set aside.  It is a fever.  The headlines read that sales have hit a 7 year high in SoCal and that the median price is the highest in 5 years.  So we are out of the woods right?  Well much of this is built on record low rates and we see that the Fed will need to be in this game for years to come otherwise the market will retreat.  Most are now buying with the belief that prices will continue to go up.  When this is the default mindset, you know we are reaching a tipping point of sorts.  Some data was released on the all cash buyers for SoCal.  Let us look at this data.
All cash buyers – paying more for less
One interesting point is that all cash buying is still very high (roughly 31 percent of the market).  This has fallen from the peak of 36 percent back in February of this year.  Yet all cash buyers are now willing to pay more as well: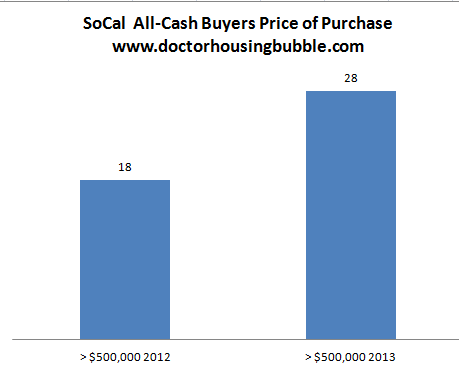 Of the all cash purchases, 28 percent were for homes that cost more than $500,000.  Compare this to last year when the percentage was 18 percent.  What was interesting about this segment of the market is that 44 percent were absentee buyers meaning investors.  Given flipping activity I imagine anyone paying $500,000 or more is looking to buy for appreciation.  It is hard to get a good rental yield at these high price levels.
Rents are nowhere close to rising at the speed that home prices are.  Foreclosure resales were only 10 percent of the market.  In other words, the foreclosure sale portion of the market is now closer to more normal historical levels.  The rise in home prices in SoCal is reaching levels last seen during the bubble.  Again, the gains are coming from everything but income growth.  The growth is coming because of:
-low inventory

-record low rates

-momentum from manic buying
Low rates can only stay this way with the Fed becoming more aggressive.  There has already been inflation in wealthy class assets as those with access to low rates pursue things like prime properties, stocks, and other key investment classes.  This is also why Wall Street has had such a big appetite in rental properties.  The Fed has made it very clear that it will punish investors that keep money in CDs or money market accounts.  You either dive into the stock market or get back into the real estate game.
Jumbo loans coming back and FHA loans
Jumbo loans are back in a big way: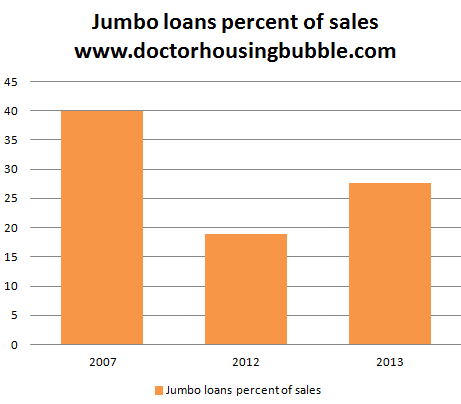 *Of all SoCal purchases
To squeeze in, non-cash buyers need to finance their purchases and many are going with jumbo loans that now make up 27 percent of all sales (up from 18 percent last year).  It is an interesting dynamic.  But what is interesting is that since the year began, two major things have occurred:
-all cash buying is trending lower for SoCal
-FHA insured buyers trending lower for SoCal
For all cash buyers, the yields are looking weak and this was the case last year.  We have those latecomers diving in right now.  For FHA insured loans, the big jump in costs happened in the last few months, in particular in June.
The median home price in Los Angeles County is up 30 percent year over year.  Mix of home sales or not, how is this even sustainable?  Of course it isn't and we already got a quick taste as to what will happen when the Fed pulls back.  People fail to realize that the Fed is carrying something like $3.3 trillion in their balance sheet.  This is what you call uncharted territory.  When have you seen such large investor demand in rental real estate nationwide for multiple years?  There has never been this much all cash buying in any real estate market in the US.
The market is overheating in SoCal.  But like most bubbles, the apex is very hard to predict.  The fact that FHA has gotten so much more expensive, rates trending up, and all cash buyers are pulling back will add some pressure on prices.  Then again, many are willing to overpay so there is still a potential for more manic momentum.

Did You Enjoy The Post? Subscribe to Dr. Housing Bubble's Blog to get updated housing commentary, analysis, and information.