"There are three kinds of lies: lies, damned lies, and statistics."
-Mark Twain
There is no question that the current $700 billion USA Housing Motherland Bailout is the biggest story going around.  The magnitude of the bailout has quelled other big stories that would have been the day's topic du jour.  For example, Ambac and MBIA were once again put under the microscope given the events going on in the markets.  Over the weekend, Goldman Sachs and Morgan Stanley, the last two independent investment banks have changed their stripes.  The big investment bank model has come to a fitting close.  On the radio I heard someone say, "all those Harvard undergrads are going to have to change their majors."  Indeed.
At the heart of this mess is the housing market.  That wonderful housing bubble that sucked a vast majority of our country into a spending orgy once only found in Vegas casinos.  Who would have thought that there truly was a one ARM bandit?  The entire financial edifice came inches away from "melting down" or so the talking heads would like you to believe.  Maybe it came close to melting down for Wall Street but there are many people that are currently unemployed or living on the edge that the system has already melted down.  The initial bailout bill pushed by Hank Paulson was for free reign, a check with no blue ink dripping from it for bailing out Wall Street.  Not a good way to ask for nearly $1 trillion.
King Paulson this weekend ran into a hitch.  As it turns out, there may need to be a bit of oversight for that $700 billion bailout.  I've only heard a few folks in the late stages of delusion on the intertubes or teletubes have the gall to say, "in fact, we may actually turn a profit here!"  Comments like that go in the file cabinet next to Alan Greenspan saying in Feburary of 2004,

"American consumers might benefit if lenders provided greater mortgage product alternatives to the traditional fixed-rate mortgage."
Thanks Alan!  They took your advice and things turned out superb.  Any more words of wisdom you'd like to impart with us?  Before we examine the California housing market, let us look at some of the new requested provisions for the bailout:
(a) Executive compensation restrictions

(b) Regulation with accountability
(c) Mortgage cram-downs in bankruptcy court
(d) Equity sharing
Frankly, these should have been in the bill from the beginning.  The initial 3 page skeleton from comrade Paulson looked like one of those napkin deals you do with a drunken buddy.  In fact, it was amazing in simplicity and lacked any depth but provided incredible power.  Someone must of thought they found, "my precious."  It is as if you wrote a bill saying, "as of this moment, I give [insert name of l33t U.S. Treasury dude] total power to take all my money, spend it how they like, and never be held accountable for their actions."  Here is the 44 page bill that has a little bit more substance that came out today.  When you elect someone because you feel comfortable to have a drink with them, don't get mad when you get them unequivocally supporting back of the napkin solutions to the biggest financial crisis the world has ever witnessed.
The nuts and bolts are still being worked out.  I was thinking about the initial plan and maybe thought it was a basic strategy of negotiation.  How so?  Well first, there is no way in the world that people would be willing support a $700 billion bailout if most of the benefit was going to go to banks and Wall Street with such little substance.  Look at how long the Housing and Economic Recovery Act of 2008 took to get passed.  So instead, they throw out a plan that had zero chance of passing just to get the political capital to actually move the bill.  Now, we hear about basic regulations, oversight, and standards and the public almost wants to jump up and cheer and sign the bill.  It's as if you were selling your home and I told you, "yes, I really like your property so let me offer you a good starting point.  How about $1?"  At first you'd probably flip out but what if in my next move I offer you slightly less than what you initially wanted?  "Okay, I'll give you $200,000."  Of course anything sounds better than the first offensive offer.  In fact, it may even seem generous.  That is where we are at in the negotiation process.
California Housing – Motherland Bailout Distracts 
If it wasn't for the almighty bailout chatter, we'd be talking about the absolutely pathetic numbers coming out of California.  Last week the unemployment numbers for the state came out and they were abysmal:
The California unemployment rate is increasing at a rapid pace hitting its highest peak in 12 years.  Currently, the state unemployment rate is at 7.7% which stands in stark contrast to August of 2007 data which only puts the number at 5.5%.  How can the rate skyrocket so quickly?  Easy.  A large part of the state was highly dependent on the housing market so the one year crash has essentially exposed the economy of the state.
The state also has had one of the most contentious budget battles of all time.  We broke the record in terms of how long we went without a budget.  The current budget which has yet to be finalized looks like a flat out joke and capitulation just to move something through but we'll be back here again next year.  Think about it.  Unemployment is surging and housing prices are dropping like a rock and a high amount of revenues come from both of these streams.  So do you think we are going to bring in more money next year?  I think we are at the point where housing prices are accelerating even faster simply because of the overall economic condition.
First, let us look at statewide sales first: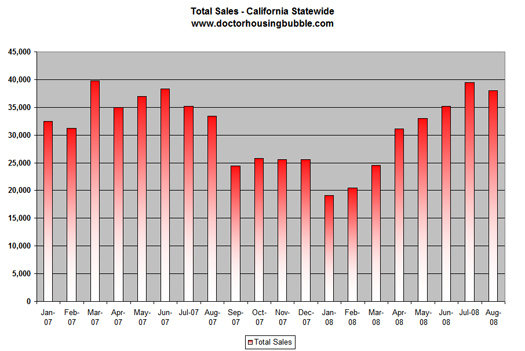 You need to remember that July and August are the strongest months of the year and these numbers are weak.  The California housing market like most markets relies on a strong spring and summer season to carry them over a typically slower fall and winter.  We just got a horrific start and now given the USA Motherland bailout more focus is on reassuring the country as opposed to one single state.  46% of all sales in the state last month were foreclosure re-sales.  You want to see how quickly prices fall when a bubble pops?  Take a look at this chart:
So as late as of May of 2007, the median price was $484,000 according to DataQuick.  The current median price?  $301,000.  I also wrote an article on how divergent different price measures were during the bubble but now that things are crashing, prices on the low end are starting to converge.  In fact, the peak price from the California Association of Realtors had the median price at $597,640!  So if we are to use the bottom price from DataQuick of $301,000 for August of 2008 and the peak price from April of 2007 from the C.A.R. the median price for a California home is now down 49.6%.  The state has now seen a near 50% correction in one year.  Stunning.  What is even more unreal is that $301,000 is actually too high for certain areas in the state.
The more troubling sign is the onslaught of bad properties hitting the market.  Let us take a look at some market data for August of 2008:
California
Total homes sold:                  37,988
Notice of Defaults:                44,278
Notice of Trustee Sale:          24,241
REO:                                      33,205
What is troubling is the amount of Notice of Defaults that do end up in foreclosure:
"(DQNews) Of the homeowners in default, an estimated 22 percent emerge from the foreclosure process by bringing their payments current, refinancing, or selling the home and paying off what they owe. A year ago it was about 52 percent. The increased portion of homes lost to foreclosure reflects the slow real estate market, as well as the number of homes bought during the height of the market with multiple-loan financing, which makes 'work- outs' difficult."
Basically 80% of the 44,278 will lose their home.  That is 35,422.  The rate was for July so I imagine we are now probably looking at 85 to 90 percent of NODs going to foreclosure.  Take a look at the sale number for the best month of the year.  We didn't even include the actual REOs and Notice of Trustee Sales in this number!  Overall, the distress action in California for August was at 101,724 and made up 33 percent of all foreclosure filings for the entire country!
In fact if you add the 4 states of California, Florida, Arizona, and Nevada you get 56% of all foreclosure filings!  I remember getting e-mails from people out of the state claiming that a decline in California will have little impact on the country.  It was contained.  Bwahaha!  Where have we heard that before?  California is a freaking monstrous state in size and economic pull.  We also had the biggest financial bubble.  Much of the circus lending from Wall Street found its home here.  There are still $500 billion in toxic Pay Option ARM mortgages that have yet to recast with $300 billion here in the state.  If you are not from California, would you like to see some of your tax money bailout a Real Home of Genius?
Did You Enjoy The Post? Subscribe to Dr. Housing Bubble's Blog to get updated housing commentary, analysis, and information.